View from Kingsmeadow, Volume 52: Home-Cooking Hits and Misses
September 17, 2011
Pete Norton/Getty Images
Shaking off a harrowing 1-1 draw to Aldershot, Terry Brown's AFC Wimbledon were ready for some home cooking, starting with Northampton Town at Kingsmeadow on Tuesday.
"I think we already know that every game in this league will be tough and Northampton Town will be no exception," Brown told reporters on Monday. "Their away record is good and they seem to have found it easier to score away from home than at home, which is a warning for us. They also had a fine win at Ipswich in the Carling Cup, so we know we are in for a game."
Last season, the Cobblers finished 16th in the table with a record of 11-16-19 (52 points). Northhampton are led by defender Andy Holt and midfielder Michael Jacobs, who each recorded eight goals in all competitions last season.
Adebayo Akinfenwa scored on a penalty in the 17th minute to give Northampton an early 1-0 lead. Michael Jacobs put the game out of reach with a brace in the 73rd and 77th minutes to make it a 3-0 victory for the Cobblers.
This was not a good momentum builder heading into the match with Cheltenham Town.
"We know this league is going to be a lot more difficult than the Conference and we will certainly suffer more defeats than we've been used to over the last nine years," Brown said, "but what will be really important will be how we deal with those defeats and hopefully move on to a higher level of performance."
Cheltenham Town, considered as one of the possible teams to face relegation by the bookmakers, finished 17th in the Football League Two last season with a record of 13-20-13 (52 points).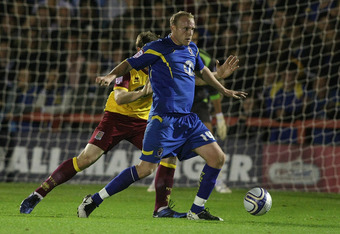 Pete Norton/Getty Images
The Robins are led by forward Jeff Goulding, who recorded 10 goals in all competitions last season, and midfielder Josh Low, who notched eight goals last year.
Unfortunately, this was a disasterpiece waiting to happen for the visitors, who were thrashed by an angry Wimbledon outfit to the tune of 4-1.
Ricky Wellard scored in the 31st minute to give AFC Wimbledon an early 1-0 lead. Steve Elliott scored an own goal in the 40th minute to make it 2-0 Dons.
Jack Midson made it 3-0 in the 66th minute. The goal was Midson's sixth of the year. In the 85th minute, Rashid Yussuff persevered through two initial save attempts by Robins goalkeeper Scott Brown to put the game out of reach.
A 90th minute goal from Darryl Duffy salvaged some sort of pride for the Robins, but it came too little too late.
The Dons find themselves in a tight race in the middle of the pack as the 2011-12 Football League Two season continues.
Next Saturday, AFC Wimbledon travel to Valley Parade in Bradford to take on the Bamtams of Bradford City A.F.C.
Kickoff is scheduled for Sept. 24 at 7 a.m. PT/10 a.m. ET.