UFC 135: Rampage Jackson Says That Jon Jones' Reign Will Come to an End
September 18, 2011
Quinton "Rampage" Jackson is no stranger to voicing his opinion. Battling UFC light heavyweight champion Jon Jones at UFC 135 on Saturday, September 24 from Denver, Colorado, Jackson is full of confidence.
Speaking with Yahoo! Sports, the former UFC light heavyweight champion and Pride middleweight champion, "Rampage" is re-motivated and focused to battle Jones inside the Octagon.
"The guys here have got me in great shape, getting the right foods in me. I'm taking more supplements than I have before because I never really paid too much attention to that in the past, and everything has been perfect. I'm not going to lie and say I liked training this hard for so long – I've had one week off since I started training for the Matt Hamill fight in April – but I like the results. I like it that when I go for a run my iPod gets tired before I do," Jackson stated to Yahoo!.
Never one to acknowledge his pleasure with the arduous training needed in MMA, "Rampage" is currently singing a different tune with his fight camp and preparation.
"I can't believe the shape I am in for this fight with Jon Jones next week here in Denver for the UFC 135 main event and light heavyweight title! I'm weighing 221 lbs right now, nine days out. I've never been in this kind of shape before. I like it! It feels good not to be like, "Oh, man! Weight cut is next week!" The cut to 205 lbs is going to be easy," Jackson commented.
With an overall MMA record of 32-8 with 14 knockout victories, competing since 1999, "Rampage" is fully aware that his time to regain the title is now.
"I am ready. But Jon Jones is in the big leagues now, and he's not ready. He needed this fight in another couple of years' time," Rampage said.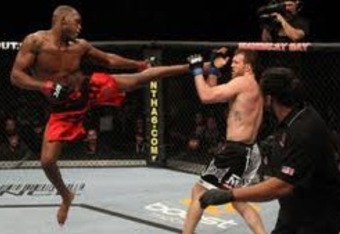 Known for his athleticism and creativity inside the Octagon, Jones's offensive arsenal is extremely unorthodox, yet very effective.
Not swayed by Jones's arsenal of weapons, Jackson told Yahoo!, " Jon Jones does unpredictable things but, really, we've seen it now bro, so it is not unpredictable any more. We've seen the spinning elbow four or five times, Jon "Bones" Jones. We've all seen it. Maybe Jon Jones is going to get me with some knees – I expect that, it is a fight – but I am gonna get him with my hands, too. You look at those Bambi legs and wonder what happens when I hit him."
Surprisingly complimentary, Jackson did provide Jones with a level of respect during the interview (somewhat).
"I know he's got some great skills and honestly I am impressed how fast he's learned – he is the future of the division in my opinion, but I am the present. Rampage is the present of the UFC light heavyweight division," Rampage was quoted as saying.
Looking to push Jones beyond his comfort zone, Rampage stated, "five rounds is a long-ass time to fight. It is 25 minutes of getting your ass whupped, and that is no joke. Jon Jones has had everything in his career go right for him. The one time he got a little frustrated, with Hamill, he used an illegal technique that any fan in the stands could have told him was illegal, but he said he didn't know he couldn't do that. Come on, man. He just don't know what to do when things aren't going his way. He couldn't finish Hamill, so instead of trying something else he cheated and got disqualified."
Supremely confident that he will exit Denver, Colorado the new UFC light heavyweight champion, Rampage provided Jones with one last sound byte, "Jon Jones will have a very sore booty at UFC 135 when I kick it all over the Octagon."
Stay tuned to UFC 135 to see if the revelations of Rampage Jackson ring true and whether or not Jon Jones reign as the title holder will end.
I welcome your comments.
You can "Like" Todd Seyler on Facebook and Follow me on Twitter