Oregon Football: My Son's First Time at a Duck Game and It Was Awesome
September 19, 2011
Part of growing up in Eugene, Ore. was attending sporting events at the University of Oregon. This was the case for me, and I have always hoped that my son, Jake, would have a similar experience.
Of course, the Oregon football team I experienced was a very different product than what we have today. I remember many years ago I could walk up to the ticket booth an hour prior to the game and buy a general admission ticket for just a few dollars. Once inside, we had our pick of rows to have all to ourselves as we watched the Ducks get consistently pounded by any number of Pac-10 opponents.
Jake's experience this weekend was going to be very different.
The football game my son attended was over-stimulating for a four-year-old, to say the least. We started the morning at the "Mo," otherwise known as the Moshofsky Center, which normally serves as the Ducks' indoor practice facility, but on game days it's a huge beer garden and a sea of humanity.
In the Mo, Jake had the opportunity to see the cheerleaders and the Duck.
We were lucky enough to have seats in the club section, which afforded us admission to the club room—or, as Jake calls it, the room that has all the popcorn you can eat.
We enjoyed ourselves in the club room for a bit, but the real fun happened when Jake saw Autzen Stadium in its glory as we walked into the seating area. "Wow!" was all he could muster for quite a while.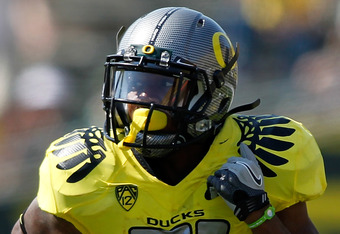 Jonathan Ferrey/Getty Images
I had not told Jake about the Duck riding a Harley and all the noise. When the motorcycle led the team out, Jake squealed with delight and got really wide-eyed, and once the game started he realized that the No. 21 jersey he was wearing was the same No. 21 that LaMichael James wears. 
I had not taken Jake to a Duck game until now because of the so-called rowdy and boisterous crowd Autzen is famous for. Jake had a fantastic time at the game and is ready for more.
It was rewarding to see the "hook being set" in Jake's subconscious. He watched the game with glee and did not want to go home when it was over.
Add yet another college football fan to the mix!