(With permission Providence College)
September 20, 2011
Many young college basketball fans may not immediately recognize the name of Dave Gavitt, the basketball coach at Providence College in the 1970s and founder of the Big East Conference who passed away on Friday.  
Those who have been around basketball a while know of Dave Gavitt for his coaching accomplishments, for the many careers he mentored and for being far-sighted about the opportunities to build college basketball into a highly popular sport. 
What is well-remembered by many is how approachable, gracious and thoughtful Coach Gavitt was to people, whether you were with the student radio station or NBC. 
Dave Gavitt is a fond figure from my student days at Providence College in the late '70s.  Not only was he an incredible coach who positioned a small Catholic college to take on the big names across the country, but he was a caring individual who made time for students and always had a good word for everyone. 
His funeral in Providence on Thursday morning will be well attended—not just because his work was respected, but because people liked him. 
Providence College built a basketball reputation in the late 1950s and 1960s on the success of players like Lenny Wilkens, Jimmy Walker, Mike Riordan and John Thompson, along with the coaching of Joe Mullaney. 
They won the NIT twice when that was a big deal.  But college basketball was still mostly a gym sport then except for big games played at the old Madison Square Garden on Eighth Avenue in Manhattan.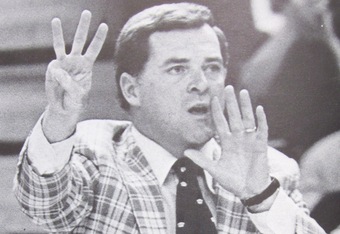 Dave Gavitt in 1977 (With permission Providence College)
When Mullaney went to the Los Angeles Lakers in 1969, Gavitt took over as coach and brought the team into a new era. 
The opening of the 12,000-seat Providence Civic Center in 1972 provided a stage for Gavitt and the Friars to invite teams from across the country to come to a small New England city to play.  There were notable days when the likes of Louisville, Michigan and North Carolina came to town, games we still reminisce about.
College basketball in the1970s was growing fast, as television brought the game visibility across the country.  
Dave Gavitt understood this and made sure the Friars were televised as much as possible.  In 1973, Gavitt took a remarkable Friar team led by Ernie DeGregorio and Marvin Barnes to the NCAA Final Four in St.Louis. 
Many believe only an injury that took Marvin Barnes out of the semifinal game kept the Friars from defeating Memphis State and a shot at defeating John Wooden's UCLA Bruins in the finals.
As athletic director at Providence, he built a remarkable staff of coaches and administrators that attracted talented athletes to the campus. 
Coaching ice hockey was Lou Lamoriello, who was able to build an attractive on-campus arena and recruit players from Minnesota.  One was Brian Burke, who won a Stanley Cup as the general manager of Anaheim.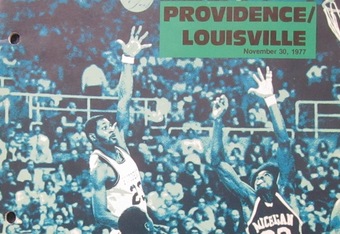 1977 Game program (With permission Providence College)
Burke's co-captain on the '77 team was Ron Wilson, who has had a long career as an NHL coach. 
The cross country coach, Bob Amato, built a nationally-prominent team, recruiting runners from Ireland. One was John Treacy, who went on to win the 1984 Olympic Marathon Silver Medal.
Dave Gavitt was a strong supporter of women's sports after Providence went co-ed in the early '70s.  He hired Helen Burt to put a program together, and soon the "Lady Friars" were one of the best programs in the east in basketball, field hockey and softball, and they just about started women's collegiate ice hockey.  
Somehow, Dave Gavitt found the resources to help a small college become a proud leader.       
In 1979, Gavitt gathered a group of athletic directors to start the Big East Conference.  At the time, college basketball had declined at Madison Square Garden with growth of the NCAA Tournament, dropping the NIT into second-class status.  
The Big East helped create the current world of conference tournaments, bigger arenas and immense television deals. 
Football was not even a thought at the time.  Mike Tranghese told me once that he, "did not want to work for a football program because I would not be able to play golf."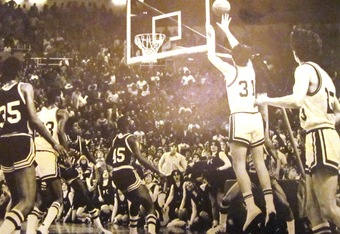 Bob Misevicius Game Winner vs Michigan (With Permission Providence College)
Their office would be space in the back of an advertising agency in Providence.  Who knew what a success it would be?
Dave Gavitt touched a lot of us and had numerous protege's—like Mike Tranghese, who was the Providence SID, and my classmate, John Marinatto, who moved up the ranks from basketball manager to SID to Athletic Director, then made the switch to the conference office. 
Of course Lou Lamoriello went on to three Stanley Cups with the New Jersey Devils, women hockey players went on to numerous Olympic medals, and coaches like Rick Pitino and Rick Barnes, attracted to PC by Gavitt's legacy, went on to extraordinary careers.
But again, Gavitt was about the people he encouraged and guided.  He was respected in college basketball because of his skill coaching teams to win on big stages. 
Three epic games from the late '70s really stick out in my memory—all originated with Gavitt's ability to schedule top opponents from around the country to play in tiny Providence, Rhode Island, and have them leave wondering what happened.
Certainly the game that cemented my interest in college sports was a late December 1976 holiday basketball tournament in Providence at which Dave Gavitt had invited Michigan, the national runner-up from the year before.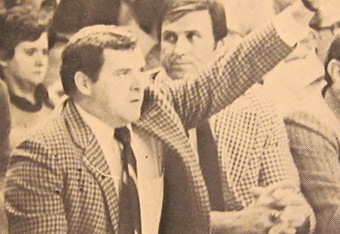 Dave Gavitt in 1977 (With Permission Providence College)
The Wolverines were coached by John Orr and were not only undefeated on the year but the No. 1 rated team in the country at the time.  Providence and Michigan advanced to the finals, where a record crowd of 12,150 paid to get in. 
I had driven up from New York with three high school friends on a cold night to see the game.  Top-rated Michigan was led by stars Phil Hubbard and Ricky Green.  The Friars were led by Joe Hassett, one of the greatest outside shooters ever who played before the three point line existed.  He now broadcasts the Friars' games on the radio. 
Amid a deafening crowd, Dave Gavitt coached the Friars through regulation, into overtime, then to a second overtime.  Providence's center, Bob Misevicius from New York City, made a jump shot at the end of the second OT to give Providence the victory. 
Orr later said, "We played hard, but Providence played like crazy."
On November 30, 1977, Denny Crum brought the No. 9 rated Louisville Cardinals to the Civic Center to play the Friars.  Louisville had been 21-7 the year before, defeated by UCLA in the West Regional. 
Point guard Dwight Williams had 19 points and center Bob Misevicius had 16 as the Friars cruised to a 57-51 win in front of 11,134 screaming fans. 
Later that season, in February of 1978, Providence, RI was hit with a 35-inch snowfall five days before nationally-ranked North Carolina was due in for a Sunday afternoon, nationally televised game.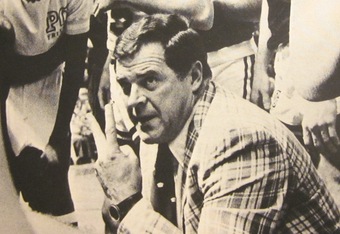 Dave Gavitt in Huddle (With permission Providence College)
This was before ESPN, and the weekly network games were the only way to see teams from around the country. 
The snow storm had paralyzed the city.  Driving was outlawed, because the roads were still clogged.  The Governor had to approve the Tar Heels' plane to be the first that was allowed to fly into Green Airport. 
The Friars hardly practiced for the game, because their basketball gym was being used as a shelter. 
On the day of the game, students had to walk the two miles downtown to the Providence Civic Center (as the "Dunk" was originally known).  About 5,000 made it to the game—other than walking, the train was the only transportation. 
Legendary former Marquette coach Al Maguire was doing the television broadcast and called the game "a happening." 
He asked the crowd in the stands to welcome the national television audience with as much noise as possible. No challenge for those of us who were couped up in the dorms and shoveling snow all week.
The Dave Gavitt-coached Friars had quite a challenge that day facing the No. 7 Tar Heels' legendary coach Dean Smith and star guard Phil Ford. This was, of course, the era before the shot clock, when teams would play four corners in the second half if they had a lead.
Gordon White in The New York Times wrote the next day, "The Friars established the tempo at a much slower pace than the Tar Heels wanted to play." 
The Friars hung onto to an amazing come-from-behind 61-59 victory that day. Bill Eason made a 10-foot shot with 21 seconds to play to seal the win.  I saw Dean Smith in the lobby afterwards looking a bit chagrined about how Dave Gavitt had talked him into coming to Providence, Rhode Island.
That game would turn out to be Dave Gavitt's last of 23 coaching wins over a ranked opponent—he retired from coaching after the next season. 
He would be selected to coach the 1980 Olympic team, but the US team would not go to Moscow to compete because of a boycott. Later he would be instrumental in sending the "Dream Team," composed of NBA stars, to the Olympics.
In 2006, Dave Gavitt was inducted into the Naismith Hall of Fame in Springfield, Massachusetts.
A graduate of Dartmouth College, Coach Gavitt went from being a young basketball coach with ambition and vision to the founder of a conference that would challenge all of college basketball.
He rose to the top of the college basketball world but always had time to talk with people.  I would see him at Providence College events and he always had a smile, a handshake and a friendly word or two. 
At one banquet a few years ago, they handed out small souvenir basketballs that the night's honorees could sign.  After the night was over, I asked Coach Gavitt to sign one for me, saying "I don't ask many people for autographs."  
He smiled and obliged.  I am really glad I asked.  
Ken Kraetzer is a 1979 graduate of Providence College and a former president of the Providence College Club of New York.  He covers West Point football and Iona basketball for WVOX radio.  He can be reached on kgk914@aol.com
Like the new article format? Send us feedback!