Ohio State Football: The Lion Has Been Wounded, but Beware!
September 20, 2011
Kirk Irwin/Getty Images
Ohio State's football program has hit a new low with the debacle in Miami on Saturday.  The Buckeyes had already been smarting from off-field shenanigans prior to the beginning of the season, culminating in the ousting of former head coach Jim Tressel, along with a string of key veteran players.  Then they narrowly dodged the bullet against Toledo the previous game, only to fall in humiliating fashion to the Miami Hurricanes this week. 
The Buckeye Nation is in panic as the seemingly invincible lion has been wounded.  But, beware! 
"It ain't over till it's over!" I consoled a friend who appeared panic-stricken, disgusted and woefully depressed at the same time.  You can't write off the Ohio State season just three games into it was part of my rationale. 
And I followed up with some testiness, "WE are OHIO STATE! Period!"  
The rich tradition of Ohio State football is not tied to any one coach or player, but it's rather a collective sense of pride, determination and conviction passed on from generation to generation of players, coaches and fans.  It is unfathomable to see the Ohio State Buckeyes not find a way to win games with the talent-rich cadre of players and continue the winning tradition. 
A wounded lion it may be, but it shall still find a way to get back up and one should beware of its ferociousness.
The Buckeyes may have taken a whipping but the season has only just started.  With the significant turnover in the key positions such as head coach and quarterback, there is naturally going to be an adjustment period. 
A demoralizing loss like this one to Miami can be one of the best lesson's learned for new head coach Luke Fickell and his team.  It is only fair to give Coach Fickell a little bit more than three games to prove his worth to the program.  He paid his dues on the football field and is now earning his stripes as a head coach.  However, he may have picked just about the most difficult job to begin his head coaching career. 
Granted, an entire season with such losses would be untenable in the land of Woody Hayes, an iconic Buckeye coach from yesteryear.  It used to be known as the "graveyard of coaches" over half a century ago because patience wore thin with under-performing head coaches who were quickly replaced.  Columbus is used to winners and nothing short of it is deemed acceptable especially when it comes to Ohio State football.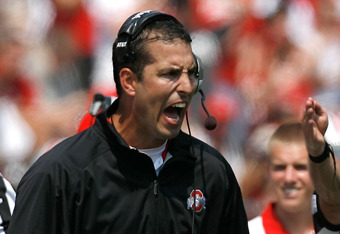 Kirk Irwin/Getty Images
Braxton Miller is the quarterback of the future and he must be given time to develop and make his mark.  Bringing him into a game as a reluctant afterthought only damages the young man's confidence.  This is not to say that fumbles are excusable nor are poorly executed plays.  With a couple of more games under his belt, Miller will unleash his talent and amaze us.  It is imperative that Coach Fickell drops the two-quarterback system in favor of going with one, and that ought to be Miller.
Not to take anything away from senior Joe Bauserman, who has been nothing short of a dedicated and loyal member of the team.  He has waited patiently for his turn and one could argue that he should be given a chance.  I would submit he has indeed been given a full-fledged chance with the first three games of this season as the starting quarterback, along with the preceding seasons work he got, albeit sparingly.
Fickell and offensive coordinator Jim Bollman need to come up with a much more thoughtful game plan that is nimble enough to allow adjustments as needed.  It's one thing to not be able to move the ball in the first half but quite another when no adjustments are made to the game plan at halftime, leaving the offense sputtering throughout the game.  Not to say that players should be excused from poor execution of the plays, but the buck has to stop with the offensive coordinator and head coach.
The Big Ten season has not even started yet, so Ohio State has one more non-conference game against Colorado to work out performance shortfalls.  There is no question there will be enough motivation and desire in the Buckeyes to ensure the result of the game against Colorado is on the correct side of the ledger. 
As for the Big Ten conference games, Ohio State has a good chance of winning all but two games.  It will run into formidable challenges in newcomer Nebraska Cornhuskers, the Wisconsin Badgers—who are a perennial annoyance—and the upstart Michigan Wolverines under new coach Brady Hoke.  Both Lincoln and Ann Arbor are difficult environments to play in, so unless Miller is given ample time and opportunity to become the new leader of the Buckeyes, it will be a lost cause.
While Ohio State may have tumbled out of the top-25 rankings in the country, do not count it out.  The Buckeyes will finish out the season with a respectable win-loss record, although well short of a perfect record. 
The lion may have been wounded, but don't take him for dead.  We are Ohio State!  Period!