Cincinnati Bengals' Legal Troubles Tie into a Troubled Past
September 22, 2011
Doug Pensinger/Getty Images
Breaking news! A Cincinnati Bengals player is in trouble with the law. No...wait! Make that two Bengals. As Led Zeppelin once said, "The Song Remains The Same." 
Some franchises are forever snake bitten by bad karma, it seems. The ghosts of men Paul Brown, who founded the team, screwed over seem to be drowning this team in ignorance and forgettable obscurity.
Somewhere upstairs, the ghosts of Mac Speedie, Bill Walsh and others are probably smiling in content as yet another Bengals player embarrasses himself, his family and teammates. 
Whether the player is a moron like Adam "Pac Man" Jones paralyzing a person for life after "making it rain" (with money) at a strip club, or the late Chris Henry for having continual alcohol issues, the Bengals franchise has had their players arrested over 32 times since 2000. It is easily this highest number amongst NFL teams, and this issue is a huge reason the team has gone 73-104 since 2000. 
Brown, a legendary Hall of Fame coach who won seven championships in his 17 years with the Cleveland Browns, founded the Bengals in 1968. Though he coached in Cincinnati for just eight years, he got the franchise off to a fast start by helping them to a 55-56-1 record.
He then ran the team from his offices from 1976 to 1991, when he died of complications from pneumonia. The Bengals reached the playoffs three times with Brown as their head coach, then four more times with him as the general manager. 
This includes the only two Super Bowl appearances in franchise history, where Brown's teams lost both times to the San Francisco 49ers. The team has reached the playoffs just twice since Brown passed away. It is ironic the team lost both Super Bowls to the 49ers Hall of Fame head coach Bill Walsh.
Walsh is another person who was once screwed over by Brown after having been a Bengals assistant coach from 1968 to 1975. He was promised the Bengals head coaching job for years, but offensive line coach Bill "Tiger" Johnson was chosen instead. 
Johnson resigned five games into the 1978 season while Walsh became the San Francisco head coach in 1979 and won three Super Bowls in his nine seasons on the Niners sidelines. Brown was accused of almost preventing Walsh of even getting the head coaching job in San Francisco once by Walsh himself. 
Walsh claimed that Brown "worked against my candidacy" to be a head coach anywhere in the league. "All the way through I had opportunities, and I never knew about them," Walsh said. "And then when I left him, he called whoever he thought was necessary to keep me out of the NFL." 
It is reminiscent of Brown's issues with Speedie, a Pro Bowl wide receiver during the Browns championship years. When Speedie wanted a raise in pay, he was rebuffed by Brown. He then bolted to the Canadian Football League for a bigger paycheck. 
Years later, Speedie became a coach and scout in the American Football League. The Bengals joined the AFL initially, so the two men once met on the gridiron before a contest. When Speedie extended his hand as a greeting, Brown turned his back on him after telling Speedie, "Yes, I know. You're the one who went to Canada."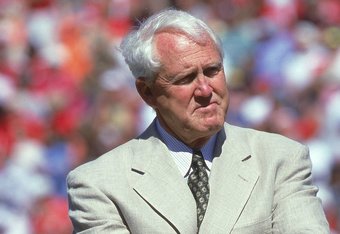 Tom Hauck/Getty Images
Speedie went to his grave believing Brown's influence prevented his induction into the Pro Football Hall of Fame. There are other frustrating examples of how Paul Brown infuriated people along his career, but time constraints will inhibit this endeavor. 
His son Mike hasn't done any better since taking over the team, as the Bengals have gone 113-181 under his regime. He is known for his frugality and much as he is for overseeing squads hat frequently have members ending up arrested.
Brown has frustrated people himself, as recently seen by quarterback Carson Palmer's refusal to play for the team and walking away from millions of dollars after Brown turned down his request to be traded to another team. 
Now current players Jerome Simpson and Anthony Collins are in trouble after being arresting in a drug sting where police seized 8.5 pounds of marijuana in total from Simpson's home after undercover agents delivered 2.5-pound package of the drug to the wide receiver's home. 
Simpson, who is leading the Bengals in receptions this year, has been viewed a disappointment as a player since being drafted in the second round of the 2008 draft by the team. Before 2011, he had appeared in just 11 games and had 21 receptions in his career. Collins, drafted two rounds behind Simpson in 2008, has started has started 16 of 34 career games as an offensive tackle.  
Both of their NFL careers are in jeopardy right now, a conundrum the league offices are used to dealing with when it comes to Bengals players. It may seem to be business as usual for this team, but the act has to have worn thin for the NFL long ago.
Perhaps the only way out of these constant messes for the Bengals is to hold an exorcism in an attempt to finally bring this team good karma.