Buffalo Bills May Be Primed for a Patriot Shocker in Orchard Park
September 23, 2011
Rick Stewart/Getty Images
We all know about the "streak". The Bills have lost 15 in row to the New England Patriots. We are also aware that the team from New England is coming to Buffalo with two impressive victories over the Dolphins and Chargers. How could anybody overlook Tom Brady's 940 passing yards in two games? All this doesn't seem to stack up on the side of Bills. 
There is just one problem for the Patriots. This game will not be played on paper. Last time I checked, a game isn't won or lost on stats alone. The outcome won't be decided by the predictions of the so-called "experts". This game will be played in Ralph Wilson Stadium where thousands of die-hard Bills fans will gather to watch a possible upset on Week 3 of this young NFL season.
New England's team is heading up to Buffalo with a record of 2-0 and its GQ quarterback behind center. The Patriots are entering this game undefeated, but guess what? The Bills are 2-0 as well.
Buffalo is coming off a very impressive opening day blowout win against the Chiefs in Kansas City and an exciting 38-35 come from behind home victory against the Raiders last week. If there was ever a time for the Bills to break their 15-game losing streak to these Patriots, this coming Sunday is that time.
This isn't just about the Bills playing well, this is about the Bills being vastly improved. Their offense has found a reliable and smart quarterback in Ryan Fitzpatrick. While Fitzpatrick won't be confused for Brady, he also won't make mistakes, like prior failures Trent Edwards and J.P. Losman.
Fitzpatrick can manage a good game.  He already has an impressive seven touchdown passes in his first two games this season. What is even more impressive is his one interception. The lone interception is a good example of Fitzpatrick's ability to not make a mistake.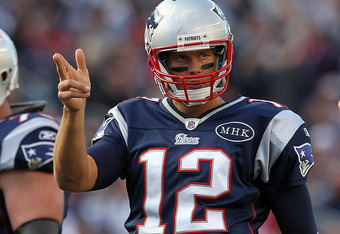 Jim Rogash/Getty Images
The loss of Roscoe Parish will hurt the Bills, but the Bills have depth on offense. Fred Jackson has had two impressive games at the running back position and expect C.J. Spiller to get more touches as the season goes on.
Stevie Johnson and David Nelson are two impressive wide out's that opponent's must game plan around. Don't forget Donald Jones, who will only be getting better each game he has under his belt. 
Scott Chandler looks like he can be the tight end the Chargers thought he had the potential to be when they drafted him in the 4th round in 2007. 
On the defensive side of the ball, you would like to see the Bills get a more consistent pass rush, but they have gotten better. The presence of Shawne Merriman has been a good influence on the defense, and hopefully will be able to get his teammates to put more pressure on the quarterback. The Bills have two sacks this season and that will have to change if the Bills want to continue their early season success.
The overall picture for the Bills is very bright, much brighter than previous years. If Buffalo can keep their momentum from the past two weeks, and feed off of the crowd on Sunday, they just may put an end to the "streak".
I'll go out on a limb:  Bills 27 Patriots 20  
Have fun on Sunday!