With Lincecum Not Committing Long-Term, Case for Pujols/Fielder Is Compelling
September 23, 2011
Ezra Shaw/Getty Images
"I don't think it has to do with the offense."
That's what Tim Lincecum—the ace of an elite pitching staff for the San Francisco Giants, a two-time Cy Young award winner and World Series champion—has to say when asked why he would prefer not to sign a long-term extension with the club.
Lincecum explains that the reason he'd rather just continue to sign short-term deals until he hits free agency following the 2013 season is because, "It's just easier for me mentally not to have to put that kind of pressure on yourself.
"Not that you don't want to succeed, but when you're signed to a long-term deal, it's like saying, 'I'm going to live up to every expectation.'"
While Lincecum says the lack of offensive support in his outings isn't a factor in his decision-making process now, as he enters the offseason preparing to go into arbitration with the Giants to negotiate the terms of how much he will be paid over the next two seasons, the Freak had yet a more telling statement about why he doesn't feel it would be good to commit to the Giants long-term at this point:
"I just don't know how I'm going to feel five years from now, or three years. That's why I'd kind of like to take things step by step and why I liked the deal I got last year."
Three years from now, if Lincecum's work on the mound continues to go for naught and his individual numbers continue to suffer because of an anemic San Francisco offense, the way he feels come free agency may certainly not be the way he feels now, not taking into account the offensive futility that has plagued the Giants so terribly in 2011.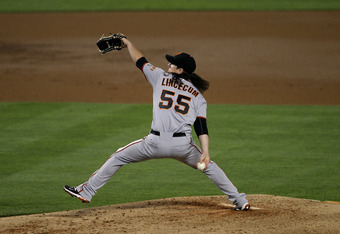 Stephen Dunn/Getty Images
Lincecum and the Giants, despite having an offense that placed ninth out of 16 National League teams, won the World Series in 2010.
Even though Lincecum did have his share of games in which he didn't receive adequate run support that season, his overall record of 16-10 with a 3.43 ERA was due in large part to an awful August, in which he went 0-5 with a 7.82 ERA.
This season has been wildly different. Lincecum has been fantastic. His ERA is 2.59, his WHIP 1.19, and he has held opponents to a meager .218 batting average against him. He's struck out 217 batters in 212 innings pitched and had a streak of nine straight starts earlier this season in which he lowered his ERA.
But Lincecum's record is 13-13. That's because he has the lowest run-support in the entire league.
So how will Lincecum feel in three years? Only he will know.
But it's very likely that if one season of paltry run support turns into three by the time Lincecum is eligible for free agency, there won't be anything more than memories of a glorious 2010 campaign to keep him around in San Francisco, especially when teams like the Yankees and Red Sox are dangling very large sums of money, as well as proficient run producers in the lineup, before Lincecum's eyes.
The Giants have the resources this offseason to "redesign and retool" their offense, as Howard Bryant of ESPN puts it. They need to secure a power presence in the middle of their lineup of the caliber that the two biggest free agents on the market, Albert Pujols and Prince Fielder, can provide.
If the front office in San Francisco doesn't take advantage of the increased revenues and the "substantial reserve" that outgoing CEO Bill Neukom has mentioned, to bring an established run producer to AT&T Park, they may be resigning this club to future mediocrity because Lincecum and Matt Cain (who will be a free agent following the 2012 season) won't have any reason to stay.
A competitive team is what keeps revenues flowing, and revenues, in this day and age of free agency, are what ensure continued competitiveness for the franchise.
This cycle breaks if the backbone of the San Francisco Giants, it's pitching staff, is decimated via free agency because the front office refused to adequately address the glaring and gaping offensive hole that led to its demise in 2011.
"Adequately" addressing this problem is not the signing of Michael Cuddyer. It's the signing of Pujols or Fielder.
The future of this franchise, which is uniquely positioned financially and has a window of opportunity now to make the Giants a perennial contender for the next several years, is at stake this winter.
And for new CEO Larry Baer and General Manager Brian Sabean, the clock begins ticking once the final out is recorded in this season's World Series. One that, sadly, the defending champions will not likely take part in.