Rafael Nadal Will Be No. 1 in 2012 and Roger Federer Will Retire
September 24, 2011
Jasper Juinen/Getty Images
Rafael Nadal got defeated for the sixth successive time by Novak Djokovic this year when he faced him in the final of the US Open.
But unlike after Wimbledon, when he looked crestfallen and despondent, he sounded happier about his performance. I doubt he had expected to win against Djokovic after the punishing schedule he had played in order to make it to the final.
He had played three back-to-back best of five-set matches on three successive days. Clearly, playing three matches on three days is tough, but more so if it is at the business end of a grand slam.
He was facing Djokovic who had played three matches in six days with at least a day's rest in-between any two matches.
In addition, Nadal had suffered a foot injury at Wimbledon which had prevented him from training and also resulted in inadequate conditioning, as evident from the scary cramping episode at his press conference.
Djokovic too, as it turned out later, was carrying an injury.
Nadal treated this match as a practice session for what he wants to try out against Djokovic in the next season.
Utterly fatigued, he did not and could not outlast Djokovic, especially with his not so perfect conditioning.
But he gave us a glimpse of what we can expect in that out-of-the-world third set.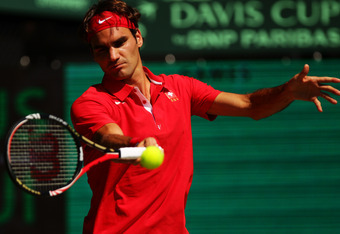 Matt King/Getty Images
If there was any chance of him carrying that momentum into the fourth set, it was lost when Djokovic took a lengthy MTO.
Nadal had given it his all and he just did not have the energy to fight in the fourth set. He must have felt discouraged by the thought that if he did win, he would have to fight to win the fifth.
Had he known Djokovic might not have been able to last the fifth set, he might have somehow fought on.
But all he knew was that he had come from three back-to-back matches in three days and Djokovic was relatively fresh in having played three matches in six days with no back-to-back matches.
So he gave up what in his mind was a fight against impossible odds.
But he knew that he had been close to Djokovic in level and like Scarlett O'Hara, he might have thought, "Mallorca! Home. I'll go home. And I'll think of some way to get my ranking back. After  all... tomorrow is another day."
His changed outlook was evident in his impressive Davis Cup performance a few days later. Although he was tired, he made mincemeat of  his French opponents. This made Peter Bodo describe him as the "implacable".
Nadal gave clear notice to his rivals and hope to his fans that he was not done. On display was his legendary spirit and courage for which he is so well known and for which his fans love him.
Nadal will be back. He will not be defeated on clay next year.
Other predictions:
Andy Murray will finally win a grand slam next year.
Nadal, Djokovic and Murray will win the four slams between them.
Juan Martin Del Potro will be in the top 5 but he will have to wait at least till 2013 to win his next slam.
Roger Federer will retire at the end of 2012 ( or at least he should!).
Federer is a great player and I doubt that he plays just for the fun of playing. He plays because he likes the exhilaration of beating all the other players and being given the importance of a No. 1.
Once Federer is convinced that he is past his prime and if he stays, he will have to get used to being thrashed by lesser players, he will retire.
Already seven Grand Slams have gone by with him reaching only one final. If he fails to win any of the next four slams, he will not be motivated to continue.