Week 3 Tight End Fantasy Rankings and Analysis: Is Fred Davis Now a Top Five TE?
September 24, 2011
Week 3 TE Player Rankings
Brought to you by pyromaniac.com
Complete Week 3 Rankings for  QBs, RBs and WRs
Click here for TEs ranked 11-25
10. Dallas Clark (vs Pit)
(questionable, foot)

 Colts players are falling down the totem pole left and right these days, but if I had my choice of one guy I had to have on my team, it would be Dallas Clark.
First off, Kerry Collins is not a throw-it-deep type of quarterback, so I look for him to dump it off to Clark more often than not from here on out. Second, his O-Line is getting him killed at this point, so some shorter drop-backs and quicker passes to Clark might be the answer.
He won't be the Dallas of old, but he still could have some worth here.
9. Marcedes Lewis (@ Car)
 The monster that is Marcedes Lewis has been back at practice this week and is ready to suit up for the Jags on Sunday.
Carolina has been pretty bad against tight ends this season and with coach Jack Del Rio opting to go with the rookie under center in this one, Lewis might be looking at a ton of targets from young Blaine Gabbert.
8. Vernon Davis (@ Cin)
 Vernon has been a huge disappointment thus far, but this week's matchup against the Bengals could be just what the doctor ordered him to get off the schneid. Cinci has already given up a couple of TDs to tight ends this season, so I expect Alex Smith to look his way quite a bit.
Besides, Vernon already opened his mouth to the team/coaches looking to be fed a little more going forward, and my guess is that they will adhere to his demands.
7. Greg Olsen (vs Jax)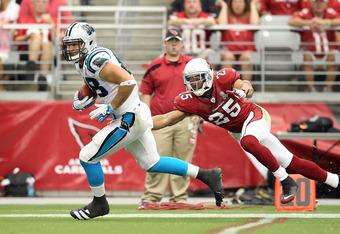 Christian Petersen/Getty Images
 Cam Newton won't be able to live off the bomb to Steve Smith all year long and will have to start checking down to his talented tight end sooner or later. Against a Jags D that allowed the third most fantasy points to tight ends last season and don't look to be much better in 2011, my guess is it'll be this weekend.
With Jeremy Shockey being used more as a blocking TE in this offense, Olsen is left free to release off the line and act like the wide receiver he really wants to be. I expect some nice numbers this Sunday.
6. Jimmy Graham (vs Hou)
 Some might say that Jimmy Graham hasn't quite lived up to the super-hype he was receiving before the season began, but when you look a little closer, he's actually on pace for 80 receptions, 1,080 yards and eight TDs. Those are some serious TE numbers, folks.
This weekend looks to be another shootout against the high-powered Texans, so get Graham in your lineup and expect some top-flight numbers.
5. Fred Davis (@ Dal)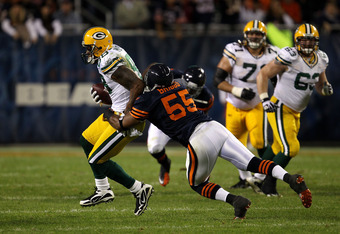 Jonathan Daniel/Getty Images
 If for some reason nobody has picked up Fred Davis in your league yet, go grab him immediately. The guy is one of the more athletic young TEs in the league and it seems he's put enough space between himself and Chris Cooley to warrant a weekly start.
Dallas was really good against tight ends last season, but not so much this year as they've already given up two touchdowns and 150 yards to them through two weeks of action. Grossman loves throwing to his TE, so dial him up this weekend unless you have one of the top four guys listed above.
4. Jermichael Finley (@ Chi)
 The Bears don't give up many TDs to tight ends, but they sure do allow a ton of catches and yards to them. Finley has merely been so-so through the first couple of weeks, but the guy has to break out sooner or later, and I'm thinking it could be this week against their inter-division rival.
Last season in his lone game against the Bears, Jermichael caught all nine of his targets and took them for 115 yards. Something tells me he'll have a shot to repeat those numbers on Sunday.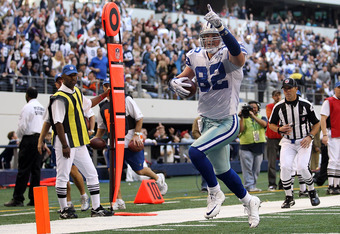 Ronald Martinez/Getty Images
3. Antonio Gates (vs KC)
(questionable, foot)

Taking Gates out of the number one slot was a really tough decision to make, especially against a completely decimated Chiefs team, but I had to do it. Not only does the flare-up of his plantar fasciitis scare me a bit, but also the Chargers could very easily be up by a wide margin at halftime and might take Gates out of the game to rest it.
Of course, he could very well be the reason San Diego crushes KC, so I have to at least leave him in the top three.
2. Jason Witten (vs Was)
 How far do you really think Romo can throw the ball with a cracked rib? Well, maybe still a lot farther than you or me, but he definitely won't be at full tilt this Monday night.
With Miles Austin out for the game and Dez Bryant still iffy with his quad injury, I expect Witten to see at least 10 targets in this one and possibly even more than that.
By the way, in his last game against these Redskins, Jason put up 140 yards on 10 catches with one TD. Just sayin'.
OH, and one MORE thing:  If Romo isn't ready to play or has to be taken out in the middle of the game for any reason, guess who Jon Kitna's favorite target is?  Yep, "The Groomsman", Mr. Witten.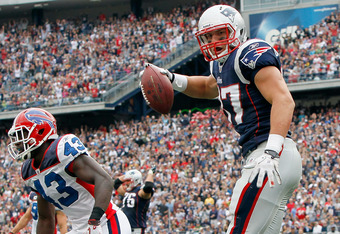 Jim Rogash/Getty Images
1. Rob Gronkowski (@ Buf)
 I'm telling you, if this guy's last name was Jackson or Johnson or whatever, I would STILL be calling him "Gronk". He simply looks and plays like someone named Gronk.
That said, with Aaron Hernandez out for the near future, Rob Gronkowski should have a field day out there racking up stats at a record pace. It won't matter who the Patriots are playing (though the Bills DID give up the most TDs and allowed the second most fantasy points to tight ends last season), Gronk is going to go nuts no matter whom it is.
Get him in there over any other TE you might have on your team and don't even think of taking him out for a while.
Brought to you by pyromaniac.com
Complete Week 3 Rankings for QBs, RBs, WRs and TEs
Follow Pyro® on Twitter:  https://twitter.com/pyroman1ac
Follow Pyro® on Facebook:  http://www.facebook.com/pyromaniac