Manchester United: Hernandez Needed Rooney, Not God, at Stoke City
September 25, 2011
Laurence Griffiths/Getty Images
Javier Hernandez infuriated the Stoke City fans before the game at the Britannia Stadium.
He knelt down on the centre circle seconds before the kickoff, put his hands together, raised his head skywards and prayed to God.
"What was that?" was the very loud message from the Stoke fans, though their delivery was a bit more blunt and obscene. Perhaps they found the gesture embarrassing. Or arrogant.
Either way, the prayers did not work for Hernandez.
Within three minutes of the start of the game, Stoke defender Jonathan Woodgate shoved him in the back. Hernandez went flying. A clear penalty to all except the referee.
Worse, the little Mexican striker fell badly, banged his head with a thunderous thud and damaged his leg. He limped off after five more minutes of the game, to be replaced by Michael Owen.
Nani needed no divine help to rip apart the Stoke defence. His brilliant solo effort in the first half demonstrated the difference in class between these two sides.
But class is not everything. Hernandez might call on divine help, but the Potters depend more on grit, hard work and a few choice words from their down-to-earth manager at the break.
Tony Pulis' halftime team talks have done the trick before, and this time his words of wisdom worked again. Straight after the restart, new boy Peter Crouch scored a blistering header to equalise—his first for Stoke and his first ever against Manchester United.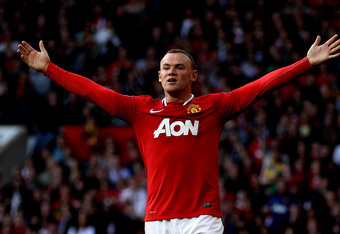 Clive Brunskill/Getty Images
He could have had two or three more.
And so could United.
In stoppage time, Giggs missed a sitter.
Even players with poise and class can sometimes make a hash of things.
The single point was enough to take United back to the top of the table. But without Rooney and Hernandez, they looked a little wooden in front of goal.
Nani and Young were superb on the flanks, and both players can cut inside brilliantly.
But Berbatov labours unconvincingly, and Owen, though classy, is not as quick as he used to be.
On current form, Rooney would have wrapped the game up before Pulis could set to work in the dressing room.
More so than ever, Rooney is the spark that sets United alight. The divine inspiration.