Boston Red Sox: Congrats on the Win, Too Bad Your Season's over
September 26, 2011
Darren McCollester/Getty Images
Coming into the second game of the Red Sox-Yankees doubleheader, the Red Sox held a half-game lead over the Tampa Bay Rays, and after 14 innings of hard-fought baseball, Boston extended its lead to a full game, defeating its New York rivals 7-4. Now, with three games to play, comes the defining moment of the Red Sox season. Can they maintain a one-game lead playing three games in Baltimore while the Rays host a Yankees squad with nothing on the line?
No.
And here's why:
In the last two days, the Red Sox have played three games. In those three games, the pitching staff has thrown 32 innings and a combined 497 pitches. The bullpen has thrown 19.1 of those innings. So now, with three games to play, the Red Sox have a worn out bullpen, with Josh Beckett, who averages just over six innings per start, scheduled to start the first game in Baltimore and Erik Bedard, who is averaging just under six, is set to start the second game. A tired bullpen on the road does not bode well for a BoSox squad already on the ropes and not playing well.
To make matters worse, they wore out a Yankee bullpen that now has to turn around, take a two-hour flight and throw out a pitcher making his second career start against the same Rays club fighting for a playoff spot. In the second game of the series, the Yankees throw out Bartolo Colon, who can be great but also tends to get crushed. With all of this, would it really be a surprise to see the Rays take two out of three from the Bronx Bombers?
In the end, it's more than fair to say that the Red Sox are in serious trouble. They need their two superstars—Adrian Gonzalez and Jacoby Ellsbury—to carry the load, Beckett has to be the pitcher he was for the Marlins all those years ago, and Bedard has to have a good start.
Assume, just for a minute, the Rays take two of three from the Yankees. There are three realistic scenarios that can take place from there. Scenario 1: Beckett and Bedard both win their starts, Boston wins the wild card and heads to the playoffs.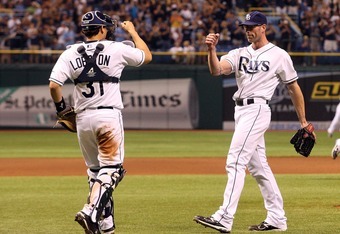 Charles Sonnenblick/Getty Images
Scenario 2 is a bit more interesting, however. In this second situation, the Red Sox only win one of their first two. They have to come into the final game of the season assuming Tampa Bay wins its game, therefore they have to start Jon Lester. Say, for argument's sake, Lester blows it. Now, the Rays and Red Sox play a one-game playoff. Whom does Terry Francona hand the ball to? Lester just threw, Bedard's not ready yet, either. That leaves the club with three options: Beckett on three days rest, Tim Wakefield or John Lackey. Not exactly a pretty picture with so much on the line.
In Scenario 3, both Beckett and Bedard lose, but Lester wins the final game, forcing the playoff game. Same situation as in scenario two where the Red Sox do not have an option that Francona can feel comfortable in with so much on the line. 
Now you see why I say the Red Sox season is over. Their early season efforts earned themselves a one-game handicap that they are going to have to use down the stretch if they want even a remote shot at a playoff berth. This, boys and girls, is going to be one hell of a finish.