Detroit Lions: The Best and Worst from Week 3
September 28, 2011
Hannah Foslien/Getty Images
The Detroit Lions game against the Minnesota Vikings made my job of focusing on the best and the worst relatively easy.  The difficult part is trying not to write a book about it.  There are several points that could be made because, so far this season, the Lions have shown consistency in their greatness and in their painful, if not somewhat surprising, weakness. 
It would be hard to argue that one of the best parts of the Lions game versus the Vikings was that they showed they are truly a four-quarter team capable of coming back after a 20-point deficit.  That in and of itself separated these Lions from even last year's Lions.  That's very good news, but what is almost better is that they are living the "never give up" kind of attitude that great teams are made of. 
If there is bad news in all of this, it is that it took them until the third quarter to get anything going.  This is part of the consistency they've shown this year.  They have incredible talent, but it seems to take them a while to settle in and get a rhythm going between the players.  This may be, in part, due to a few new players on the field trying to get a feel for each team.  It could also be that the Lions franchise QB, Matthew Stafford, is still trying to find his feet.  He may have been drafted three years ago, but he's more like an early second-year QB based on the number of games he has played in (now 16).
Stafford has shown more moments of greatness than anything else but there is still work to be done.  He is doing a much better job of getting rid of the ball to avoid sacks and loss of yards.  He throws bullets most of the time and can thread the needle, but he also can hold onto the ball way too long.  You can see Stafford reading the defense while he is under center and while the ball is still in his hand.  This is good because it's what great QBs do. Stafford just needs to be more confident about his reads and get rid of the ball quicker.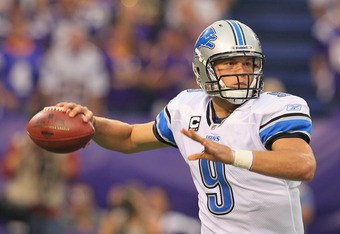 Adam Bettcher/Getty Images
The curious thing is that he did this during his fewer snaps this preseason.  It makes me wonder if he is over thinking the situation now that the games are for real or if the defensive lines are just that much better.  The Vikings have a very solid front four on defense and definitely created more challenges for Detroit's offense, but with all of the weapons the Lions have it was surprising how long it took to for the Lions to find their rhythm.  However, in the end that is exactly what they did.
Here is a breakdown of the best and worst from Week 3 against the Vikings:
The worst
1) The O-line could not contain Jared Allen, who had three sacks against Stafford and seemed to be everywhere on the field.
2) The D-line could not contain Adrian Peterson.  Peterson is an elite RB, which makes it even more important to find a way to shut down his lane and take the running game away.
3) Detroit's offense didn't score a single point until the third quarter.
4) The Lions still don't seem to have an answer at power back.
5) The NFL Game Center offered eye-awakening statistics: Detroit had 20 net rushing yards.  These came after 19 tries, which yielded a 1.1 average gain per rushing play.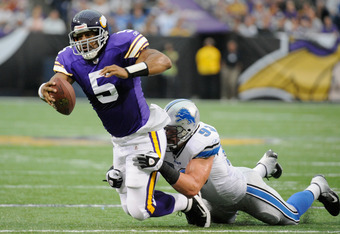 Hannah Foslien/Getty Images
6) Still piling on the penalties, the Lions had seven penalties for 65 yards.  Every penalty is costly (just ask the Vikings, who had 10 for 79 yards), but the two against LT Jeff Backus near the end of the game were just terrible.  I'm not sure they were any worse, however, than his first-quarter, drive-killing holding penalty after Allen's sack against Stafford or DT Sammie Hill's roughing the passer penalty that kept a dead drive alive by the Vikings in their second series.  Perhaps the worst one of all was against G Rob Sims when the Lions had great momentum going in their third possession of the game.
The best
1) "Never die, never give up" attitude that the Detroit Lions showed versus the Vikings. 
2) They played all four quarters, which is what they struggled doing last year.
3) A huge win to end a 13-game losing streak against the Vikings at the Metrodome.
4) Stafford showed that when he finds his rhythm with his offensive line, they are nearly unstoppable.
5) Stafford had no interceptions versus the Vikings.
6) The Lions showed they are a fourth-quarter comeback team on the road.
7) Calvin Johnson has had two TDs in all three regular season games, which is a record for receivers in the NFL.
8) The Lions showed they have multiple weapons on offense.
9) Stafford showed that he can take multiple hits.
10) The defensive line showed it is getting better.  Adrian Peterson gouged the Lions for at least 100 yards at the Metrodome until this meeting, when he was held to 78 yards rushing and 19 yards receiving.
11) Stafford showed he has confidence in his team and in his ability to lead them back to a win.
12) Lions offense continues to be a team of several offensive weapons (e.g. TE Brandon Pettigrew).
The best moment that topped it all off was HC Jim Schwartz's fist pump when the Lions won in overtime.  Dick Stockton and John Lynch had made comments during the game about Jared Allen and Adrian Peterson showing how badly they wanted to win.  I think Schwartz, who is generally fairly reserved, exemplified how important it is to him to see his team exorcise one more "demon" by beating the Vikings in the Metrodome.  That was an epic moment.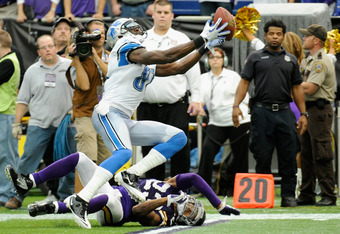 Hannah Foslien/Getty Images
The reality is that the Lions have much more to celebrate this year than they have in decades.  They are 3-0 for the first time in 31 years and, frankly, they may actually be a better team than their record indicates.  The "worst" listed in this article doesn't even compare to what it would have looked like during the Matt Millen years.  The Lions are a smart, young, and extremely talented team that when they get into sync with each other, they prove they deserve to be in the top five teams in the NFL.  I believe that they have yet to play their best game.
Bottom line
Good teams start games, great teams end them. 
The Lions of last year would start out strong but had a difficult time playing hard all four quarters.  Everything the Lions are up against this year they have seen before.  However, this time they want to be on the other side of it.  By all accounts so far, this Lions team is showing that the worst is behind them and the best is being played out on the field every week.