Fantasy Football Week 4 Waiver Wire Pickups
September 26, 2011
Jim McIsaac/Getty Images
It is never too early to figure out who are you planning to pick up on the waiver wire in your fantasy football league, especially if you own Michael Vick, Frank Gore or are in desperate need of a receiver. 
Here are the top options on most fantasy waiver wires as you head into Week 4: 

Vince Young and/or Mike Kafka, Philadelphia Eagles (QB)
Michael Vick is hurt again. Are you about as surprised as if I said Randy Moss is thinking about coming out of retirement?  Thought so.
Vick has a broken right hand to go along with the sore neck he suffered the week prior and the bruised ego he suffered at the hands of officials who fail to whistle defenders for having the nerve to touch him. 
Since it is Vick's non-throwing hand that is hurt, it is unclear how long he will be out. If he can handle the pain of taking snaps and has the perfect cast put on his hand, he might not miss much time at all, if any.  Or he could miss several weeks. Your guess is as good as Keyshawn Johnson's.
Philly's backup quarterback situation is equally unclear. Vince Young is the No. 2 guy when injury-free, but a preseason hamstring injury is still slowing him. Third-stringer Mike Kafka throws a nice spiral and had an outstanding college career, yet that is the most I can say about him. 
Until more information is known about Vick and Young's prognoses, fantasy owners might have to wait to pull the trigger on a pickup here. I believe Young will be ready by next weekend if needed and he would be the better choice over Kafka if Vick will be out for a length of time.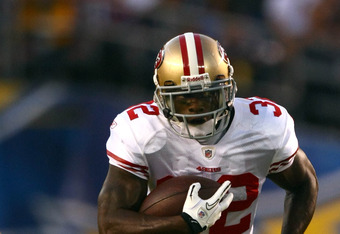 Donald Miralle/Getty Images

Kendall Hunter, San Francisco 49ers (RB)
Being Frank Gore's backup is never dull, and Hunter found that out in Week 3 after Gore sprained his ankle and left San Fran's game versus Cincinnati. The diminutive Hunter rushed nine times for 26 yards and a score and two catches for an additional 12 yards. 
If Gore cannot suit up next week, Hunter would start against a Philadelphia Eagles team whose run defense is an abomination. Scooping up Hunter, especially if you own Gore, is certainly a wise idea. Just ask Michael Turner, Ahmad Bradshaw and Brandon Jacobs owners. 

Nate Washington, Tennessee Titans (WR)
Tennessee's No. 1 receiver, the oft-injured, oft-arrested Kenny Britt, injured his knee against Denver and appears to have torn a ligament or two (MRI results coming soon). That means Washington will now assume the role of Matt Hasselbeck's best friend. 
Washington has put together three solid games (21 receptions for 258 yards and one TD) and should keep up the good work now that he will be targeted more often than Rick Perry. Until Chris Johnson gets in shape and gets his speed back, the Titans will be throwing a lot, and Washington will be thrown to the most.

Mike Thomas, Jacksonville Jaguars (WR)
Many fantasy owners probably dumped Thomas after he only mustered 84 receiving yards over the opening two weeks. But that was with Luke McCown, the worst quarterback of 2011, throwing to him.
Now that rookie phenom Blaine Gabbert is behind center, Thomas definitely has a better chance at producing, as he showed with his 55 yards and one touchdown against Carolina. Jacksonville is shorter on receivers than the Pittsburgh Steelers are on offensive linemen, so Thomas will undoubtedly be Gabbert's top target for the rest of the season.  

Torrey Smith, Baltimore Ravens (WR)
Lee Evans, take your time recovering from your injury. No need to rush with this rookie Smith blazing by cornerbacks and safeties at an alarming rate. Smith sliced through St. Louis' secondary for 152 yards and three touchdowns in his first NFL start and forced fantasy owners to take notice immediately.
Temper your expectations with Mr. Smith, though. He will have a hard time duplicating his breakout performance against Darrelle Revis and the New York Jets on Sunday night, and Evans should be back in a week or two.

Victor Cruz, New York Giants (WR)
As you can tell by now, this is a great week to pick up a receiver on the fantasy waiver wire. Cruz is another option probably available in 99.9 percent of fantasy leagues. All he did was make Nnamdi Asomugha look like Elvis Patterson on one spectacular, game-winning grab and torch Philadelphia for 110 yards and two touchdowns. 
Who knows when Mario Manningham will return from his concussion?  Cruz has proven he has big-play ability and should be thrown to more in the future, so if you are looking for a sleeper or just some depth on your fantasy bench, sign him up.    

Scott Chandler, Buffalo Bills (TE)
                   
Ryan Fitzpatrick cannot be stopped. He might break every single-season record ever set this year, so Dan Marino and Tom Brady should be scared. Better yet Fitzy loves spreading the ball around. He has already made Stevie Johnson and David Nelson into household names among fantasy families, and now his tight end Chandler is becoming well-known as well.
Chandler already has four touchdown receptions and has turned into Fitzpatrick's go-to-guy near the goal line. Even though the tight end pool is endless this season, with bye weeks on the horizon it would be a good idea to scoop Chandler up while he is still out there.   

Mike Nugent, Cincinnati Bengals (K)
If for some ungodly reason you drafted Steven Hauschka or Ryan Succop to be your kicker, or if you lost Nate Kaeding thanks to his torn ACL and have not found a suitable replacement, Nugent is likely the best option on waivers at the moment.
Thanks to Cincy's good-enough-to-get-into-field-goal-range-and-that's-it offense, Nugent is 7-for-7 on field goal opportunities. He has not played a full season since 2007, but Nugent has a career FG percentage of 79.8, so he can make kicks when he is healthy and on a roster.  You could do a lot worse. Nugent is no Neil Rackers, but he is solid.