Ledley King: A True Spurs Legend Who Wants To End His Career at Tottenham
September 28, 2011
Michael Regan/Getty Images
Name: Ledley Brenton King 
Position: Center Back
Natural Foot: Left
Clubs: Spurs through & through
Club Games: 297
Club Goals: 14
Years as a Spurs player: 14
International Representation: 21 games for England
Current Problem: Groin & Knee injury which could end his career.
Accolades: Tottenham Hotspur FC Club captain
Fans view: A True Spurs Legend
Mind-Boggling Stat: Under Harry, the Spurs have won 75 percent of the 56 games Ledley King has started and have a win percentage of 35 percent without him in 98 games.
Ledley King has started three games this season, and Spurs have not only won those games but won them with a strong defensive performance. They let in one goal against Wigan, largely down to a mistake from left back Assou Ekkoto, who was still recovering from a illness overnight. King just played a bit part role in six Premier League games in 2010-11, which makes me wonder how well Spurs could have done had he played at least 50 percent of league games.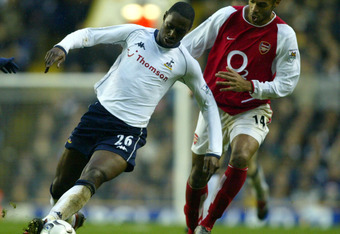 Ben Radford/Getty Images
King has acknowledged that this season will be his most critical yet. King is on his last year of the contract and need to play/be available for selection for at least 20 games this season to get a contract. 
But unlike Woodgate, Ledley wants to finish his career at Tottenham, if he doesn't get a contract at the end of the season. 
In a time, when a player like Tevez doesn't want to respect and play for the club that pays him, we have a player who doesn't mind quitting the game at 30, if he doesn't get a contract in his boyhood club.
King has said, according to The Daily Mail:
"This is my biggest season at Spurs yet. It is the first time I have been in a situation like this - when my contract is up. So it is a big season. I have to prove I am still worth it.

I can't see myself pulling on a shirt for anybody else at this stage of my career - although a player can never say never.

At the end of the day, I just want to stay fit and if I can play, let's see what position that puts me in at the end of the season.It is down to me to play the games. If I don't play enough games, it is a difficult position.We will see what the situation is when all is said and done. If I get to 20 [games], I am not going to stop! I will keep playing as many as I can.

At the moment I am just trying to bed in, get a bit of fitness and hopefully not get any niggles. If I can do that, I can get stronger and keep playing.I don't feel particularly great out there, in terms of sharpness and fitness, It has been like that for a long time. Sometimes I feel like I am playing at 60 or 70 per cent.

You have to deal with the restrictions at times and hopefully once I have played a certain number of games, everything else will come. It is just a case of getting through the first lot and being there to help the team."

 
Ledley has been a great servant of Tottenham, currently their longest serving player at the club. What makes him the best in the business is his ability to read the game and act on it. He rarely goes for the last ditch tackle, as the situation never gets to that point.
One example is, even with his current fitness level, he kept one of the most highly rated Premier League Strikers, Luis Suarez, quiet, not one game, but two games now looking back to last season as well.
One of the glowing remarks for him came from none other than ex-Arsenal striker Theirry Henry. From The Independent in 2006:
"I don't like defenders who hold the shirts of other players. The only defender here who doesn't do that and sometimes still gets the ball off my feet easily is Ledley King.

He is the only guy who doesn't hold players. He will get the ball off you without you even noticing. For me, that is a good defender.He plays without any contact yet is somehow still strong and gets the ball without doing any fouls."
If King plays at least 60 percent of Premier Leagues this season, I guarantee that Spurs will be in the top four end of season. Such is the impact he can make in the current Spurs set up. If I am not wrong, Gallas and King have not started a game together yet. Just to think what they could do as a Center back pair is something incredible and I hope that comes true this season.
I pray he gets his fitness and games back and Levy gives him a contract at the end of the season. Even a pay as you play deal would be great, considering the impact he could make.
Ledley King—A true Spurs legend in my eyes.