Howard, Rollins and Utley: Are Phillies Infielders a Hall of Fame Trio?
September 28, 2011
Len Redkoles/Getty Images
Wouldn't it be cool if the Phillies had a modern Tinker to Evers to Chance infield, with three of its stars—Ryan Howard, Jimmy Rollins and Chase Utley—one day heading for the Hall of Fame?
It's not a crazy notion.
All three infielders have put up excellent numbers thus far in their careers and they're relatively young—which means they have plenty of time to add to their resumes. Add to that the fact that they have helped lead the Phillies to multiple playoff appearances and World Series victories, and each of them could one day have a case for Cooperstown.
Look, for example, at first baseman Howard. Though he is only 31 years old, he already has 286 home runs, 863 RBI and a 138 OPS+, numbers that rank 26th, 40th and 13th respectively among active players.
He ranks that highly already, and he is still in the prime of his career.
Now let's play a projections game. Using Bill James' Favorite Toy, a projection tool developed by Sabrmetric guru Bill James, we learn that Howard is on pace for 496 home runs and 1,554 RBI in his career.
If he can reach 496 dingers, he will surely stick around and try to reach 500 (unless he pulls a Fred McGriff, who finished seven shy of the heralded 500 home run mark).
Howard has already led the league in moonshots twice and RBI three times and his Black Ink* rating of 21 is only six shy of the average Hall of Famer's mark. Not to mention, he already has an MVP Award, a Rookie of the Year, three All-Star Games, a Silver Slugger and three more top-five MVP voting finishes to his name.
*Black ink is a score used to measure how often a player leads the league in certain categories. The average Hall of Famers' Black Ink is 27.
And how about Rollins?
The 32-year-old shortstop already has 100 career triples, 372 stolen bases and 1,078 runs, which are third, seventh and 22nd, respectively, in the major leagues today.
He too has an MVP to his name, as well as three All-Stars, three Gold Gloves and a Silver Slugger.
According to Bill James' Favorite Toy, he is on pace for 2,548 hits, 502 stolen bases, 119 triples and 1,478 runs in his career—the only two shortstops to ever post numbers like that are Honus Wagner and George Davis, who are both in the Hall of Fame.
And finally, there's second baseman Chase Utley—who, unfortunately, is perhaps the weak link in this triumvirate. Though that's not to say he isn't building a Hall of Fame case of his own.
He is on pace for 1,874 hits, 303 home runs and 1,067 RBI—all solid numbers, but nothing that really jumps out at you. Until you realize he is a second baseman.
Traditionally, second base has not been a position for great offensive output as it has normally been a primarily defensive position.
In fact, only one second baseman in the history of the game has ever hit at least 303 home runs—the projected total for Utley—and that is future Hall of Famer Jeff Kent.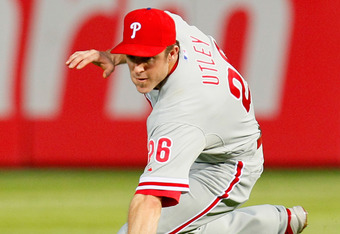 Kevin C. Cox/Getty Images
Let's look at it another way: If Utley reaches 303 home runs, he will be one of only two second basemen all-time with at least 300 dingers and 100 stolen bases. The other is some chump named Rogers Hornsby.
Add to that his five All-Stars and four Silver Sluggers and he too is creating a pretty strong resume.
The issue with each of these players is that they are not like Albert Pujols or Ichiro Suzuki—not one of them, if they retired today, would be elected to the Hall of Fame in a few years' time.
Their Hall of Fame cases are still in the process of being built and none of them have stamped their ticket to Cooperstown yet.
In addition, these players really need to meet the Favorite Toy projections to have any shot at being elected. If Howard falls just 30 home runs and 200 RBI short, then he'll be like Carlos Delgado—and Delgado likely won't merit induction.
If Rollins reaches only 2,200 hits, then he'll join non-Hall of Famers like Dave Concepcion and Tony Fernandez on the waiting list.
 And say Utley reaches only 250 home runs—well, he'll be looking like Bret Boone, and no one is crying for his enshrinement.
Unfortunately, projections and reality are often quite different and the latter frequently ends up shy of the former, because projections cannot predict sudden injuries and declines.
Take, for example, Jimmie Foxx. Using the Favorite Toy, we find that through age 31, he was on pace for 686 career home runs. He finished with 534.
Even the aforementioned Delgado was on pace for 510 home runs through age 31. He finished with 473.
To put another wrench in the works, none of those players are surefire first ballot Hall of Famers even if they reach their projected numbers—only Howard is set to finish within striking distance of a "Hall of Fame" milestone (500 home runs) and Utley isn't even set to reach the "secondary" milestone of 2,000 hits.
So, in a matter of nine hundreds words, I just built up each of these players' budding Hall of Fame cases and subsequently knocked them down—but not completely.
I never said these players have no shot at the Hall of Fame. In fact, I think each of them could have a Hall of Fame career—if they reach the numbers projected by the Favorite Toy.
But I also have to be realistic in noting that projections and real life often go in opposite directions and, rightly or wrongly, voters still like those big milestones like 500 home runs and 3,000 hits, which none of them are on pace to reach.
Rollins-Utley-Howard really is like Tinker-Evers-Chance. Like the latter group, Rollins, Utley and Howard are not potential future Hall of Famers because they each reached one great milestone.
They are possible enshrinees because their careers as a whole, including their statistical accomplishments, awards,  accolades and the lore that will surround them—they did, after all, lead the Phillies to years of National League domination—when looked at through the lens of historical review, will show they are Hall of Fame caliber players.
Neither Howard, or Rollins, or Utley are future Hall of Famers if they retire right now. They are not future Hall of Famers if they retire three years from now.
They are future Hall of Famers if they reach the numbers projected for them and if they continue to add All-Star Games, MVPs and playoff successes to their already-growing resumes.
*I also have to mention the Harry Steinfeldt of the group, third baseman Placido Polanco. He is on pace for over 2,000 hits, but like Steinfeldt, who was the third baseman in the Tinker-Evers-Chance infield, he will likely gain little Hall of Fame support and has never really built any sort of case. He has been steady, but isn't quite on par with his (more famous) teammates.