Why San Diego Chargers' GM A.J. Smith Underrated
September 28, 2011
Kevin Terrell/Getty Images
Let me be the first to say that I have been suspected of A.J. Smith's performance over the last couple years. The Chargers have had a slew of questionable draft picks and contract dealings. A.J. Smith, who is seen as an arrogant, egotistical, GM has received a lot of heat for every move that goes bad.
Yet, he seems to receive no credit from all the talent he brings in from places other than the draft. Let's face it, A.J. Smith has formed the Chargers into a winning franchise, year-in and year-out. Don't believe me? Well, let me open your eyes to the wonderful world of Disney, complements of A.J. Smith.
Lets start with this... "Since A.J. Smith took the reins of the Chargers on April 22, 2003, after his close friend and long-time associate, John Butler, lost his battle with cancer, the Chargers have won 80 games and five AFC West championships in eight years... Smith continues a fast rise up the charts toward becoming the winning-est general manager in Chargers history. Sid Gillman is ranked first all-time with 93 wins while serving as both general manager and head coach for 12 seasons (1960-71)" - Chargers.com
While Sid Gilman is revered as the greatest Chargers GM of all time, A.J. Smith seems to be thought of as the worst of all time. Yet, he is on pace to shatter Gillman's record. Shatter it by 27 games to be exact (120 wins over 12 season is his current pace). That is over 2 more wins a year!
"Losing Seasons and Mediocrity"
Do any Chargers fans remember what the franchise looked like before A.J. Smith? Well if you don't, here is a look (BTW i looked up the Chargers on Wiki and the title for the years 1996-2003 was labeled "Losing Seasons and Mediocrity". If that doesn't explain what i am getting at, then nothing does).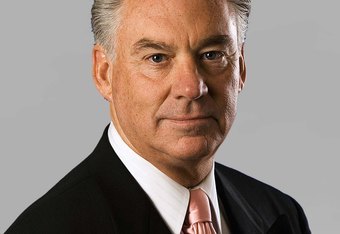 Getty Images/Getty Images
1996-2003
The Chargers combined record was a abysmal 43-93. This included no playoff appearances, two number one overall picks, and huge loss in fan support (One of the main reasons Qualcomm is still here today). It led to some horrible draft pick, too. Players such as Toniu Fonti (2st round, 2002), Reche Caldwell (2nd round, 2002), Rodgers Beckett (2nd round, 2000), Jermaine Fazande (2nd round, 1999), Ryan Leaf (1st Round, 1998), Mikhael Ricks (2nd round, 1998), Freddie Jones (2nd round, 1997), Bryan Still (2nd round, 1996), Patrick Sapp (2nd round, 1996). This is just looking at first and second round busts. Yes, they got L.T., Drew Brees, and Jamal Williams in that same time frame, but did absolutely nothing to build around those players.
Taking it a step further
Since the Chargers induction into the NFL in 1970, they have won ten division titles, five of which have come under the supervision of A.J. Smith. In that same time frame, the Chargers have had nine seasons in which they won 10+ games; four under Smith. Since Smith became the GM of the Chargers have only missed the playoffs two time. The records those two seasons you ask? 9-7 and 8-8; still not too shabby.
A.J.'s talent influx
Now for all you that say he has had horrible drafts. First of all, the draft is basically a lottery for talent. Teams can pretend they know what they are doing all they want, but predicting how a player will perform in the NFL is almost impossible. Otherwise, you would see the all 1st round talent performing at a high level (Tom Brady anyone? Ryan Leaf?)
The 2004 Draft
Possibly the best draft of all time by the Chargers was in 2004, a draft which just so happened to be Smith's first after a full year under his supervision. Trading Eli Manning to the Giants really got the ball rolling. This draft netted the Chargers Philip Rivers (via Giants trade), Shawne Merriman (2005 draft, via Giants trade), Igor Olshansky, Nate Kaeding (via Giants trade), Nick Hardwick, Shaun Phillips, and Michael Turner. For those saying that Eli is the better QB, you are delusional. For those saying the Chargers core was created before A.J. Smith became GM, you can join the Manning folk.
Draft Talent since 2004
I am just going to list these guys out...No explanation needed: 2005 Draft: Shawne Merriman, Luis Castillo, Darren Sproles, Vincent Jackson, Scott Mruczkowski 2006 Draft: Antonio Cromartie, Marcus McNeil, Charlie Whitehurst, Jerome Clary 2007 Draft: Eric Weddle, Legedu Naanee, Brandon Siler 2008 draft: Antoine Cason, Jacob Hester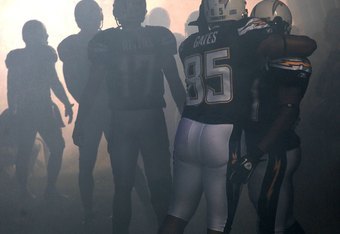 Donald Miralle/Getty Images
Evaluating drafts classes from 2009-2011 is sort of pointless, but, heck, I'll take Ryan Mathews any day of the week.
Undrafted Free-Agents and Signings
Now for the kicker! Not convinced that the Chargers have a keeper in A.J. Smith yet? Well let me throw some more rain on you whining-parade. A.J. Smith has made the Chargers into who they are today though his eye for Undrafted talent. Plain and simple. Some rip on Smith for not bringing in big time free agents, but this could be farther from the truth. Here are the facts:
Since becoming GM in early 2003, Smith has brought players such as:
Lorenzo Neal (Pro-Bowl Free agent, 2003) - The Engine that made L.T. go.
Steve Foley and Randall Godfrey (Free Agents, 2004) - The super smash twins.
Mike Goff (Free agent, 2004) - Four year starter at guard for L.T.
Greg Camarillo (Undrafted Free Agent, 2007) - Fell victim to a deep receiving core in San Diego. Now a solid 3rd WR for the Vikings. 
Wes Welker (Undrafted free agent, 2004) - Speak for himself. Let go because, again, we had depth at the wideout position. Hindsight is 20/20.
Antonio Gates (Undrafted Free Agent, 2003) - 7 x Pro bowler, 5 x All Pro, and possibly the best TE of all time.
Kris Dielman (Undrafted Free Agent, 2003) - 4 x Pro bowler
Stephen Cooper (Undrafted Free Agent, 2003) - 6 year starter, 500 career tackles, eight career interceptions
Jacques Cesaire (Undrafted Free Agent, 2003) - Solid rotational D-Lineman, now starter.
Ogemdi Nwagbuo (Undrafted Free Agent, 2008) - Solid rotational D-Lineman
Mike Tolbert (Undrafted Free Agent, 2008) - The most versatile back on the Chargers roster since 2008. Said to have the best hands on the team.
Malcolm Floyd (Undrafted Free Agent, 2004) - Chargers No. 2 wideout with crazy big play ability.
Steve Gregory (Undrafted Free Agent, 2006) - Solid 4 year back up at safety. Featured on dime and nickle packages. Now starting for Bob Sanders.
Kassim Osgood (Undrafted Free Agent, 2003)  - 3 x Pro Bowler for special teams
Now, the only big names that pop out on this list are Antonio Gates and Kassim Osgood, in term of Pro Bowls and fame, but, as any real Charger fan would know, these other players have been instrumental in forming the Chargers into the winning team they are today. Football is a team sport and these players have made up the core of the Chargers' team, turning them into one of the deepest franchises in the NFL.
No, A.J. Smith has not won a super bowl. Yes, he has only made it to one AFC title game, but only so much blame should be shouldered by the GM. At some point it becomes the coaches and players responsibility to take to opportunity that they are given and execute.
Smith, in my eyes, should be revered rather than hated. Someone get this man a hug!