Analyzing Fredi Gonzalez's Decision to Bring Back Entire Braves Coaching Staff
September 29, 2011
Kevin C. Cox/Getty Images
The day after the Atlanta Braves season ended after an ugly September collapse, manager Fredi Gonzalez announced that he invited the entire coaching staff back for the 2012 season.
At Turner Field on Thursday afternoon, Gonzalez said, "I invited them back and obviously they accepted, which is good. We've got a good staff."
What does this mean for the Braves? Will the Braves get better results next season with the same coaching staff?
Gonzalez seems to believe they will.
"I think if you hire people, let them do their job. ... It's easy to fire somebody and just kind of throw somebody to the wolves. That's not the way I work.
"You want coaches to be able to come in here and work in a good environment and not be worried looking over their shoulders about that kind of stuff."  
It's clear that the Braves manager is fond of the staff he has in place and is confident they can be successful.
This announcement brings up an interesting subject. Braves hitting coach Larry Parrish will be keeping his job. This is possibly the most debatable move by Gonzalez at this point.
The Braves hit a weak .195 with runners in scoring position over their final 26 games.
Along with the final stretch troubles, the Braves offense never seemed to find a groove all season long at the plate. Sure, there were injuries, but the Braves' overall lineup couldn't make it a full month without inconsistency.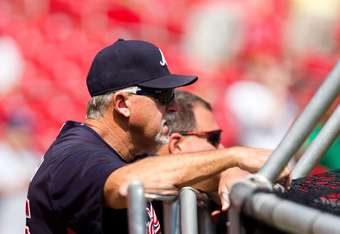 David Welker/Getty Images
When discussing his decision to bring back the entire staff, Gonzalez mentioned Parrish by saying, "I'm sure LP will sit back and evaluate some things and maybe do some things different, like we all will."
It looks like Gonzalez thinks Parrish, and others, can make the adjustments needed to find more success.
That seems to be the general idea in Gonzalez's mind right now.
The Braves struggled in various areas down the stretch—that's no secret. Along with the poor batting performance, an overworked bullpen has been a hot topic the past few weeks.
Jonny Venters and Craig Kimbrel both pitched an incredible number of innings this season. Venters even received the nickname "Everyday Jonny" this season.
Since these costly struggles are so obvious, Gonzalez bringing back his entire staff means one thing: confidence. I think Gonzalez does realize changes need to be made in the coaching strategy for next year, and he feels his current staff can adjust properly.
Why else would he even think about bringing back an entire staff if he wasn't confident in them?
I respect what Gonzalez is trying to do. Keeping a consistent staff is important. If you truly want to build a powerful team, the players aren't the only piece that matter.
Regardless of how the year ended, the Braves still won 89 games in 2011. Despite the tragic ending, the coaching staff was doing something right along the way.
I do, however, have one expectation for Gonzalez that will fall completely on his shoulders in 2012: I want to see the Braves manager become a better motivator.
I know I'm not the only Braves fan that felt like I was watching an almost depressed ballclub down the stretch.
I'm not saying the Braves didn't care and didn't want to win for Gonzalez and their fans. I don't believe that for a minute. I simply want to see Gonzalez become more emotional with his players.
If he wants the Braves to keep themselves out of major slumps and collapses like they experienced this season, the atmosphere in the clubhouse needs to be higher and more transparent.
The fans need to know the players and coaching staff are all just as emotionally invested as they are.
I think Gonzalez is aware of this, and hopefully he can grow into that kind of manager with Atlanta next season.