Detroit Lions: 7 Players Who Stepped Up in Week 4
October 3, 2011
Ronald Martinez/Getty Images
What I thought might be a difficult assignment at the beginning of the Detroit vs. Dallas game became  even more difficult by the end of the game.  At the beginning I thought it would be tough to come up with any players who stepped up.  By the end of the game, I had a bevy of great candidates to choose from.
Last week I stated that "good teams start games and great teams end them."  This was the case again with the Lions having a tough start to the game, but a very strong finish.  So before I point out individual players, I would have to give a thumbs up to the entire Detroit Lions team.  This win took everyone.
In my lifetime, I don't remember two more nail-biting games in a row like these last two have been.  But if I have learned one thing, it is that this team does not have "give up" in their vocabulary.  Last year I saw them as a stronger first half team but this year they appear to be a stronger second half team.  Most likely they are just a stronger team, period.
Having two come-from-behind wins on the road is no small feat.  Starting out 4-0 in a tough league (and for the first time since 1980) is incredible.  Truly epitomizing the "Never Say Never" saying is priceless.
With all of the play-makers on the Detroit Lions team, there are a few who really helped turn the momentum back around.  These are the players who earn special recognition for "stepping it up in Week 4" and helping keep the swagger alive in Detroit.
First up: LB Bobby Carpenter—The Lions were down 27-3 and didn't appear to have many answers on offense. Carpenter, in for an injured Justin Durant, got his first interception and brought it back for his first touchdown.  That was a momentum changer.  The Lions now had 10 points on the board.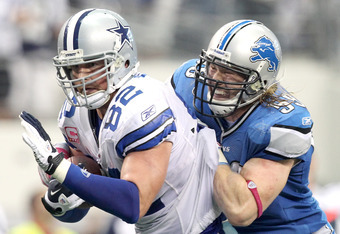 Ronald Martinez/Getty Images
Second: CB Chris Houston—Yes, I know that Houston did not have a very good day covering the Cowboys' receivers.  However, shortly after Carpenter's interception, the Lions defense came up with another interception by Houston, who also ran it back for a touchdown.  This put the Lions right back in the game with 17 points. 
Third: MLB Stephen Tulloch—As poorly as the defense played in the first half, Tulloch still came away with 10 tackles (and also taking QB Tony Romo down) and one interception.  He's always been a solid tackler, but getting his first interception makes him deserving of being on this list.
Fourth: WR Titus Young—I love that the Lions have found another rookie who is beginning to show no fear on the field (Ndamukong Suh was the Lions' fearless rookie last year).  He had three catches for 41 yards, and has become a consistent viable option for Stafford.  I just wish he wouldn't have gotten a pass interference penalty.
Fifth: DL Willie Young—Even though the game was coming to a close, it was important to have someone seal the deal.  Young did this by sacking Tony Romo on the Cowboys' last effort, and capped off an historic collapse for the Cowboys.
Sixth: WR Calvin Johnson—I know that Johnson steps up every week, but his two touchdowns against the Cowboys were hard-fought.  Because of his two touchdowns in each of their four regular season games, he now has set an NFL record.  That will get you on the list every time.
Seventh, and last: QB Matthew Stafford—Stafford makes this list because he has shown the heart of a QB who doesn't give up.  Stafford was not sacked, but he got plenty of pressure the entire game.  This was the second week in a row that he helped bring his team back.  It wasn't always pretty, but once the offense got in sync, Stafford found his play-makers, and together they won this game.  He also took total ownership of the interception he threw.  That kind of self accountability makes a leader special.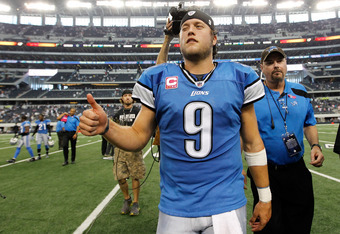 Tom Pennington/Getty Images
Honorable mentions: RB Jahvid Best for very hard-fought yardage, TE Brandon Pettigrew for continuing to be a great option, RB Keiland Williams for being the extra back the Lions needed, S Louis Delmas for being everywhere on the field and being the only safety in the top three for total tackles (only behind Tulloch and LB DeAndre Levy), K Jason Hanson, for being perfect and scoring 10 points and last but not least, Coach Jim Schwartz for building this team the right way, and for two weeks in a row of awesome fist pumps at the end of the game.
The bottom line is that it took the entire team to pull this win out.  The Lions have now outscored the Vikings and the Cowboys in back-to-back come-from-behind wins, 57-13 (Courtesy of Troy Aikman and Joe Buck—NFL on Fox commentators).
Think the Lions are legitimate yet?