AP Poll College Football 2011: Auburn Makes Its Way Back in at No. 15
October 2, 2011
Streeter Lecka/Getty Images
I think a lot of Auburn fans were a bit shocked at actually making it back into the AP Top 25 at all after the Tigers' performances in their first five games.
Then to beat South Carolina the way the Tigers did, getting to No. 15 in the poll was the last thing expected.
If you look strictly at playing the game, Auburn is clearly on the upswing in terms of improvement, and yes, they have won four and only lost one.
But No. 15 after moving to obscurity with one loss to Clemson? Unheard of.
Where did that respect come from, respect that's been missing since preseason?
The Tigers do seem to win, doing just enough to put more points on the board and keep their opponents out of key scoring positions.
The only loss that AU has suffered came at the hands of Clemson, a team that has amazed most with their stellar play, an abundance of standout stars, an undefeated 5-0 record and a recent resounding win over Virginia Tech 23-3 on their hostile home field in Blacksburg, Va. 
The Hokies from VT were also ranked at No. 11 with hopes of going undefeated themselves.
This single loss by the Auburn Tigers to the Clemson Tigers stings less with every week that goes by since Clemson is proving what a good team they have. They moved from last week's No. 13 spot to No. 8 this week, by the way.
This vote of confidence for the Auburn Tigers could have something to do with their single loss to a good team, but also in what feels like a methodical method for improving week to week on both sides of the ball.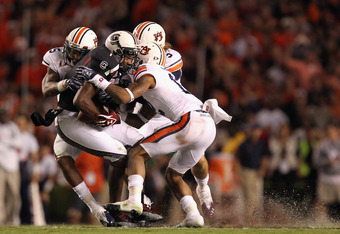 Streeter Lecka/Getty Images
Defensively, the Auburn Tigers showed they could face a nationally-ranked South Carolina team and shut down quarterback Stephen Garcia, a Heisman hopeful like Marcus Lattimore, and wideout Alshon Jeffery. Jeffery did score one touchdown, but that didn't affect the game's outcome; Jeffery achieved only five catches. 
Granted, the Gamecocks played sloppy offense, but fundamentally, the Tigers just looked better.
Offensively, the Tigers modified their prior game plans, with Michael Dyer getting twice the number of carries he's been getting and Kiehl Frazier playing more of a role, just as advertised by Auburn prior to the game.
Barrett Trotter's performance was spotty with some good and some bad, including questionable decisions on his part.
That too was not enough to affect the game's outcome, though. And that is what coach Gene Chizik seems to focus on: the game's outcome and doing whatever it takes to get there with more points on the board.
In other words, he wants to win.
The game's outcome is also what voters in the AP Poll must have been looking at as well, because as close as the fans are to Auburn's performance, sitting that high in the poll after one win was the last thing they expected.
As far as the Tigers are concerned, they'd probably rather stay anonymous for now until the month of October is gone and just concentrate on winning. I'm sure Chizik is thinking that way.
Arkansas is coming up, and the Tigers need to be concentrating on Tyler Wilson's passing and how to get through a defense that all but stopped Texas A&M in the second half this past weekend.
The Tigers should forget about the rankings, as surprising as they are, and just stay the course they're on.
A ranking in any poll shouldn't even be a consideration since winning is all that matters, and those numbers will take care of themselves as long as that happens.