Philadelphia Eagles Defense Is Terrible; Is It Time for Juan Castillo to Go?
October 3, 2011
I was gonna write a big article analyzing every part of the mess that the Philadelphia Eagles have become, but after such a heartbreaking loss (for the third week in a row), I can't muster the energy to go into that much depth. Instead, we will take a hard look at the reality of this terrible defense and their defensive coordinator, because the proof is in the pudding, and the pudding is rotten.
The Eagles are 1-3 and are every bit as bad as their record would lead you to believe. There is no question they have the talent to win, but blah blah blah.
This catastrophic slide into the abysmal comes as quite a shock to everyone, including the Philadelphia Eagles. One might assume that after their season opening win in St. Louis that the Eagles were starting to drink the Kool-Aid, basking in the idea that they could actually be a dream team.
Against the 49ers, the offense blundered time after time, and the kicker missed two crucial kicks, although they had still combined to produce 20 points in the first half, but it was the defense that didn't hold the lead.
The offense got a decent lead, then the defense watched the opposing team gash them to pieces (sounds familiar).
The play of the defense has been very troubling. I was almost positive Andy Reid would shore it up a few weeks ago, but continued troubles have erased any doubt of bigger problems. Reid is constantly talking about how they go to do a better job isn't making them do a better job; something has got to give. But why are they still struggling so much and why can't they fix the problem?
It goes without saying that hiring the former offensive line coach Juan Castillo to be a defensive coordinator was very possibly the stupidest thing Reid has done in his entire head coaching career.
Reid hired him because he was a "good coach" and a "defensive guy." Who wouldn't stand behind those credentials when looking to fill one of the most crucial positions in all of professional sports?
The real reason Andy Reid hired Castillo was because he had become a decent coach and a good friend, and Reid didn't want to lose him to another team. So he promoted this "defensive guy" to the defensive coordinator position and subsequently unleashed the four horsemen of the apocalypse in the city of brotherly love.  
Being a good coach doesn't automatically make you a good coordinator. The only actual experience Castillo has coordinating a defense is on the high school level, and that was ages ago. So this somehow makes Castillo qualified enough to battle against some of the most brilliant minds in the NFL? I can't even imagine what Belichick and Brady could do to this guy.
One of Castillo's biggest weakness as a coordinator is his inability to make in-game adjustments; the only problem with that is teams who can adjust mid-game and find a way to get the upper hand will win more times than not.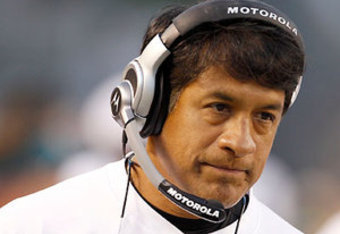 Castillo has been an offensive line coach for 13 years, I could understand the hiring if he had been a defensive assistant for three to five years, but he was nothing more than an offensive line coach in the NFL. I don't care if he had private meetings with former DC Jim Johnson every night; that doesn't mean he was in the defensive huddle on the sidelines during games for all those years, seeing and learning how Johnson would make in game adjustments.
Castillo is in no way qualified to adjust anything defensively.
He can yell at his guys, fire them up and teach them proper fundamentals, but those are not the best qualities for a coordinator to have. The defensive coordinator needs to be the sharpest and smartest man on the field, and though I'm sure Juan brings much to the table as a football mind, I'm not sure he has enough wheels turning in there to consistently overcome the adversity presented by an experienced offensive coordinator with even a slightly competent offense.
I didn't have much faith in Juan Castillo before, but I have no faith in him now. Just listening to the man speak is incredibly unsettling. He is such a mild mannered go-with-the-flow kind of guy, and answers every question with the same old football cliché answers. 
It just makes you think, "This man can't possibly be capable of doing this job." Then you see Castillo out there screaming in practice, so you assume when he gets behind closed doors he really knows how to get this thing going. But does he?
How can a defense with so much talent be so bad? After four incredibly unsettling defensive performances, the secret is out. Castillo doesn't know how to coordinate properly and should probably be fired simply because of the results (and really, what team would be OK with these results? Someone has to be accountable)
I'm sure Reid has faith in Juan as a coach, but blindly believing he could just jump in and coordinate effectively on the NFL level is complete lunacy. Castillo doesn't have much experience to build upon, and Reid can't afford to keep losing while he builds his resume.
Part of me hopes Reid has the courage to say he made a mistake and just fires Castillo.
The only problem this presents is, who do you replace him with? No time to bring in a new coordinator and try to get him up to speed in terminology and get him fully versed in a week. If they tried, we might as well add 3-4 more losses to the tally.
The odds are that Reid will stick with Castillo, because he, on some ridiculous level, believes he still made the right choice.  You'd have to think it couldn't get any worse, but you have to ask yourself, what if it doesn't get any better?
I feel it's also possible that Reid hires someone else as a defensive consultant. If that doesn't help Castillo much in a few weeks time, they could always just hand the job over to the consultant who would obviously have more experience. Really, who would be worse than Castillo at this point?
The dream is dead. If the Eagles want to make the playoffs, it's going to take hard work, and with a defensive scheme in place that continues to show noticeable handicaps every week, I'm not sure hard work will be enough.
The Eagles can still be successful as long as their offense can stay good enough to keep outscoring the opposing team, but I think we all saw how that approach worked last season down the stretch. If the defense can just stay consistent enough and the offense can really start clicking, nothing should keep this team from winning (outside of Reid's in-game mistakes). Needless to say at this point, if they have any hope of making the playoffs, they won't be able to lose many more games.
What do you think of Juan Castillo?
Should they fire him or just bring on a defensive consultant first?
If they do fire him, who would they replace him with?
Has Andy Reid hurt his job security by hiring Juan Castillo?
We're in the muck now, Eagles fans; time to find a way to dig ourselves out.