Detroit Lions: "Killer" Kowalski, Bobby Layne May Be Responsible for 4-0 Start
October 3, 2011
Tom Pennington/Getty Images
If you happened to have been at the Lions home opener against the Kansas City Chiefs this year, it was clear that the late Tom "Killer" Kowalski was still in the press box.
In his last interview on WKLT, Kowalski predicted that the Lions would be exciting, but would still end up 8–8 on the season. 
Here is an excerpt from Justin Rogers from MLive.com's article on August 29, 2011:
In classic Kowalski fashion, he let out a deep, bellowing laugh as one of the hosts predicted the Lions would finish the season 12-4.

"Wow," Kowalski responded. "You are aware that they start with three of their first four on the road, and two teams in their division were in the NFC Championship game last year?" 
I wonder what he would be saying now? Granted the Lions have only played their first four (with three on the road) and have not faced the Bears or the Packers yet, but I can't help but feeling that Killer is still with the team and pushing them on. 
There has also been much talk about Matthew Stafford being the new Bobby Layne because of their similar upbringing and knack for the quarterback position.  Who knows, maybe Bobby is there backing Stafford up too.  Hey, I didn't start the whole "ghost of Bobby Layne" or "curse of Bobby Layne" saying, I'm just suggesting that perhaps this team is feeling some love from ones who believed in them all along.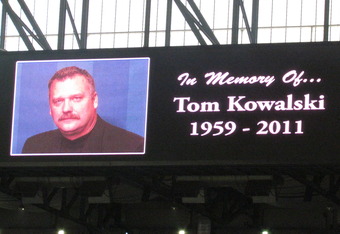 Is Stafford like Layne?  Well, consider this excerpt from The Detroit News:
Detroit News sports columnist Jerry Green spelled out Layne's hold on Detroit when he wrote: "Bobby La[y]ne and television made Sundays bearable in this factory town. On Sundays some of us would rush to church and rush back home in plenty of time to flick on the old black and white gizmo. When the Lions were on the coast, dinner would be permitted to turn cold until Bobby coaxed the Lions to their victory in the final minute.

"He was the symbol of this city, the toughest and the best. He played without a face mask and he was at his finest against the clock. When a touchdown drive was necessary, he could make the last two minutes seem an eternity."

...The fans loved Bobby and the feeling was mutual.
Stafford is quickly becoming the new face of the Lions.  He is giving a city hope that they haven't had in decades and it couldn't come at a better time.  He's not doing it alone, of course.   The 2011 edition of the Detroit Lions team has a ton of talent on both sides of the ball. 
But it doesn't hurt to have an ever expanding fan base, and, maybe, a couple of guys who are with them in spirit, cheering them on.