Week 5 Waiver Wire: 3 Players Who Can Save Your Fantasy Football Season
October 3, 2011
Stacy Revere/Getty Images
The Minnesota Vikings are not the only ones searching for a savior this week. Millions of fantasy football owners are looking for their own.
Are you holding out for a hero who can ride in and save your fantasy football season?  You came to the right place.
If you are 1-3 after the first month of play, depleted at a position due to a rash of injuries or just having more trouble scoring than the New York Jets do whenever they face the Baltimore Ravens, then one of the three players covered in this column could steady your ship and keep you in contention over the next couple weeks.
As the NFL season heads into the bye -week portion of its program, the need for healthy, productive bodies on fantasy rosters becomes tantamount. Your bench players will now be used as starters a couple times to fill in the lineup gaps, so you cannot afford to trot out Lance Ball and Keary Colbert as active players on your fantasy squad. 
Here are three players who should be as popular on fantasy waiver wires this week as Herman Cain is among Republicans.
   
Matt Moore, Miami Dolphins
Chad Henne might have learned one thing too many from previous mentor Chad Pennington—how to injure your shoulder by falling on it awkwardly during a harmless-looking play.
Just when it looked like Henne could have some fantasy relevance thanks to Miami's new pass-first offense, it seems he might miss a week or two thanks to his injured non-throwing shoulder. 
Moore—who had more uneven results with the Carolina Panthers than Paula Abdul had on American Idol—would get the starting nod if Henne cannot go after Miami's bye week this week.
Moore was 17-of-27 for 167 yards and one interception after relieving Henne against the San Diego Chargers, but you would think a couple weeks of practicing with the first team and getting extra reps would definitely help him.
Brandon Marshall would help him, too.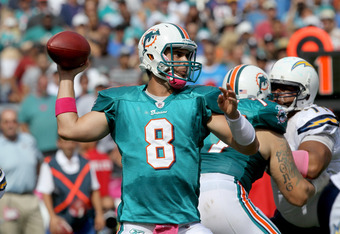 Stephen Dunn/Getty Images
Moore might wrest the starting job from Henne with or without assistance from an injury.
Henne has been far from scintillating since his 416-yard outburst against New England in Week 1. So even if picking Moore up now might not gain you a starting quarterback for Week 5 or 6, it could help you land one for Weeks 8-17, especially if you play in leagues where two quarterbacks are started in your lineup every week.     
Ryan Torain, Washington Redskins
I never understood why Torain was on the verge of getting cut during the preseason. All he did in 2010 for Mike Shanahan was barrel over opponents for 742 rushing yards, four touchdowns and a 4.5 YPC.
The problem with Torain has never been talent—it has been durability, and for the time being Torain is injury-free.
The talk about Tim Hightower being Shanahan's top tailback lasted all of three weeks. Now Washington is using Torain as the main runner, Hightower as the same third-down back he was in Arizona and Roy Helu as a change-of-pace bowling ball.
Torain rushed for 135 yards and a touchdown against the hapless St. Louis Rams after not touching the ball at all during Washington's first three games. He is better than Hightower at wearing down defenses and running in a straight line.
Torain runs downhill and usually does not get tackled for losses. Hightower is a stutter-stepper who gets nailed in the backfield more times than he should.   
I cannot guarantee Torain will continue being the best ball-carrier on the Redskins. Investing too much in Torain is like buying a risky stock because of his injury history and Shanahan's weekly mind-changing in terms of his tailbacks.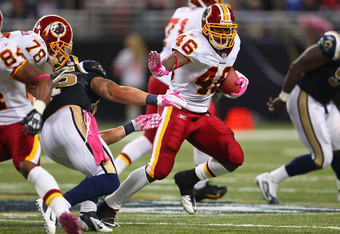 Dilip Vishwanat/Getty Images
But Torain is probably the best running back available in deep fantasy leagues, and after Washington's Week 5 bye, his next three games would come against three of the worst run defenses in the NFL—Philadelphia, Carolina and Buffalo.
It would not shock me if he racked up 300 yards over those three contests if given the ball 15-20 times per game.   
Kevin Walter, Houston Texans
When Andre Johnson was seemingly tackled by an invisible man against the Pittsburgh Steelers this past weekend and clutched the back of his knee like he had torn every ligament possible, most of the fantasy football world cringed. I know I did.
I lost Johnson and Kenny Britt on back-to-back weeks. I am thinking of going with Steve Largent and Wesley Walker as my two fantasy receivers this week.   
Walter has been his own injury soap opera this season. He was supposed to miss several months due to a shoulder injury suffered in Week 1, but the same doctors who said Michael Vick broke his hand and then recanted must have looked over Walter's X-rays as well. Walter missed only one game.   
Without Johnson on the field and with defenses stacking the box against the once-again-awesome Arian Foster, Walter will be Matt Schaub's main wide receiver to target until Johnson returns—for which there is no timetable right now.
Tight end Owen Daniels will get the majority of Schaub's passes, with Walter being option No. 2.  
While Walter has been no Wes Walker so far this season (four receptions for 49 yards, one TD) he has averaged 733 yards and five touchdowns over the last four years and has been dependable when called upon.
As long as Johnson is out, Walter should be good for a half-dozen catches for 70-80 yards per game. You could do a lot worse if you need to replace Johnson in your lineup or add receiver depth on your roster for the next couple weeks.