Oakland Raiders: Speeding Train Stalls, Nearly Derails Against Patriots
October 3, 2011
Ezra Shaw/Getty Images
What a buzz kill.
The Oakland Raiders went into Sunday's contest with the New England Patriots with a whole lot of upside, including a 34-24 dismantling of Mark Sanchez and the New York Jets in Week 3, Richard Seymour's chance for sweet revenge on Tom Brady/his former team and the momentum of back to back sellout crowds at the Coliseum.
These factors may not win you the Super Bowl, but Raider Nation, as well as others around the nation, had to feel pretty good about the possibility of victory in Week 4.
Then again, maybe not.
Tom Brady and his merry band of Patriots are notorious for crushing the team it plays a week after losing, which means its 34-31 loss at Buffalo in Week 3 was in some ways a harbinger of its eventual take down of the Raiders in Week 4.
Brady performed well enough, throwing for 226 yards and two touchdowns. Wes Welker had another spectacular game, finishing with nine catches for 158 yards and a score, and rookie running back Stevan Ridley welcomed himself to the NFL party with 10 rushes for 97 yards and his first regular-season TD.
New England playing well—sounds familiar.
Oakland quarterback Jason Campbell's performance was, to be kind, frustrating. Two bonehead interceptions, including one to safety Patrick Chung in the end zone, killed multiple drives.
Darren McFadden underwhelmed with 75 yards on 14 carries, a step back for the league's leading rusher.
The defense technically showed up, and its leave-everybody-open-pseudo-zone coverage left everybody open. Without HD, it was hard to tell from the couch if those were players on the field struggling to stop the Pats' spread offense, or scarecrows in shoulder pads.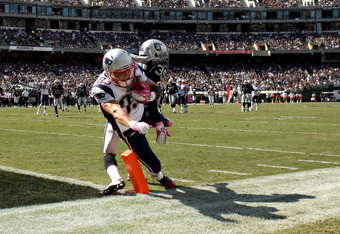 Ezra Shaw/Getty Images
If They Only Had a Brain
The Oakland Raiders shot themselves in the foot, in the other foot, in the kneecap, and that's the wrong way to go about beating New England in a footrace. Nine penalties for 85 yards is disheartening, even if you disagree with a few of them, or think the refs are secretly in cahoots with the Patriots in a bid for complete NFL domination. 
Bad calls happen, which means they will happen to the Raiders.
Take it as a good sign that the team is keeping its collective chin up, and not resorting to the blame game in the wake of this tough loss at home. Bullies don't go crying when they get beat up, even if its on their own turf. Walk tall, move on. It's the only way to be fully prepared for this week's showdown with the 3-1 Texans in Houston, who are coming off a good win over Pittsburgh and will be ready for a grudge match.
Time To Refuel
The Raiders' offense is built on speed, and it got jammed up against a better team in New England. Give the Patriots credit. It played relatively mistake-free football, took advantage of turnovers and slipped through the many cracks in Oakland's defense.
That is how you pull the emergency brake on a runaway car.
The Raiders still feature the league's top rushing attack in Darren McFadden, supplemented by backup Michael Bush, a few Campbell scrambles and the occasional reverse. It still put up 160 yards on the ground against the Pats, averaging 5.9 yards a carry, in an effort that for most teams would be commendable, but had to feel a bit unsettling for fans with mounting expectations.
Turnovers, punts and settling for field goals are downshifts that will result in double-digit losses to opponents as talented as the Patriots more times than not. Playing without safety Michael Huff may have taken some of the air out of Oakland's defensive tires, and replacement cornerback Joe Porter proved himself to be less than capable of doing any sort of repair work in nickel coverage, but to rip any one player for the loss would be to miss the bigger picture—the entire Raiders team stills has a lot to learn.
And they will need to be fast learners.
The Raiders should consider adapting some of its Patriots' fighting style if it hopes to knockout the Texans on Sunday. Houston represents the tenth-best passing defense this season, only giving up 214 yards a game through the air, but has been exposed against stellar offensives like the New Orleans Saints, which put up 44 points in a win over the Texans two weeks ago.
Spreading the offense in a fashion similar to the Pats or the Saints may be beneficial to Oakland this week. Defenses know to focus coverage on McFadden, so Campbell's ability to make plays down the field will be critical to the Raiders' offensive success. He will need to be collected in the red zone, and not throw the ball directly to the other team's safety when within spitting distance of the goal line.
Simple goal for Jason Campbell: only throw to guys on your team.
Simple goal for wide receivers: catch the ball.
It seems unlikely that McFadden will be suppressed in consecutive weeks, but Oakland needs to be prepared in case its prized muscle car stalls midway through the race. It needs to play disciplined football one play at a time, and keep its banged up defense off the field by extending drives and making plays. They need to slow down, pay attention and not fall off track if they hit a few pot holes or speed bumps.
The Raiders can call themselves bullies until they are blue in the face, but if they are serious about passing this next test and not failing out of the playoff picture, they may want to go back to being students for a few days.