Houston Rockets: Finding Daryl Morey's Market Inefficiencies
October 4, 2011
Marc Serota/Getty Images
Though the concept of "Moneyball" originally was a little known, quiet movement of baseball geeks crunching numbers in their basements, advanced statistics have begun to permeate nearly every major pro sport, from basketball to soccer. Teams are beginning to see the advantages in broadening the scope of statistics that they look at and are improving the way that they evaluate players.
The Houston Rockets, led by Bill James disciple, Daryl Morey, may embody this new movement more so than any other team. As the Hollywood film Moneyball proved, this once insignificant theory has become very mainstream.
Morey, a MIT graduate and a former worker at Bill James' STATS, Inc., is the poster child for the advanced statistics movement in basketball and has pioneered the use of new metrics to quantify a player's contributions in ways other than points per game or blocks per game.
Just like Billy Beane, Morey was given a near impossible challenge: fill a roster with exceptional role players to fit around Yao Ming and Tracy McGrady while being hamstrung by the aforementioned players' massive contracts. By finding market inefficiencies, Morey managed to piece together a balanced roster despite financial limitations.
So what exactly did he find?
Undersized Power Forwards
While every team would ideally have 6'10" jumping machines at power forward who can swat shots and throw down dunks on opposing defenses, those players are extremely expensive, both in the cost to acquire them and to pay their salary.
Morey found that teams overvalue these athletic tools and tend to undervalue smaller power forwards. Any power forward 6'9" or shorter automatically enters the NBA with the label of "undersized," and that label has quite a stigma.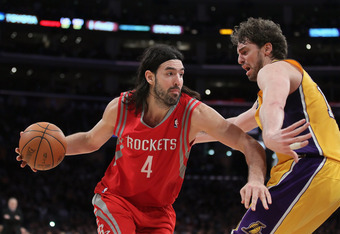 Jeff Gross/Getty Images
By targeting smaller power forwards, Morey has been able to assemble an impressive corps of big men at pennies on the dollar. Luis Scola, the Rockets' starting power forward for the past three-and-a-half seasons, was acquired from the Spurs for a second-round pick, cash and salary relief.
Because he stood just 6'9" and wasn't overly athletic, the Spurs weren't too enthused with his upside and gave him up. Unfortunately for the Spurs, Scola would miss just eight games over the next four seasons and improved each year, topping out at 18 points and eight rebounds in the 2010-11 season.
Carl Landry and Chuck Hayes are another pair of undersized power forwards snatched by the Rockets when other teams didn't want them. Landry was passed up by everyone picking in the first round before the Rockets picked him up in the second round of the 2007 draft and Chuck Hayes wasn't drafted at all.
Landry would go on to be an exceptional spark plug off the bench before being traded for Kevin Martin, and Chuck Hayes would start at center for two seasons and establish himself as one of the two or three best post defenders in the league.
As is the case with any experiment, not all of these players worked out. Joey Dorsey, a second-round pick in 2008, never quite panned out with the Rockets and has bounced around since.
Rookie Scale Contracts
While large free agent contracts have raised the average salary of veterans, the NBA employs a slotting system in order to keep rookie salaries at a reasonable level. When a player is drafted, he is assigned a salary that corresponds with his draft slot and it increases slightly every season. For this reason, players still on their "rookie contracts" are typically underpaid.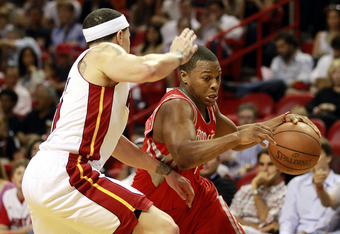 Marc Serota/Getty Images
For a penny-pinching GM like Morey who rarely has significant financial maneuvering ability, players on these deals are tremendously valuable. Over the past two years, Morey has acquired Terrence Williams, Hasheem Thabeet, Jonny Flynn, Jordan Hill, Courtney Lee, Goran Dragic and extra draft picks in an attempt to stock the cupboard with cheap talent on rookie deals.
While Williams, Thabeet, Flynn and Hill are more potential than production at this point, he spent so little on these players that if just one of them pans out, his gamble will be worthwhile.
Meanwhile, Lee and Dragic were two of the better bench players in the NBA last season, as both honed a tremendous three-point stroke while playing for a combined $4 million, less than what Boston paid Jermaine O'Neal to play 24 games last year.
These are just two of the market inefficiencies that Daryl Morey has attempted to exploit since become GM of the Rockets. Certainly his pioneering of +/- statistics and "super assists" (the pass that leads to the assist) has been notable, and there is no denying that Morey rarely makes a bad move.
Still, Morey is in the same boat as Billy Beane in that he hasn't won anything significant in his tenure as GM. No matter how much he can try, Morey can't predict the health of his superstars and Tracy McGrady and Yao Ming's failing bodies doomed the 2004-10 Rockets to mediocrity.
Just like Billy Beane (and Brad Pitt), Morey has succeeded in adding quality role players to a solid roster. Unfortunately for him, Morey cannot just add a Scott Hatteberg to a roster with Miguel Tejada, Eric Byrnes and one of the best pitching rotations in the league already on the team and instantly make the playoffs.
Now, as he begins to rebuild the team in a new era, can he find the superstar to lead the team to a championship?