Dallas Cowboys: 4 Changes Tony Romo Must Make If He Wants to Keep His Job
October 4, 2011
Tom Pennington/Getty Images
On a Sunday night, on Sept. 11th, Tony Romo had an epic collapse in the fourth quarter leading to a Cowboys loss. Fans were calling for his head, asking for him to be benched or even traded.
Romo was called soft and told that he was not clutch enough to lead America's Team to a Super Bowl. 
In Week 2 against the 49ers, Romo proved all of his critics wrong. After a very shaky start, Romo went down injured in the second quarter. A few minutes later we found out that he had a broken rib and a punctured lung.
After watching a third series from Jon Kitna, Romo had enough. He asked for his helmet and led the Cowboys on a monumental comeback and a victory in Overtime. 
In Week 3 against the Redskins, while playing injured, Romo led a comeback on the game's closing drive, and the Cowboys were able to kick the game winning Field Goal. 
Romo was the hero. Fans flooded with praise on how Romo had changed, he was a new man. All hail to Romo. 
In Week 4, with everything going as expected against the Lions and Romo on an absolute rampage, the unthinkable happened. Romo threw an interception to Bobby Carpenter, and it was returned for a touchdown.
On the next drive, Romo threw another interception that was returned for a touchdown, and just like that it was a 10-point game. Romo would go on to throw another interception, and the Cowboys would lose a 24-point lead.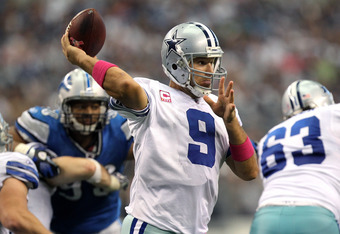 Ronald Martinez/Getty Images
After another heartbreaking loss, many Cowboys fans are left to wonder, will the Cowboys recover to make the playoffs, and will Tony Romo ever come through in the clutch?
There are, however, four things that Tony Romo must change in order to keep his job beyond this year. 
1. Keep Doing what He is Doing.
I know what you are thinking. You are thinking that I said he must make four changes in order to keep his job. Yes, that is true, he must change, but the first thing he has to do is not change the way he plays just because of some criticism. 
It is only Week 4, there is plenty of football left to be played. Romo has one of the most explosive offensives in the NFL, with Dez Bryant, Miles Austin and Felix Jones. 
His offense is not even completely healthy, and he is putting up huge numbers. 
If I recall correctly, the same people who said that Dirk Nowitzki could never come through in the Clutch and was too soft to lead the Mavericks to a championship are the same people who say the same about Romo, and we all saw how that turned out for Dirk.
Count your blessings Cowboys fans. Romo is not Quincy Carter, Chad Hutchinson, Vinny Testeverde, Ryan Leaf or even Anthony Wright. No one, I mean NO ONE, would ever want them to be their quarterback.
If Tony Romo does these next three things, he will be perfectly fine. 
2. Do NOT Force the Ball to a Receiver if nothing is there.
See any of his interceptions this year and you will start to see a trend. When Romo gets in trouble, sometimes he tries to make a play, and this proves to be his downfall. 
Tony, if nothing is there, take the sack or throw it out of bounds and live to fight another day. 
The is the biggest hurdle Romo faces, and it is not easily fixable, but I think he has the mental willpower to do so.
3. Get Dez Bryant the Ball More.
Did you see the trust Matthew Stafford had in Calvin Johnson on his first touchdown? He threw the ball up to him, in triple-coverage and trusted him to make a play. 
Dez Bryant is that good, dare I say even better. He abused Cromartie and Revis in game one, had his way with DeAngelo Hall on the final drive of last week and torched the Lions secondary for two touchdowns this week.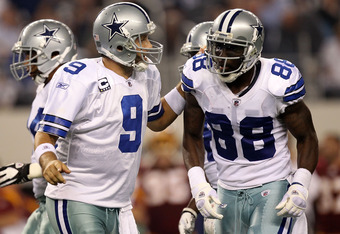 Ronald Martinez/Getty Images
He still needs the ball more.
He is Romo's greatest weapon, and when Romo learns that, the Cowboys will be unstoppable.
4. Stop Having Monumental Fourth Quarter Meltdowns.
Yes, yes, I know, this seems obvious. Obviously, Romo has to start losing huge leads in the fourth quarter. 
Dear Tony Romo, if you are reading this, please know I am on your side, I believe you are an elite quarterback, but lose a few more leads like this and you will be out of a job. 
For now, ease off, Romo will be OK. I mean, he does have a broken rib.
If worse comes to worst, we could always turn back to Quincy Carter.
For questions regarding the article, please comment or send me an e-mail.
Paul Ferguson was an intern at Bleacher Report.
Follow him on twitter at: @paulwall5