Conference Realignment: 5 Reasons the SEC Should Add Louisville
October 5, 2011
Kevin C. Cox/Getty Images
With the non-stop talk about conference realignment, it's time the University of Louisville got its fair shake as a viable contender for membership in the SEC.  
While football has been the obvious impetus behind the movement toward "super conferences," the SEC is clearly not lacking in powerhouse football teams.  The conference's run on football championships has been well-documented and will not be repeated here. 
The SEC's prowess in basketball, however, can certainly be improved.  So while Louisville could add an interesting dynamic as a football team, the Cardinals' addition as a basketball school presents the strongest case. 
That said, what follows are five reasons the SEC should add Louisville—reasons that a casual follower of basketball and football may overlook. 
1. Charlie Strong
A native of Arkansas and former defensive coordinator for both South Carolina and Florida, Strong obviously has serious SEC knowledge and experience.  Strong's recruiting ties, running deep into the vaunted Miami high schools (see his current roster), will eventually bear out with more wins for his Cardinals. 
And let's not forget those SEC and national championship rings he owns.  In short, his resume stacks up and certainly trumps those of Gary Pinkel (Missouri) and Dabo Swinney (Clemson), representatives of schools that have been mentioned the most in conjunction with the SEC. 
2. Basketball Supremacy
 Imagine an SEC with Billy Donovan, John Calipari and Rick Pitino fighting for first.  That is star power that few conferences can boast. 
CBS, take your pick at story lines to run for those late February games.  The heated Kentucky-Louisville game goes beyond bragging rights and would now affect tournament seeding.  Instead of one game per year, the crazed basketball state would be treated to two and possibly three match-ups, all of which would be late in the season.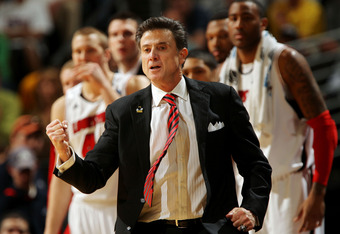 Doug Pensinger/Getty Images
Also worth nothing is the Pitino-Donovan-teacher-protégé match-up.  As you may recall, Billy D played for Pitino at Providence and developed much of his style based on Pitino's successful teams.  Most recently, Rick's son Richard spent two years on Donovan's staff.
And there are still obvious contenders within the conference as well:  Kevin Stallings' Vanderbilt teams are always a threat (and this could be his best team yet in 2011-2012); Donovan's pupil Anthony Grant is quietly building something special at Alabama and Mark Fox has proven to be a top-notch recruiter and coach and has Georgia back on the map. 
3. Rivalry Renewed
  I happen to be a fan of inter-conference rivalries and adding Louisville to the SEC provides even more flavor and drama.  In addition to the Kentucky-Louisville rivalry, I personally think this could spawn a new rivalry between Louisville and Florida. 
Think late 1990s ACC and Big Ten.  Duke-UNC, Michigan-Michigan State, Indiana-Purdue.    
4. Leadership
As we have seen firsthand in the SEC lately, a quality AD can make a world of difference.  What Jeremy Foley has done at Florida is incredible; meanwhile, the train wreck caused by Mike Hamilton at Tennessee has set both football and basketball back for years.
Tom Jurich, AD at Louisville since 1997, has hired quality coaches, developed first-class facilities and become so well-respected that he signed a contract through 2023.  That sort of long-term vision is crucial for success and Jurich understands the importance of this vision.     
5. Location
While geography is not going to create BCS dollars anytime soon, it makes sense to find a team in the general south and Louisville fits the bill.  Simply head to Lexington and stay in your car for another hour. 
In addition, the city itself will quickly become a fan favorite with tailgaters.
Give the Cards a shot, Mike Slive.