Carolina Hurricanes: Complete 2011-2012 Season Preview and Predictions
October 6, 2011
Sara D. Davis/Getty Images
As the Carolina Hurricanes enter the 2011-2012 NHL season, a plethora of questions envelop this young team.
Can Paul Maurice, after missing the postseason in back-to-back years, afford another non-qualification? If he can't, how can he pull this team together as well as he did during the '09 Eastern Conference Finals run?
Will the surprisingly large number and caliber of the Hurricanes' offseason additions make a difference and mesh in with this tightly-woven roster?
Was the disappointing 1-4-1 preseason record a sign of things to come, or merely an anomaly due to the quantity of young players given large roles in the roster?
Will Brian Boucher be able to handle a workload that will keep Cam Ward rested, or will the Canes' unreliable defense, last in shots allowed last year, be forced to overwork again?
Although these concerns certainly dampen the outlook at this point in time, a productive summer and an improved effort late in the 2010-11 give Carolina something to look forward to this year.
The youthful offense that ranked 12th in the league last season has another year of experience, almost all of the team's free agent class was retained and many of the gaping holes in the squad were filled with some smart and timely signings by GM Jim Rutherford.
If the prospects of the future can step up, the veteran players can set an example and the entire team can find its balance...the Hurricanes will be sailing towards calmer seas in the future.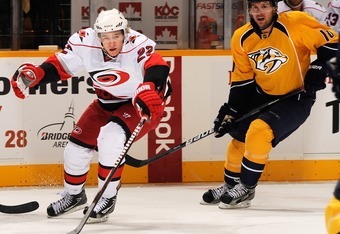 Frederick Breedon/Getty Images
Offseason Recap
For our full slideshow on the topic, which goes in-depth on every Hurricanes move of the summer, click here.
Re-Signings: D Jay Harrison, D Joni Pitkanen, F Patrick Dwyer, F Chad LaRose, F Jussi Jokinen, F Jiri Tlusty, D Derek Joslin, F Brandon Sutter
The Hurricanes had a large class of players with expiring contracts around the corner as the 2010-11 campaign concluded, but they managed to retain the quality bunch of them—despite some scrambling as July approached.
Jay Harrison was the only player inked before the final week of the re-signing period arrived. Harrison's been a cheap bottom-pairing option for the Canes over the past two years, and the 28-year old, who had 10 points and a plus-five rating in 72 games last season, will likely fill that role again.
Offensive defenseman and active pincher Joni Pitkanen was also re-signed to a massive new deal, much to our dismay. Pitkanen is a strong playmaker in the offensive end, but doesn't have the goal scoring upside (just six goals in 2010-11) to offset his incompetency at playing his real position.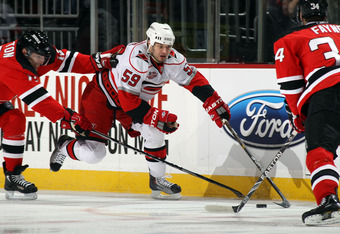 Bruce Bennett/Getty Images
On offense, fourth-liners Patrick Dwyer, the NHL's biggest mule in faceoffs last season (just 80 wins in 158 tries), and Jiri Tlusty, a former first-round pick who's never panned out on and off the ice, were re-signed to near-minimum-wage contracts.
Energy forward Chad LaRose, coming off career-highs of 15 assists and 31 points but also a miserable minus-21 mark, received a two-year extension.
Meanwhile, at the last minute, fan favorite Jussi "The Juice" Jokinen finally settled on a contract. Jokinen, 28, has had a career renaissance in Raleigh and has totaled 49 goals, including 18 on the powerplay, and 117 points in his last two campaigns.
Later in the summer, restricted free agents Derek Joslin, defenseman, and Brandon Sutter, forward, also re-upped with the Hurricanes.
24-year-old Joslin was acquired at last February's trade deadline as a side thought in the Ian White-to-San Jose deal, but impressed down the stretch, scoring five points and a plus-seven rating in 17 appearances, and got a new deal.
Brandon Sutter, the 11th overall selection in the '07 draft, is one of the future stars of the franchise. After a fairly slow start to his career with the franchise, Sutter exploded for 21 goals (with just one minor penalty!) in 72 games during his 2009-10 year. He faced some injury issues (32 games missed) and stepped into a defensive center role last year, dropping his production to 14 goals, but has the well-rounded skills to become a first-liner very soon.
Departures: D Bryan Rodney (to Anaheim), F Troy Bodie (unsigned), D Casey Borer (unsigned), D Zach Fitzgerald (unsigned), F Nick Dodge (unsigned), G Justin Pogge (Phoenix), F Cory Stillman (retirement), F Erik Cole (Montreal), D Joe Corvo (Boston)
Don't let the lengthy list scare you, Caniacs; the majority of the names above were regular summer cleanouts. Rodney, Borer, Fitzgerald, Dodge and Pogge, all "prospects" bound for an everlasting AHL fate, were all 25 or older and not someone bound to be spotted at the RBC Center.
Troy Bodie, too, despite sitting as a healthy scratch on the NHL roster for much of the year, will also be no devastating loss.
However, there were a few very notable and saddening departures this summer.
Erik Cole, who's spent at least part of all of his 11 NHL seasons in Raleigh, and Cory Stillman, re-acquired at the trade deadline after a previous stint earlier in the decade—both teammates and major factors in the Hurricanes' 2006 Stanley Cup victory—are gone. For Cole, it was to a whopping contract with the Canadiens while, for Stillman, it was because of retirement and a coaching staff job in Florida.
Cole had a magical final campaign with the Canes after some trade rumors last autumn. The 32-year-old wing finished off his 557-game career with Carolina by scoring 26 goals, third on the team, and 26 helpers. The most memorable part, though, weren't just his impressive numbers; it was the contributions he made the team.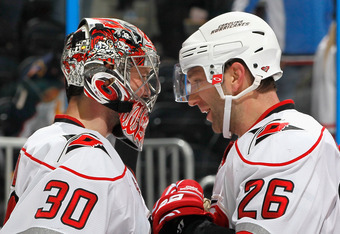 Kevin C. Cox/Getty Images
He served as a mentor for rookie phenom Jeff Skinner, as a vital all-situation utility, and as a clutch player in every sense—an astonishing 17 of the 26 scores came in the last five minutes of the third period or in overtime, and Cole's nine game-winners ranked fourth in the league.
A few days later, Joe Corvo ended his time in Raleigh after he requested a trade, and the 33-year-old D-man was shipped to Boston for a fifth-round pick. After arriving with the Canes in the spring of '08, Corvo served as a traditional power-play quarterback, racking up 11 goals and 29 helpers last year, and will leave with a legacy that includes this signature moment.
Additions: F Tim Brent (from Toronto), G Brian Boucher (Philadelphia), F Alexei Ponikarovsky (Los Angeles), F Anthony Stewart (Atlanta/Winnipeg), D Tomas Kaberle (Boston), F Chris Durno (Tampa Bay), D Matheiu Roy (Tampa Bay)
In a span of mere week, the Hurricanes upgraded their roster to a new level with this strong variety of additions.
Grinder Tim Brent will fill Dwyer's old role as the fourth-line center and is the perfect player for it. At age 27, Brent had a breakout year for the Leafs in 2010-11, scoring eight goals and 12 assists (including two goals and one assist against Carolina) in 79 games. More impressive, conversely, were his non-box score stats: fourth among team forwards in hits, first in blocked shots, second in shorthanded time on ice and a 52.0 faceoff-winning percentage.
Veteran Alexei Ponikarovsky, 31, and "late bloomer" Anthony Stewart, 26, will help fill out the top nine forwards and offset the loss of Cole.
Ponikarovsky's career has headed downhill lately and then fell into a canyon last season with Los Angeles, as he dropped to just five goals and 10 assists on the year. Hopefully, a return to his old ways ('Poni' had between 18 and 23 tallies every season from '05 to '10 with Toronto) and a continuation of his preseason chemistry (three goals in five games) will make Ponikarovsky a smart under-a-million signing.
Stewart, on the other hand, doesn't have the history or experience that Ponikarovsky does, but far outdoes him in potential. Stewart's previous career best was a seven-point, 59-game effort in 2009-'10 with Florida before last year, but his move to Atlanta changed everything; Stewart scored 14 goals, with five on the man advantage, and 39 points to add a scoring facet alongside his physical presence on the resume.
Both of those forwards were landed for only six figures, so disappointing performances won't end up costing the Hurricanes. On the other hand, strong seasons from both could be a major boost to Carolina's low-pay offense.
Arguably our favorite addition of the signing period was Brian Boucher, who's the ideal kind of goalie to serve as a backup for beyond-his-years cornerstone Cam Ward.
Pathetic backup Justin Peters forced Ward to play 74 games last year (the most of any goaltender since the lockout), and while Ward delivered, he can't duplicate that workload effectively again this year. Now enter Boucher, a 34-year-old career supporting goalie with solid numbers (18-10-4 with a .916 save percentage in Philly last year) and a great idea of what he's here to do, and Carolina is much more stable at that crucial position.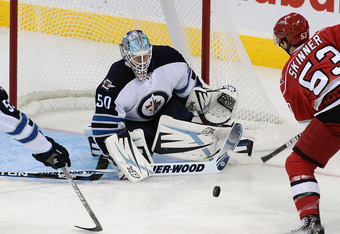 Marianne Helm/Getty Images
The signing of "big fish" Tomas Kaberle, regarded as one of the top five players available on the league market, was a move that shocked everyone. Opinions varied his signing to replace the aforementioned Corvo, but, even considering his relatively poor level of play with Boston last spring, we can't argue with signing any player coming off a Cup win.
Plus, Kaberle does have loads of skill—he has 445 assists and 529 points over 902 career appearances from the blue line, and has made the playoffs seven times already. The political aspect of his signing could also be enticing to the front office as well, hoping to draw fans. More trade rumors have surfaced about Tomas Kaberle than any other hockey star, by far, over the last 24 months.
Durno and Roy, both former teammates with the Lightning, will not see any NHL time and should serve the sole purpose of adding experience to the Hurricanes' AHL squad.
Roster Overview: Forwards
Left Wing                             Center                       Right Wing
Jussi Jokinen                     Eric Staal                 Anthony Stewart
Alexei Ponikarovsky          Jeff Skinner                Tuomo Ruutu
Zac Dalpe                     Brandon Sutter               Chad LaRose
Jiri Tlusty                         Tim Brent                   Patrick Dwyer
Due to the fact that Paul Maurice switches lines combinations around so much, the above is more of a depth chart than an accurate projection of the lines.
We've already raved about recent signees like Jokinen, Stewart, Ponikarovsky and Sutter, but the real heart of the offense, namely Eric Staal and Jeff Skinner, have yet to be discussed. Every hockey fan in the world knows of their names, but perhaps not entirely of the colossal effect this duo of centers had on the Hurricanes scoring attack last year.
Team captain Staal, in his first full year with that status, produced his best performance in the last three seasons and missed just one game to injury. Still just 26, Staal led the team (as would be expected) with 33 goals and 43 assists, with 12 scores and 17 helpers on the power play. He finished 11th in the NHL with 76 points, seventh with eight game-winners and eighth with 296 shots on goal.
Meanwhile, 2010 first-round selection Jeff Skinner used his rookie year to become the talk of the league. Skinner's 31 goals and 32 assists got him into the NHL All Star Game in his home rink, into the first 50 pages of ESPN the Magazine, and, to cap it off, earned him the 2011 Calder Trophy for Rookie of the Year. His 31 strikes were 21st in the NHL and his 14.4 shooting percentage was best on the team, as well.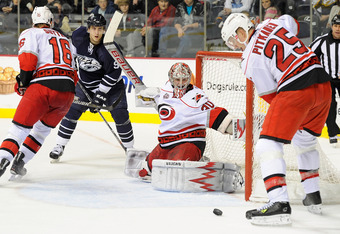 Frederick Breedon/Getty Images
Well-rounded, hard-hitting winger Tuomo Ruutu fills out the top six. Ruutu has won over the hearts of Caniacs throughout recent seasons with his bone-crunching shoulders (his 309 hits were second-most in the league in 2010-11) and oddly soft hands (a career-high 26 goals in 2008-09 and a career-high 57 points last season).
A heated battle between numerous prospects during the preseason resulted in the most likely outcome, with Zac Dalpe winning out a spot. It wasn't as if he didn't have competition, though, as fellow Charlotte Checkers teammates Zach Boychuk, Drayson Bowman, Jerome Samson and surprise second-place finisher Riley Nash were all also up for the job.
Dalpe, however, was the front-runner from the start.
The 21-year-old versatile forward was the team's second-round pick in '08 and had three goals and one assist in 15 NHL games last year. In the AHL, he accumulated 23 goals and 57 points in 61 appearances. We hand out some decent numbers to Dalpe for his rookie year in our scoring projections below, and that's not even close to the tops of the day; NHL.com's Matt Cubeta says he "sets the bar low" with his prediction of 40 points.
2011-2012 Stat Projections
Eric Staal  80GP...36G/47A/83P
Jeff Skinner  77GP...28G/35A/63P
Jussi Jokinen  71GP...21G/33A/54P
Tuomo Ruutu  82GP...20G/31A/51P
Anthony Stewart  81GP...11G/32A/43P
Alexei Ponikarovsky  67GP...23G/20A/43P
Brandon Sutter  82GP...18G/21A/39P
Zac Dalpe 78GP...14G/16A/30P
Chad LaRose 77GP...13G/11A/24P
Tim Brent  81GP...7G/15A/22P
Patrick Dwyer  63GP...5G/14A/19P
Zach Boychuk  58GP...4G/7A/11P
Jiri Tlusty  55GP...3G/8A/11P
Drayson Bowman  39GP...2G/8A/10P
Riley Nash  29GP...2G/4A/6P
Jerome Samson  25GP...1G/4A/5P
Other Call-ups  11GP...0G/1A/1P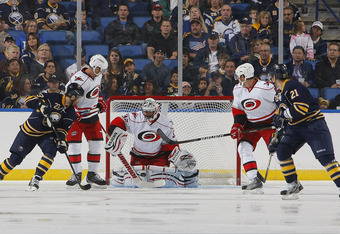 Dave Sandford/Getty Images
Roster Overview: Defense
Left Defense                     Right Defense
Tomas Kaberle                 Joni Pitkanen
Tim Gleason                    Jamie McBain
Bryan Allen               Derek Joslin/Jay Harrison
Again, just a depth chart. Not line projections.
While Pitkanen and especially Kaberle both have tremendous amounts of offensive upside, we're dreading what kind of plus/minus ratings they'll rack up while paired together. The fact is that these two "defensemen" simply can't be relied on to play their position when paired together.
It may take some time for the coaching staff to learn their lesson, but, eventually, a couple of the Hurricanes' defensive defensemen will need to be infused with them. With Joslin and Harrison likely hugging the bottom pairing for now, that will probably be narrowed down to Tim Gleason and Bryan Allen.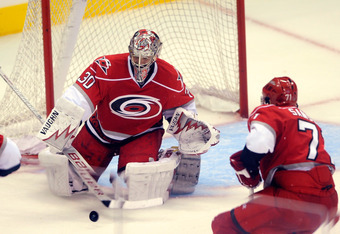 Sara D. Davis/Getty Images
Gleason, the resident enforcer, is the pure fan-favorite tough guy. He's led team defensemen in hits for four years running and also blocks shots quite well, leading the team in that, too, last season. The "other half" of the well documented post-draft Jack Johnson trade, Gleason, then a prospect but now 28 and a former Olympian, had a bit of a down year in 2010-11 with just two goals but is anticipated to bounce back as he hits his prime.
On the other hand, Allen, a newcomer to the team, serves pretty much the same purpose. He came over in February and had four assists and a plus-five rating in 19 games wearing the red and white to earn his right to remain through the summer.
While the conundrum has yet to be resolved with these two opposite-in-every-way duos, where promising Jamie McBain will fit into the equation has to be on the minds of the coaches, too.
After an eye-opening first NHL stint in spring 2010, McBain took longer than expected to adjust to a full-time NHL role, but began to blossom in the second half of the year, scoring 23 assists and 30 points to go along with 117 blocked shots. The 23-year-old made an appearance in the NHL YoungStars Competition, as well.
Furthermore, the season of 2011-12 will probably be the debut year of young Justin Faulk, who had an impressive training camp and looks to have become a future team staple. The 19-year-old is right out of college, but has impressed everyone with his speed and awareness so far.
With such a unblended smoothie of defensemen, the Hurricanes' D, which struggled last year, could struggle some until it can find its groove. Once that occurs, however, the multi-faceted side of this unit will be a major advantage as the team fights for a playoff spot.
2011-2012 Stat Projections
Tomas Kaberle  81GP...5G/31A/36P
Joni Pitkanen  78GP...6G/24A/30P
Jamie McBain  73GP...9G/16A/25P
Derek Joslin  54GP...5G/8A/13P
Tim Gleason  82GP...3G/9A/12P
Bryan Allen  77GP...1G/7A/8P
Jay Harrison  36GP...1G/3A/4P
Justin Faulk  8GP...0G/1A/1P
Other Call-ups  3GP...0G/0A/0P
Team Outlook: Goaltending
The signing of Brian Boucher gives Cam Ward a reliable backrest and makes this tandem one of the elite few in the league today. Conversely, although Boucher's arrival in Raleigh is a big thing, the circle of the Hurricanes truly revolves around Ward.
Ward, despite carrying the workload we already mentioned, was spectacular in 2010-11. He posted a 37-26-10 record on a non-playoff team and finished with a respectable 2.56 GAA and a striking .923 save percentage, seventh-best among starters.
In addition, his remarkable 2,191 saves led the NHL by a wide margin.
Ward erupted onto the scene all the way back in 2006 as he took over the starting role in the playoffs and won not only the Stanley Cup, but also the Conn Smythe Trophy...and a place among a list of NHL greats.
But the then-22-year-old didn't retire then.
Ward has suffered through terrible squads and health issues to continue to carry the team entering his fifth season as the club centerpiece, and then put forth possibly his best regular season to date in 2010-11 as he led the Canes within one win of the postseason.
This season, the stakes are even higher...but we have no doubt he will still deliver.
2011-2012 Stat Projections
Cam Ward  65 starts, 66 GP ... 34-23-7, .923 save percentage, 2.53 GAA
Brian Boucher 17 starts, 23GP ... 9-7-2, .914 save percentage, 2.66 GAA
Team Outlook: Special Teams
The underlying theme of this offseason's changes was clearly the special teams units, a perpetual nagging issue for the franchise. In fact, not since the 2000-01 season has the club fielded power-play and penalty-kill groups that were both in the upper half of the league.
Anthony Stewart and Tomas Kaberle are players headed directly to the top PP team. Kaberle has long been one of the premier point playmakers in the game, while Stewart showed great promise last year on the man advantage. They'll both look to improve a unit that was a dismal 24th last season and has already lost key producer Erik Cole.
On the mirroring side of the rink, the penalty kill grew stronger as the weather warmed last spring, but was unable to crack a ranking any higher than 20th. The team will hope to build on this newfound consistency as well as the arrival of Tim Brent, who's hard to beat as a defensive forward.
2011-2012 Stat Projections
Power Play: 16.9 percent effectiveness (rank 17th)
Penalty Kill: 82.7 percent effectiveness (rank 15th)
Charlotte Checkers AHL Preview
The Charlotte Checkers, who made it to the AHL Eastern Conference Finals last season in their first year in North Carolina before losing to the eventual champion Binghamton Senators, are well suited for another successful season.
The key to the squad will center on goaltending, where prospects Justin Peters and Mike Murphy will run the show now following the departure of Justin Pogge.
Murphy compiled some good statistics last year, recording a 21-11-3 record in 39 appearances. His .919 save percentage ranked twelfth among AHL starters. Peters, on the other hand, struggled as the NHL backup with a 3-5-1 record and a bleak 3.98 GAA in '10-'11, but showed plenty of promise in his '09-'10 minor league campaign with a 26-18-2 record and .917 save percentage.
The offense should also be a strong point, as the Checkers tied for second in the AHL in team scoring a year ago. First liner Zac Dalpe has graduated and second liner Oskar Osala has moved on to Russia, but five twenty-goal scoers from a year ago (Boychuk, Samson, Jon Matsumoto, Jacob McFlikier and Chris Terry) return. Among those scoring leaders are last season's points leader—Boychuk, with 22G and 65P—and goal leader—Terry, who totaled 34G and 64P.
The defense will focus on shutdown top pairing blueliners Ryan Murphy and Justin Faulk. Both are just stepping out of lower level hockey (Murphy is advancing from juniors and Faulk is coming from the University of Wisconsin), but have been highly touted throughout their development and should make immediate and major impacts.
Backing them up are fellow Grade-A defenders Michal Jordan, Bobby Sanguinetti and Justin Kreuger. Long-time depth 'D'-man Matheiu Roy was also added from Tampa Bay to secure the back end.
Four Keys to a Successful Season
Strong Numbers from Top Six Forwards
The lower lines of the Hurricanes offense aren't showing much promise at the moment, but the upper two groups have always had the skill and now have the depth to make Carolina one of the most balanced top-10 offenses around.
More steady scoring from Staal, Jokinen and Ruutu combined with another eyebrow-raising campaign from Skinner and a smooth transition for Ponikarovsky and Stewart spell out a nice recipe for the 'O'.
Good Health
The Carolina Hurricanes lost the fewest man-games to injury in 2010-11 than any other team. And they still didn't make the playoffs. If they want to squeeze in this time around, continued good health from the vital support beams of this squad is crucial.
Seven Canes played full 82-game campaigns last season, the most ever in club history. While a repeat of that phenomenon might not be entirely necessary, avoiding long-term injuries, something that cost the club dearly the year before last, is a virtue that simply cannot be stressed enough.
Decent Special Teams
As outlined above, Carolina's persistent woes of falling just short of the postseason cut-off line can be attributed to a number of plaguing problems. None of those issues are more important than special teams.
Both units seem headed, albeit only slightly, in the right direction. But can they really hold up their status as acceptable, middle-of-the-line units? Decency from the power-play and penalty-kill teams will be checkmarks for victory in the upcoming season, but, right now, that desire looks to be in question.
Defensive Consistency
The most porous blue line in the NHL last year held that title mostly for their ridiculous inconsistency, which often included apocalypse periods of 15-plus shots against. Re-signing Joni Pitkanen and adding Tomas Kaberle obviously indicates a lack of concern about that, so even more dependency from the other components of the defense will be needed.
Gleason and Allen should become the top candidates to call on in times of need, and impeccable efforts from them as the season grinds on will become more and more fundamental. Receiving trustworthy performances at the hands of McBain and Joslin should also hopefully ease the strain on the conservative side of the defense.
If the group can come together and deliver long stretches of unswerving consistency, it'll all be fine. But if not, more dark storm clouds of opposing attacks might soon be clogging up Ward's vision.
For Further Reading: Six Bold Predictions for the Carolina Hurricanes 2011-2012 Season
Final Prediction: 43-30-9 record, 95 points (Third in Southeast Divsion, 7th in Eastern Conference)
Mark Jones is currently Bleacher Report's featured columnist and community leader for the NHL's Carolina Hurricanes. In his 36 months so far with the site, he has written over 310 articles and received more than 360,000 total reads.