From Indianapolis Colts to Dolts: The NFL's Worst Teams of Week 5
October 7, 2011
Rob Carr/Getty Images
The Thing returns to theaters this week.
It is not a remake of John Carpenter's The Thing but a prequel to it.
In The Thing an angry Antarctic bound space alien finds warm snug homes inside the bodies of unlucky humans. One of those humans is a cranky, constipated looking Wilfred Brimley. 
And who can blame a frozen space alien for finding its warm happy place inside the rather big belly of Brimley? 
Alas, eventually the alien wants out of its Quaker Oats man cage and its cozy Brimley body begins to look even more angry as it shakes, rattles, rolls and at last blows, bursts and breaks.
Boom! Boom! Bye, bye Brimley.
The moment before Brimley bursts he bears an uncanny resemblance to Andy Reid on the Eagle's sidelines watching as they blow yet another fourth quarter lead.    
1] St Louis Rams [0-4]
Rams fans can tune in to the Kurt Warner story or else watch Mike Martz implode on Monday night in Motown to take their minds off of the current Rams.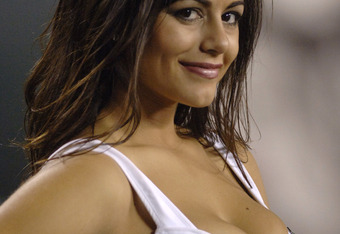 A. Messerschmidt/Getty Images
But the Rams are such a hot bumbling mess that they are hard to miss. They can't field a punt, complete a proper pass, hold onto the ball or make a tackle. But they seem to have found the hidden secret of holding in front of the referees.
2] Minnesota Vikings [0-4]
The last Les to start this bad in Minnesota was named Steckel.
So if they miss on the top pick is it time to trade Adrian Peterson and tear the rest of the team down? 
Or just call it a day and move to Los Angeles, London, Toronto, Fargo or Billings. 
3] Indianapolis Colts [0-4]
It might be time to rest all their quality starters and try to win the Luck sweepstakes.
Besides, Jim Irsay, a fan and friend of Hunter Thompson, wants to catch The Rum Diary and ponder moving from Manning to Luck. 
One wonders will Manning to Luck rival Montana to Young?
4] Miami Dolphins [0-4]
Tony Sparano is starting to sound like Colonel Kurtz in Apocalypse Now.
Sparano should just stare at Sage Rosenfels on the sidelines and mutter "The horror, the horror..."
If Sage is the answer, what was the question?
5] Philadelphia Eagles [1-3]
Andy Reid thinks he can win with highly paid offensive skill players and and a few very expensive defensive backs.
Andy thought he could skip assembling an offensive line or a defense that could tackle.  
And when Andy gets on the goal line he doesn't use his high priced weapons but likes to get the ball in the big paws of play making Javon Schmitt, who Andy must have mistaken for Marshall Faulk.
If the Phillies fail, the angry eyes of sweet Philadelphia will be on the Eagles and Andy. 
6] Jacksonville Jaguars [1-3]
A few years ago an accident with an ax used as a locker room prop injured the Jaguars punter. Last week the Jags defensive coordinator was knocked out of action by their Terminator like punt machine.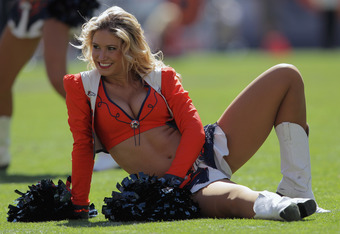 Doug Pensinger/Getty Images
Can the Jags do anything right?
Jack Del Rio looks more uptight than the marine POW on Showtime's Homeland.
7] tie
Four teams lost in limbo
Kansas City Chiefs [1-3]
Fear not Chief faithful, the tribe will win enough to knock them out of the Andrew Luck lottery.
Denver Broncos [1-3]
They should feed Tim Tebow to the lions just to shut Skip Bayless up.
Seattle Seahawks [1-3]
All of Paul Allen's cash and this is the best they can do?
Arizona Cardinals [1-3]
The Red Birds are back in the Bidwell era, the long nightmare that never ends.
Whiner of the Week
Brett Favre felt the need to fire a shot at Aaron Rodgers this weekend.
Rodgers ought to borrow a line from Tombstone and challenge Favre to a spelling contest.
Horror Show of the Week: Cincinnati vs. Jacksonville
Imagine some poor souls will pay to see this.
Go Away Award of the Week
Can't Hank Jr. take his millions and move his stale song on? And all the press will make him more money if he goes on tour.
Must ESPN make him a martyr and his story a song that will never end? 
Separated at Birth
Is Rob Ryan moonlighting as Bobby Elvis on Sons of Anarchy? Maybe Rex and Rob were triplets and Bobby Elvis is the Ryan gone bad.
Does Matthew Stafford not look exactly like a young Bill Clinton?
Does Brad Childress play Walter White on Breaking Bad?