Ball State Big 12: Jason Whitlock's Tweets Mock Absurdity of Big 12 Realignment
October 6, 2011
Brett Deering/Getty Images
If you've been anywhere near a television and/or the Internet today, you've probably heard that TCU is on the verge of joining the Big 12.
If you haven't heard about that, ESPN has all the details. Basically, all you really need to know is that the Big 12 higher-ups have agreed to extend an invitation to TCU, and that TCU is expected to join.
This is not entirely unexpected. The Big 12 lost Nebraska to the Big Ten and Colorado to the Pac-12, and is also losing Texas A&M to the SEC. If it is to survive as a conference, the Big 12 must expand by at least one team.
Because there is also talk of Missouri leaving for the SEC, it's possible that the Big 12 may have to add another school. To that end, FOX Sports columnist Jason Whitlock revealed some major scoopage on Twitter: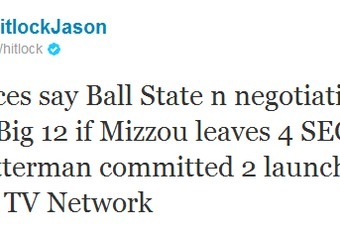 Yes, that Ball State. The same Ball State that has never won a bowl game. As if that wasn't enough, Whitlock dropped this too: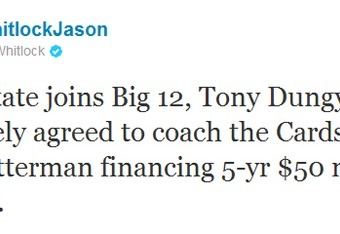 Ball State in the Big 12? David Letterman? Tony Dungy? This has to be a joke, right?
In my estimation, yes. It has to be. Check that, it must be.
And it probably is. We are, after all, talking about Jason Whitlock. He has a sense of humor, and he's shown time and again that he doesn't mind using it to mess with people.
His tweets about Ball State are a shining example of that tendency. They are totally ridiculous, but I think they also represent a job well done from a satirical standpoint.
I mean, let's face it. The Big 12 is not just a mess. It is a desperate mess, and watching from afar while the conference tries to repair itself is kinda hilarious in an odd way. It's like watching all the king's horses and all the king's men trying to put Humpty Dumpty back together again, except with more moving parts.
Throughout it all, there have been reports of the Big 12 extending invitations or at least considering all sorts of schools. TCU and BYU are the two schools that have been mentioned most often, but you've also heard schools like Louisville and West Virginia get mentioned as possible new members for the Big 12.
Heck, it seems like just about every school in the union (and beyond?) has been considered. So why not Ball State?
Why not indeed. Well played, Whitlock.
In case you're wondering, if this actually turns out to be true... I... I've got nothing.