Week 5 Waiver Wire: Andy Dalton and 3 QBs to Pick Up in a Pinch
October 7, 2011
Andy Lyons/Getty Images
The last thing you want to be worrying about heading into the meat and potatoes of your fantasy season is production from your quarterback.
The hope going into the season is that you can get one of the top players at the position and not have to worry about ever starting anyone else except on his bye week.
As we know, that's not a reality. At least one team in every league will be left scrambling for a quarterback several weeks in. If you are the owner of that team, here are three quarterbacks who might be available that are worth starting in a pinch.
Andy Dalton—Cincinnati Bengals
Of the three quarterbacks on this list, Dalton has the highest ceiling. He is the unquestioned starter in Cincinnati and as a rookie, he really only stands to improve as he gets more experience.
He came out of the gate slowly, but as the Bengals have made him a bigger part of the offensive game plan, he has shown improvement. He has one 300-yard game already and he almost got another this past week against Buffalo.
If you are ready to drop your quarterback completely and need a full-time replacement, Dalton is probably your best bet.
Curtis Painter—Indianapolis Colts
It feels weird saying this, but you could do a lot worse than Curtis Painter in this coming week. Maybe it's just the fact that so many, myself included, expected him to be terrible going into last week, but he actually didn't look too bad as the Colts' starter.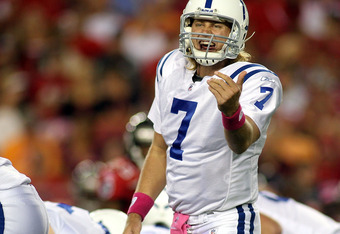 Marc Serota/Getty Images
To be honest, outside of a low completion percentage, which means little in fantasy, he was really good. He threw for 281 yards, not a bad number, and threw two touchdowns. Most important to the Colts and fantasy owners, he didn't turn the ball over at all.
Painter is far from a permanent solution at quarterback. He has very little experience as a starter in the league and the Colts don't have the running game to keep pressure off of him. But for one week, especially since they are playing the Chiefs, Painter is a good play.
Alex Smith—San Francisco 49ers
Like Painter, Smith is a temporary solution at quarterback only. The 49ers lean on the running game and only ask that Smith doesn't lose them the game. That obviously limits what Smith can give you from a fantasy standpoint, but if you need to get something from the position, he is someone you know will start and will stay away from turnovers.
As a matter of fact, his ability to not throw interceptions is the biggest reason that Smith is a viable fantasy quarterback at all. His passing yard numbers so far this season are as follows: 124, 179, 201, 291. With the exception of the most recent game, that's nothing to write home about, but if he doesn't throw interceptions, you can live with that yardage.