Nebraska vs. Ohio State: Can Taylor Martinez Silence His Critics?
October 7, 2011
Eric Francis/Getty Images
Everyone's a critic.
Just like art and literature, critics abound in the world of sports.
Athletes exist beneath a microscope. Their every action is replayed, analyzed and discussed now more than ever.
In the not-too-distant past, this type of criticism was limited to the opinion page of a newspaper's sports section or was saved for the last two minutes of a sportscaster's segment on the evening news.
Not anymore.
In the ever-changing world of social media, today's average sports fan has more avenues than ever to express their pleasure or disgust concerning a player, coach or team.
Before a game has even concluded, anyone can jump on a blog, Twitter or Facebook and fire off a venomous tirade in a span of seconds.
After studying the demographics for this website, it's a safe bet that many of you don't even remember what the Internet was like before social media.
This is seen by many as a good thing; freedom of speech and all that. But sometimes, things are better left unsaid. How many athletes and celebrities have had to apologize for something uploaded in the heat of the moment?
This brings us to Taylor Martinez.
During the non-conference portion of the Nebraska Huskers' schedule, there was plenty of criticism about Martinez's decision-making, passing accuracy, ball security, etc., in every corner of the Internet.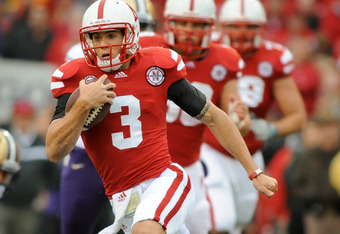 Eric Francis/Getty Images
After Nebraska's debacle against the Wisconsin Badgers, those burning doubts have become a firestorm of criticism—some of it well beyond the line of good taste. The situation is reminiscent of Niles Paul, who deleted his Facebook account last season after receiving a flood of inappropriate comments concerning dropped passes. 
According to the Lincoln Journal Star, Martinez's teammates "have his back." Senior OT Yoshi Hardrick described how the team has, unsurprisingly, circled the wagons around their quarterback, but says that the criticism has followed Martinez around campus. 
Hardrick claims that Martinez's girlfriend has been harassed about his poor play and that the incessant derision has even entered the classroom. Even in Spanish class, the students are talking about Martinez's interceptions.
One of the resulting problems is that Martinez has been bitter toward the traditional media and reacting to serious sportswriters, who are much more forgiving, as if they were "Joe Six-Pack" spouting off on a message board. 
Coach Pelini supports him, his team supports him, most of the media support him and even some fans still support him. Martinez needs to forget about all the hateful drivel driven by social media and do what he has told Hardrick. 
"These next seven games, he just wants to get the world off his back, so he's going to do something to do about it," Hardrick said. 
Those seven games start this Saturday; now is time to silence the critics. 
The problem is that not every player can put those hateful words behind them and turn things around. Things like that have a tendency to lurk in the back of certain players' minds. 
This weekend, after he faces a stout Ohio State defense, we should know a lot more about the psychological make-up of Taylor Martinez; whether he'll be able to enjoy a moment of silence or if the already deafening din will grow even louder.