High School Football; No Weight Training Equals Alarming Injury Rates
October 7, 2011
Injuries and football go hand in hand, but a closer look at the types of injuries in high school athletes reveals that the occurrence of catastrophic injury is most likely in athletes who do not participate in weight lifting programs.
To those in the business of high school athletics, this is not news at all. Every high school coach in America spends a portion of the football season adjusting rosters because there are injuries. Many football teams experience a few major injuries every year, yet many have not acknowledged the link between injury and weight training.
In a 2002 report written for the American College of Sports Medicine, Jay Hoffman, Ph.D., FACSM reported that the correlation between resistance training and injury prevention is absolute. Dr. Hoffman concluded that improvements in strength, power and muscle size help to prevent the occurrence and severity of musculoskeletal injury in athletes.
In addition, Dr.Hoffman suggested that bone density, connective tissue (ligaments and tendons) and core muscle groups benefit from resistance training and enhanced conditioning. In short, athletes with a resistance training regimen suffered fewer major injuries than those without.
In another recent study, University of Florida researchers studying football injuries at more than a dozen high schools found some alarming statistics.
MaryBeth Horodyski, an assistant professor with UF's department of exercise and sports sciences, said in 1997 that a three-year study of athlete injuries shows that players who follow a controlled strength-training program reduce their chances of suffering from severe injuries.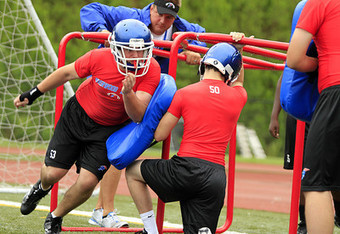 Seventy-eight percent of severe injuries to the upper body struck non-lifting athletes, or those students who were not in a controlled weight-lifting program, Horodyski said. And non-lifting athletes accounted for 64 percent of those with severe injuries to the lower body.
In the current football season, Riverwood High School (Atlanta, GA) Head Football Coach Robert Ingram reported 15 major injuries to athletes on his team of 60 varsity players. At Riverwood, 23 (38 percent) of the varsity players participate in organized weight training.
Of the 15 reported injuries at Riverwood, Coach Ingram reported that just one of the 15 major injuries was sustained by an athlete that participates in weight training. By those figures, 93 percent of the major injuries reported by Coach Ingram occurred in players not participating in weight training.
Although the current buzz in football on all levels has been about concussions and prevention of catastrophic head injury, the alarming rate of injury to non-participants in weight training should not be overlooked.
Increased sports performance is an obvious benefit to weight training, but the prevailing consensus among sports scientists, coaches and athletic trainers is quite simple. Hitting the weights can and will prevent injury.