Week 5 Fantasy Football Start 'Em, Sit 'Em: Addai and 3 RBs You Can't Depend
October 8, 2011
Marc Serota/Getty Images
Outside of injuries to a big-name player on your roster, the worst thing a fantasy owner can have to deal with in a given season is inconsistency from a running back.
Running back is where much of your production is going to come from and you really need someone who can be there week in and week out.
Because of this, you can't afford to stick with the same running back for too long if he isn't producing like you need him to.
The following are three running back that you won't be able to look to for big production. These guys are not just bad plays for this one week. They are players you may want to look at permanently placing on your bench.
Joseph Addai, Indianapolis Colts
Given that the Colts' passing offense had been greatly weakened by the injury to Peyton Manning, I assumed that Joseph Addai would have a bounce-back year after a couple of disappointing seasons.
So far, that hasn't happened and I'm not convinced it will. Addai is averaging 4.6 yards per carry, but he only has one touchdown and his workload actually hasn't increased much from where it has been in previous seasons.
Addai is still the running back to own on the Colts' roster, but I don't seem him being a good fantasy play from here on out.
Shonn Greene, New York Jets
The Jets continue to hope that Greene busts out and becomes a dynamic every-down back, but it just hasn't happened yet.
In 2009, he averaged five yards per carry. That's big-time production. In 2010, he totaled 766, showing that he could carry a bigger load, but his per-carry average went down.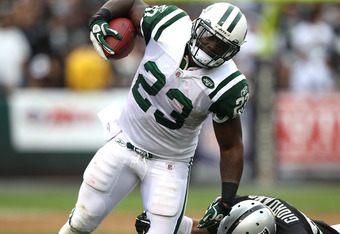 Jed Jacobsohn/Getty Images
In 2011, the Jets were hoping he would put the best of those two seasons together, but he has actually headed in the opposite direction. So far this season, he has averaged just 3.1 yards per carry and he has only found the end zone once.
Even though Greene is closer to an every-down back at this point, I think LaDainian Tomlinson still might be the Jets running back to own. His production so far this season has not been good, but he will still get many of the goal line carries.
Ryan Grant, Green Bay Packers
Fantasy owners are chasing the production that Ryan Grant gave owners back in 2008 and 2009 when he rushed for over 1,200 yards. When healthy, Grant can still give you that type of production, but I'm not sure he can get there as a part of this Packers' offense.
Aaron Rodgers is as good as they get at quarterback. That limits the number of carries that any running back gets in that offense. Then there is James Starks. In Grant's place this season, Starks has played pretty well.
There's also his health, as I alluded to. Grant has dealt with some injuries that have cost him games in the last couple of seasons. Even if he continues to get the majority of carries in the offense, there is no guarantee that he will be able to stay healthy.