Anthony Rendon Could Be Replacing Ryan Zimmerman at Third by 2013
October 8, 2011
Hunter Martin/Getty Images
In their first MLB player draft as the Washington Nationals back in 2005, the team selected Ryan Zimmerman of the University of Virginia. After just 67 minor league games, he was promoted to the big club and supplanted veteran Vinny Castilla, batting .397 in 20 games and forever becoming the "Face of the Franchise."
Over the next two seasons, Zimmerman averaged .276/.340/.464 with 22 home runs and 100 RBI. He played in just about every game.
It was understood that third base was his until he retired.
But since then, Zimmerman has had a hard time remaining healthy.
Since 2008, he's averaged just 126 games a year, hitting .293-21-73. Had he played every day, he would have averaged 27 homers and 94 RBI, so the reduction in offense was strictly due to playing time.
The 27-year-old has two years remaining on his contract extension he signed a couple of years ago. It's been assumed—by both sides—that a long term deal would be in place long before Zimmerman reached free agency after the 2013 season.
That kind of contract would likely be similar to Troy Tulowitzki's mammoth $157 million deal he signed last year.
If Zimmerman can remain healthy, he's worth every penny, probably more. If he can't, that's a lot of money tied up in a player who has lost 20 or more games per year due to injury in three of the last four seasons.
Enter Anthony Rendon.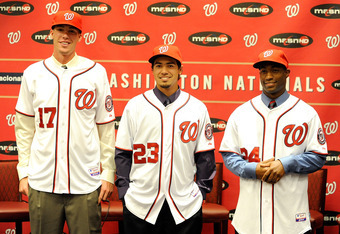 Greg Fiume/Getty Images
The Nationals' top pick in this year's amateur draft, Rendon's first two years at Rice University made him every bit the hitting phenom as Bryce Harper, the team's top pick the year before.
The year before Harper hit .442-29-89 as a 17-year-old in junior college, Rendon—just a year older—hit .388/.468/.702 with 20 homers and 78 RBI against far superior Conference USA competition.
Rendon led the conference in batting average, slugging, total bases, walks, home runs and was second in runs batted in.
But while Harper was tearing up junior college foes in Nevada, Arizona and Utah, Rendon actually improved on his freshman season. He destroyed C-USA pitching, batting .394/.539/.802 with 26 home runs and 85 RBI.
Again, the 20-year-old led the conference in runs batted in, total bases, walks, home runs, and was second in slugging. Both years, he led the conference in walk to strikeout ratio.
However, 2011 was a different story. Battling ankle and shoulder ailments, Rendon hit "just" .327/.520/.523 with 6 homers and 37 RBI.
But by spring training, the shoulder will be sound and Rendon will be 100 percent.
Though his 5'11," 170 lb frame doesn't suggest it, most scouts project him to be a middle of the order bat, someone capable of consistently hitting .300-30-100. He has very quick wrists that travel quickly through the strike zone.
He reminds me—the wrists and the build—of a young Hank Aaron that I remember as kid in the early 1960's. On the back of his 1957 baseball card (one of my prize possessions), Aaron was listed as 5'11" and 170 lbs.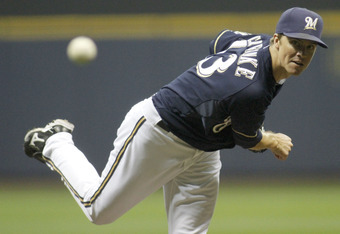 Darren Hauck/Getty Images
No, Rendon is not Hank Aaron, but he certainly has the mechanics.
Defensively, he is above average with a powerful arm. Is range isn't exceptional but certainly above average. If Nationals' fans had never watched Ryan Zimmerman, we'd think Rendon was the second coming of Brooks Robinson.
He's not. He's just really, really good.
If he's as healthy as everyone assumes, Rendon will probably be a major leaguer for good by 2013. But where will he play?
There is talk of second base, but Danny Espinosa looks entrenched there. And if he ends up getting traded, Stephen Lombardozzi has an oh-so-golden glove and speed to go along with an adequate major league bat.
He could certainly play short, but Ian Desmond is a team favorite and should he ever be traded, Espinosa will remain with the team and slide over to short, leaving second to Lombardozzi.
First is a possibility, but once Adam LaRoche gets traded this summer, Michael Morse will return to first and remain there for several years.
That leaves third base.
No one wants to talk about the possibility of Anthony Rendon becoming the team's third baseman and pushing aside the face-of-the-franchise, but that possibility exists.
Right now, a mega-deal for Ryan Zimmerman will barely move Washington's salary meter. In 2011, their payroll was less than $60 million, eleventh in a 15-team league.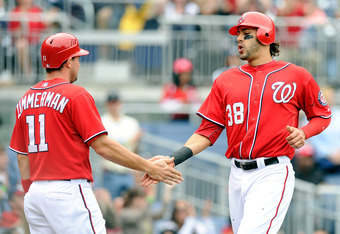 Greg Fiume/Getty Images
In fact, they will probably need to double their payroll to be a consistent contender.
But what if the Nationals decide sometime next summer that Zimmerman's continued health is not a guarantee and spending $15-20 million a year on the Virginia native isn't good business sense?
What then? What would "Plan-B" be?
If Rendon hits as well in the minors as is expected, and perhaps gets a September call-up to prove his mettle, the Nationals may consider trading Zimmerman during the off season.
A Zimmerman trade could accomplish two things. First, it would free up the $15-20 million they would have had to pay him. That money could then be used to sign a high caliber free agent to make a good team great.
Available free agents for 2013—at this moment, anyway—include Michael Bourn, Matt Kemp, Josh Hamilton, Matt Cain, Cole Hamels and our old friend Zach Greinke.
It would be nice to add someone like Greinke and not increase the payroll, right?
Second, even with one year remaining on his contract, Zimmerman would command a fairly hefty return. If in fact the Nationals as reported offered Jordan Zimmermann, Danny Espinosa and a minor leaguer to the Royals for Zach Greinke (and was accepted by Kansas City), what would Ryan Zimmerman be worth?
I would think that Rendon's offensive numbers in 2013 would be similar to Zimmerman's rookie season when he hit .287-20-110, so his bat—and for the most part his glove—wouldn't be missed in the Nationals' lineup.
So Rendon replaces Zimmerman, the salary savings could bring in a featured free agent, and the team might get two or three very good prospects to help restock the farm system.
I think Anthony Rendon's bat has a greater upside than Zimmerman's. Ryan will probably average .280-27-90 over his career, very good numbers indeed. But when Rendon is compared to recent college bats, it's Bryce Harper's name, and not Ryan Zimmerman's, that comes up most often.
In 704 college at-bats, Zimmerman hit .355/.405/.472 with 7 home runs and 140 RBI. In 22 fewer at-bats, Rendon batted .371/.520/.523 along with 52 home runs and 194 runs batted in.
I wouldn't want to be the person having to make that decision, but the Nationals' face-of-the-franchise might not be for much longer. It would be hard not to trade Zimmerman for (in essence) Anthony Rendon, Zach Greinke (or someone like him) and three prospects.
Either way, the Washington Nationals of 2012 and 2013 are going to be talented teams contending for the post season. And with the Phillies quickly aging (seven of their eight position players are over 30 as are three of their five starters) and the Braves still upside down from their monumental collapse (not to mention four of their positions players are over 30 and their two best starters are over 35), and the ongoing problems in Miami and New York, you'd have to think that Washington is going to land somewhere near the top of the division come 2013.
With, or without, Ryan Zimmerman.