Columbus Blue Jackets: Loss to Vancouver Means Worst-Ever Start to a Season
October 11, 2011
Justin K. Aller/Getty Images
The Columbus Blue Jackets played a spirited game against the defending Western Conference champion Vancouver Canucks.
Vancouver got off to a slow start, going down 2-1 to Columbus before rising to the occasion in the final stanza. In the end, it was yet another loss for the new-look Blue Jackets, who've shown that same old penchant toward losing, succumbing to a 3-2 decision. 
This means that at 0-3, the Jackets are off to their worst-ever start in franchise history.

Dream Turning Into A Nightmare

If this is a dream, it's not going well for Jackets fans.
It's actually turning into an early Halloween nightmare for the boys at the corner of Nationwide and McConnell Boulevards in downtown Columbus.  The off-season heavy-lifting done by GM Scott Howson, which brought in Jeff Carter, James Wisniewski, and Vaclav "Vinny" Prospal, was supposed to help reinvent this hockey team and shirk the losing culture that had so long pervaded its existence.
Howson even brought in a full-time goaltender's coach, Ian Clark, who incidentally came by the way of the Canucks. Consequently, Steve Mason was supposed to regain his Calder Trophy winning ways. 
This was supposed to be the dream season for the Columbus Blue Jackets, so you can excuse their fans for being a tad optimistic and consequently dreaming big.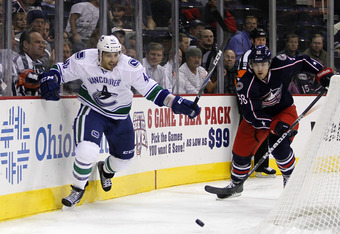 Justin K. Aller/Getty Images
Small Guy Kris Russell Flexes Muscle
Without sounding too downtrodden on the Jackets, let's give them credit for playing with gusto, pride and valor tonight against the top-notch Canucks, who were the best team in during the NHL 2010-11 regular season.
There's never a good way to lose, but if there ever was a way to lose respectably and still preserve some shred of dignity, then this was probably the best way of going about it.
You know you have a sense of pride in the team when diminutive figures like Kris Russell come to the rescue of their goaltender getting roughhoused.  

Rookie Cam Atkinson Scores First Goal
Speaking of diminutive figures, Cam Atkinson scored his first goal at the NHL level by giving the Blue Jackets a 1-0 lead in the first period.
With help from Matt Calvert, a decisive shot by Atkinson from about 10 feet out left Canucks goaltender Corey Schneider stranded. This was one of the bright spots for the Blue Jackets.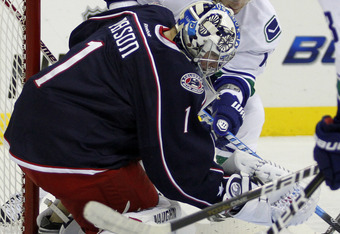 Justin K. Aller/Getty Images
Vinny Prospal Prospers
Prospal, one of the newcomers to the Blue Jacket bunch, scored the other goal for the Jackets to put them ahead 2-1. 
Feeding off a pass from Rick Nash, Prospal hovered behind the net and then somehow magically wrapped around the right post amidst traffic before just barely sweeping the puck past Corey Schneider's left pad. You have to tip your hat to guys that find a way to get the puck in the net, especially with that degree of difficulty. Prospal has 2 goals in three games with the Jackets. 
Steve Mason is probably harder on himself then his worst critics, and desperately craves success.  However, to allow a goal from almost 50 feet out is incredibly disconcerting.
To be fair, the shot was taken by a former Blue Jacket, Manny Malhotra, who struck it with some velocity toward the scrum in front of the goal crease. Chris Higgins got credit for the goal as he redirected the shot past a frozen Mason.
Cody Hodgson scored Vancouver's second goal to tie it up. Alex Burrows then netted on a power-play goal that seemed stoppable to seal the deal in the third period. 
The jury is out on Columbus's goaltender situation. If the current trend continues over the next dozen games then either Marty Turco or a similarly situated veteran goaltender may be getting a call from a franchise desperately hoping to save the season before it spirals too far out of hand.
Powerless Plays
To balance things out and spread the responsibility behind the worst start in franchise history, let's not forget that the Columbus Blue Jackets were once again not able to convert on any of their power plays against Vancouver. While execution seemed better tonight, it simply didn't produce the results.

Missed Penalty Shot
Additionally, Maksim Mayorov was awarded a penalty shot as the Canucks got called for gloving the puck near the goal crease and then intentionally dislodging the goal hardware.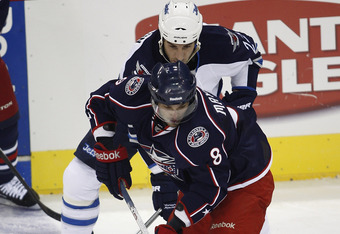 John Grieshop/Getty Images
He let off a wicked wrist shot from about 10 feet out and it deflected off Cory Schneider's glove. This was a golden opportunity for the Jackets to add a goal and perhaps change the eventual outcome of the game. But, it wasn't meant to be—even though Mayorov played with gusto throughout the game.

Turn It Around With Due Haste
The Jackets have a day or so to think things over before they host the Colorado Avalanche on Wednesday.  Colorado will be in rare form feeding off their big victory over defending Stanley Cup champions, Boston Bruins. 
If the Blue Jackets want to halt their losing streak then they will need to turn it around with due haste.
Feel free to send me your comments and feedback via postings to this article or by e-mailing me.  Also, you can follow me on twitter.
E-mail: Harry.Kamdar@yahoo.com
Twitter:  http://twitter.com/JacketsCity