Michigan vs. Michigan State: Bold Predictions for the Paul Bunyan Trophy Battle
October 12, 2011
Gregory Shamus/Getty Images
Will the University of Michigan Wolverines snap their three-game losing streak to in-state rival Michigan State and take back the Paul Bunyan Governor of Michigan Trophy?
The famous lumberjack is a fitting symbol of one of the state's leading industries. The famous schools are about 45 minutes to one hour's drive apart—a Paul Bunyan axe throw away.
This year, UM from Ann Arbor in Washtenaw County is the big tree and MSU in Ingham County is the small axe looking to chop Michigan from the unbeaten ranks.
The city of East Lansing—home of the Spartans—has a population much lower than Ann Arbor's. Many transplanted residents have resided in both towns.
In Psalm No. 1, King David or King Solomon, depending on the scholar's view, writes in the Bible about a tree planted by the rivers of water which symbolizes a righteous man planted by God.
The waters of the Great Lakes almost surround the state of Michigan. Michigan State will be looking to surround Michigan's fabulous quarterback, Denard Robinson, with a flood of pass rushers and run stoppers to plant him face first into the turf.
The triple threat quarterback wants to plant, dig and be out on the way to the house to give the U of M a victory. His Michigan squad plays in the Big House, but this game is positioned on Spartan turf.
This isn't the Peloponnesian War over nature's riches, but it is a very rich rivalry. Michigan dominated this matchup in the early part of the new millennium by winning in 2001 and from 2002-7. U of M also holds the series edge: 67-30-5.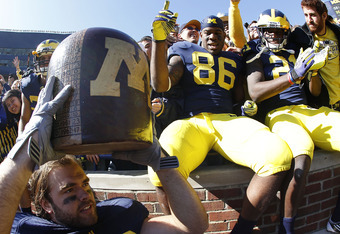 Leon Halip/Getty Images
The (6-0, 2-0 Big Ten) Wolverines traveled well in their first home game of the season with almost 50 percent of the fans at Northwestern's Ryan Field in Evanston, Illinois. I'm curious to see how many they'll have just down the recognizable road in Spartan Stadium at 12:00 p.m. ET Saturday.
Coming off a bye week after shutting Ohio State down in Columbus, the Spartans (4-1, 1-0) had two weeks to get ready for Robinson and the quirky offense the Wolverines throw at their opponents.
Michigan has been treading water on higher turf under new coach Brady Hoke. He is 5-0 in his first season—a remarkable new start for the Wolverines after the Rich Rodriguez era.
Mark Dantonio is 33-18 (.647) in his fifth year at MSU (2007-present). Senior quarterback Kirk Cousins wants to help extend his coach's winning streak against the Wolverines.
To help himself, Cousins will lean on a stellar senior wide receiver from Westerville, Ohio, BJ Cunningham. There's no doubt that BJ would like to go out on his way to the professional ranks undefeated against Michigan. He showed first-round NFL pick hands and feet in catching the game-winning touchdown against Ohio State.
Representing Deerfield Beach, Florida, Robinson is a junior and the latest in the quarterback line including Rick Leach, Jim Harbaugh, Elvis Grbac, Brian Griese and Tom Brady. Seeking his first Bunyan Battle win, Denard is much different than the rest.
By averaging 120.6 yards rushing per game, last week he became the first and only player in the FBS this season with 500 yards each rushing and passing. He was the Big Ten's leading rusher and No. 11 in the nation before hitting Northwestern up.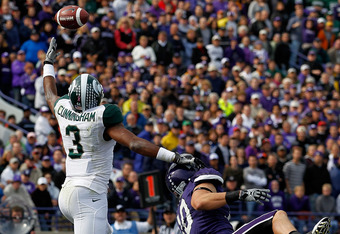 Jonathan Daniel/Getty Images
He'd accounted for 14 touchdowns in his last four games going into Evanston and posted four more against the Wildcats.
The Wolverines also have a wonderful senior wide receiver, Junior Hemingway from Conway, South Carolina, who is very adept at catching deep jump balls. He averages over 25 yards per catch—No. 4 in the nation.
He projects as a solid early to middle second round time NFL pick in my prognostications. Speaking of foretelling, it's now time for my forecast for the Paul Bunyan game.
Prediction:
Robinson will run wild and try to do it all, including catching passes from the slot position. I wouldn't be surprised if he lined up at cornerback.
The Wolverines will throw a few wrinkles at the Spartans in an effort to keep "Shoelace" Robinson tied up. Michigan State was all over Ohio State's offense two weeks ago and they have had two weeks to prepare for Robinson.
This will be a defensive battle. Going into the last week's play, the teams were tied for No. 2 in the FBS only giving up 10.2 points per game.
In the end, the rushing game for Michigan will be the difference that gives the Wolverines a slight edge and a down to the wire victory. The University of Michigan will win it in a squeaker, repossess the rivalry trophy and avenge State's 34-17 victory in Ann Arbor last year.
Wolverines 24, Spartans 23