South Carolina Football: Steve Spurrier Has an Apology To Give
October 12, 2011
Streeter Lecka/Getty Images
First, let me say that there is no bigger fan of Steve Spurrier than this guy. I love Steve. He is the man as far as I am concerned. Which makes this difficult to write.
Spurrier embarrassed reporter Ron Morris in front of the world at a press conference in Columbia, S.C., this week. He apparently took exception to a column Morris wrote that supposedly accused Spurrier of raiding the Gamecock basketball program to take their star point guard, Bruce Ellington, and use him to return punts, thus putting a huge road block up for coach Darrin Horn to overcome this season.
Two things are wrong about this.
One, Ellington was promised he could play football if he came to USC. Horn knew this because he is the one who made the promise. Morris wrote this in his article. At no point does he accuse Spurrier of raiding the basketball team or sneaking behind Horn's back. Two, Morris wrote the article in March?
Let me get this straight, you're now just getting upset over this? in October? Does news not travel very fast in South Carolina? This wouldn't have anything to do with Stephen Garcia, perhaps the most embarrassing miss on a QB, being kicked off the team...again...would it?
You say you don't mind negative stories as long as they are true? Then why did you point to him and call him the "Negative Guy?" Why not liar? And what exactly did he write that was so negative? All he said was playing football will stunt Ellington's basketball growth. Why do you care about "those skinny, round ballers?" You never did before.
Is missing half the basketball season not going to hinder his game? If not, then let him miss the back half of football season and see if his football game suffers.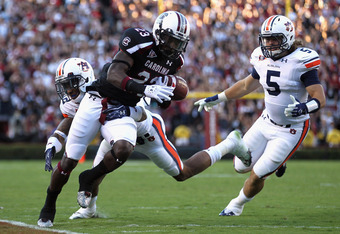 Streeter Lecka/Getty Images
Are writers not allowed to write anything negative about the football program at South Carolina?
Is that it because here is the truth.
South Carolina has greatly benefited from Spurrier. He made the Gamecocks relevant. But, he has not made them champions.
The truth is that many, including myself, thought that Spurrier would have the Gamecocks winning SEC Championships and contending for national titles by now. In fairness to Spurrier, South Carolina is...well...South Carolina. The school has been playing football for over a century and all it has to show for it is the 1969 ACC Championship. That's it.
This program didn't win its first bowl until the CarQuest Bowl in Miami in the 1990s in front of about 200 people. So maybe this is all South Carolina is capable of. If that's negative, I'm sorry, but it's also true.
Here is something that is also true.
Spurrier screwed up and I think he knows it. When he left the Florida Gators in a huff, he miscalculated. You see, like when he took over USC, Florida had never done much of anything in nearly 90 years of football. He turned that around in Gainesville.
So, he thought Florida needed him more than he needed Florida. He was wrong.
Florida has won two national titles while Spurrier has been in Columbia. Spurrier has only one lousy SEC East Championship at while at South Carolina.
When the Florida job and the South Carolina job both became open in 2005, Spurrier expressed interest in the Gator job. He was told to submit a resume. His reply, apparently, was, "my resume is in that trophy case."
I loved it. That's exactly what he should have said. But the truth is, Florida's top choice was Urban Meyer. He was new president Bernie Machen's coach when he presided over Utah. He was going to get the job. Spurrier broke up with Florida. UF had moved on, so the head coach had to settle for South Carolina. Let's face it, South Carolina is in the bottom half of the SEC East.
South Carolina is Vanderbilt without the 'high academics" excuse. They are Kentucky without the "basketball school" excuse. Spurrier has done as well there as anyone can. But let's not pretend he's turned them into Alabama. There are plenty of negatives to write about here. If Spurrier doesn't like it, he should have stayed at Florida.