Toronto Maple Leafs of 2011/2012: What We've Seen so Far
October 12, 2011
Abelimages/Getty Images
Two games into the 2011/2012 NHL season and the Toronto Maple Leafs boast a perfect winning record.  It would be foolish to assume that this type of performance can be sustained over the course of an 82 game season, however, this does not mean we haven't learned a lot already about this year's roster.
The Leafs started the season with an abhorrent first period of play against the rival Montreal Canadiens.  Somehow, although don't ask me to explain it, they managed to keep the Habs off the scoreboard.  Then, when the puck dropped in the second period, it seemed as though a completely different team had taken to the ice.
Pucks weren't being turned over at a Francois Beauchemin-like pace and every player seemed to remember that skating is a basic yet invaluable part of playing the game.
It appeared as though perhaps Ron Wilson pressed CTRL-ALT-DELETE and hit the restart button on what was, at the time, a seriously malfunctioning machine.
The rest of the night was a relatively tight-checking, fast-skating affair with Lombardi scoring the eventual winner on a short-handed rush, making his first NHL game since October 13th, 2010 all the more remarkable.
Phaneuf, not to be left out of the spotlight in his team's first game back, wowed the faithful at the ACC with shades of his old self when he unleashed an absolute rocket from the top of the circles just over top of Carey Price's shoulder to offer some insurance in this win.
A final score of 2-0 does not tell the whole story of this game, as the first period would have been better played by the AHL's Toronto Marlies, but fans can be happy with the win.  Two points is two points, and the Leafs would have found a million-and-one ways to lose this game in years past.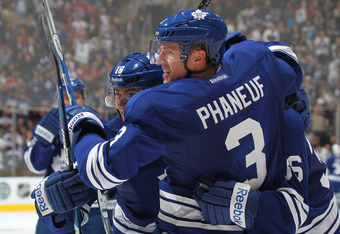 Claus Andersen/Getty Images
Fast forward to game #2 versus the Ottawa Senators and the Leafs picked up right where they left off against Montreal. 
A slow start was not in the cards for the Leafs on Saturday as they came out flying.  Before you could even realize it, the second period was over and the Leafs were up 4-0. 
Most had already written this game off.
However, the Leafs decided to finish their second game exactly the way they started their first one.  There was no attention to detail, defensive coverage was abysmal, and all of a sudden the opening night jitters that plagued them reared their ugly head once again.
The Senators stormed back into this game, led by team captain Daniel Alfredsson.
Thankfully, in large part due to a three-goal, four-point night by sniper Phil Kessel, the Leafs managed to eke out a 6-5 win.
As was the case against Montreal two nights before, the Leafs showed a few holes in their armour—but a win is a win.
What can we take from all of this?
While this team has shown a tremendous amount of improvement thanks to a number of personnel changes over the summer season, there is going to be a significant adjustment period. 
At times, the team has performed exactly how management, coaches, and fans envision them performing on a nightly basis.  At other times, it seems as though the ghosts of problems past still haunt them.
It is far too early to make any sort of blanket statement about this year's Leafs.  However, even with all of the questions left to be answered, it would appear as though, at the very least, there is reason for Leafs fans to continue to be cautiously optimistic.
This article was originally published on http://sports-at-work.com.