Pac-12 MBB: Why Oregon State Will Make the NCAA Tournament This Season
October 13, 2011
Victor Decolongon/Getty Images
Craig Robinson's 'cavalry' has finally arrived.
When Oregon State men's basketball coach Craig Robinson took over the job in 2008, he brought with him a winner's mentality, and a knack for recruiting big-time players.
When he got to Corvallis, he was faced with a team accustomed to losing and short on talent. The previous season (2007-08), the Beavers went 6-25 overall and an unheard of 0-18 against Pac-10 competition. Simply put, this was one of the toughest coaching jobs in the country.
Year by year, the original players from that 0-18 team graduated and more of Craig Robinson's recruits walked in the doors of Gill, ready to make and impact and ready to win.
Jared Cunningham. Roberto Nelson. Joe Burton. Angus Brandt. Ahmad Starks. Devon Collier. The list could continue, but the bottom line is, these recruits were of a caliber that Oregon State had not seen in quite some time.
Still, however, these players were young, and when mixed with an older group who couldn't quite shake their losing vibe, no progress seemed to have been made.
But now, there are no more excuses. Every member of that 2007-08 Oregon State team has graduated and the squad everyone has been waiting for will now be handed the reins. As Craig Robinson has been saying since players arrived in August, "The cavalry is here."
The time is now to take the 20th all-time winningest college basketball program back to where they belong, the NCAA tournament.
It won't be an easy task, as the new-look Pac-12 looks to be strong. But the culture at Oregon State has changed. Jared Cunningham was a leader for the Beavers last season, and looks to be the go-to guy this season as well. He will be joined in the back court by talented sophomore guard Roberto Nelson and the 5'7" Ahmad Starks, who has the ability to take over games when his outside shot is on. Freshman guard Charlie Barton, who has played with the national team in his native Sweden, should also contribute.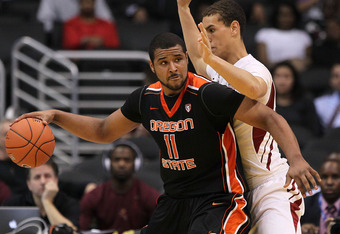 Jeff Gross/Getty Images
In the front court, Joe Burton, Devon Collier and Aussie Angus Brandt will be the ones in charge. Last season, Burton got off to a blazing Pac-10 start against Arizona State (17 points, 9 rebounds) and Arizona (16 points, 5 rebounds), but did not get the job done after those two games. He will have to be the anchor to the front court as he heads into his junior season this year.
Collier impressed as a freshman last year and should build on his strong season. His athleticism is off the charts and created match-up problems for teams last year.
Angus Brandt has shown flashes of being a tremendous player. His shooting ability and ball-handling skills are impressive for man who stands 6'10", but he will have to be more consistent this season.
Also looking to contribute this season are the senior leader Kevin McShane, sophomore center Chris Brown, redshirt freshman Eric Moreland and sophomore Rhys Murphy.
Its been over 20 years since Oregon State last made it to the big dance. Gary Payton was the leader of that team and he has been retired from the NBA for nearly five seasons. Needless to say, it has been too long.
Its time to start a new legacy for Oregon State basketball. This team seems ready to do just that.