Warburton's Wales on Verge of Greatness: And Still England Get All the Headlines
October 13, 2011
Gallo Images/Getty Images
Sorry folks, but I can't resist it. I've got to have a quiet gloat at England being Frog-marched out of the Rugby World Cup—and the emergence of my beloved Wales as contenders to become world champions.
Every self-respecting Taff—male and female—is a rugby union fan. And to see our boys (and most of them are little more than boys) playing so brilliantly over in New Zealand makes me immensely proud.
Even if Wales lose to France in this weekend's semi final, the team have done the nation proud. I mean, there are only three million of us—or one Dragon for every 17 St Georges or 21 Joan of Arcs.
As a little Principality attached to and overshadowed by England, we don't have a lot to shout about. So you can't blame us for making a song and dance when we show the English up. Even if it's only at tiddlywinks.
Since everyone associates Wales with rugby, male-voice choirs and sheep, we should at least be half-decent at scrummaging and singing (I'll pass on the sheep bit).
So it was sad that on one of the rare occasions we excel ourselves in a major sporting arena, the UK media chose to relegate the achievement to also-ran ­status.
Monday's Daily Mail devoted the back SIX pages of a 72-page paper to England's losers. Sports fans had to turn to Pages 66 and 67 for the first mention of Wales.
The Sun's website the same day featured FOUR separate stories about England and nothing topical on Wales.
It was the same on TV, where most of Sunday's news bulletins focused on England's thumping and only mentioned the far superior Wales-Ireland contest as an afterthought.
By this weekend, the English media will of course have jumped on the bandwagon and be screaming about Sam Warburton's brilliant Brits flattening the Frogs.
It's just like the Andy Murray scenario. The media suck up to the Dunblane racketeer before tournaments as "Our Andy, Britain's best." This, despite the fact he is on record as saying he'd support any team playing England.
Then, when edgy Andy makes his customary semi-final exit from Wimbledon and other major tournaments, he reverts in Fleet Street's eyes to the status of 'sweaty sock' (that's Jock in Cockney rhyming slang).
That's one of the reasons why most Celts have a 'we love it when England lose' mentality, whatever the sport.
I don't go with that. If Wales can't win, then ­another British team has to be the best alternative.
But I totally understand the thinking of people like Welshman's son Gareth Evans, a Scot spending his first holiday in this region.
"I wasn't even born in 1966, but I'm fed up hearing about what England did," he says. "I hope Wales win the World Cup if only to shut the English up."
I somehow think that if the Scots had become World Champions in 1966, Bannockburn would be a distant second to the Mighty Macs for the next 10,000 years.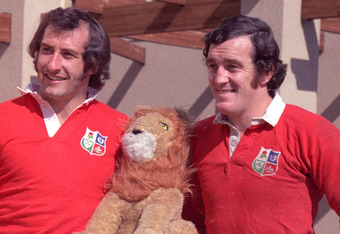 Getty Images/Getty Images
I was lucky enough to have good friends among the great Welsh rugby team of the '70s (which is still revered as one of the finest the game has known).
Sadly, rugby legends like Gareth Edwards, Phil Bennett, Gerald Davies and JPR Williams never won the World Cup…Primarily because it didn't exist until 1987.
That Golden Era team was brilliant because virtually a whole team of world-class players all arrived on the scene at the same time.
A quarter of a century later, history seems to be repeating itself. Wales skipper Sam Warburton and his fearless youngsters are ready, willing and able to paint the Rugby World Cup red.
Pessimism note: Please be gentle on me if France win!