Auburn Football: Tigers Win More Than Just Game Against Florida Gators
October 16, 2011
Scott Cunningham/Getty Images
Saturday evening at Jordan-Hare Stadium, Florida quarterback Jeff Driskel, a true freshman, dropped back to pass on what would eventually be the game's very last play from scrimmage. Instead of finding an open receiver, the game concluded with a very fitting ending, as Driskel was sandwiched between defensive ends Craig Sanders and Corey Lemonier and tackled for a loss. The defensive play was one of many sparkling defensive plays that set the tone in Auburn's 17-6 win over Florida.
Prior to the game, most of the chatter focused around the two troubled offenses led by Gene Chizik and Will Muschamp. Both coaches once graced the sidelines as defensive coordinators at Auburn and at Texas. At Auburn, Chizik went undefeated. Muschamp did not. At Texas, Chizik won a National Championship. Muschamp did not.
Saturday evening, on the plains of Auburn, Gene Chizik was again victorious. Will Muschamp was not, and in large part, the defensive master of Florida was whipped by the defensive master of Auburn.
Just a few short weeks ago, the Auburn defense was ranked 117th nationally. Folks, I may be wrong, but I believe that would be 117 out of 120 teams. Last year's national champion, at the beginning of this season, could not stop a bowling ball. Supposedly inferior teams reached the end zone time and time again. It had to change and slowly, but surely, it did.
When Gene Chizik announced that he would simplify his defense, Alabama head coach Nick Saban was later asked his opinion in regards to keeping it simple by Birmingham News writer, Kevin Scarbinsky.
Saban responded to Scarbinsky's question in part by saying, "I never wanted to be a guy that was making it simple but then not put the players in the best chance to be successful because you're being so simple, they really didn't have a chance."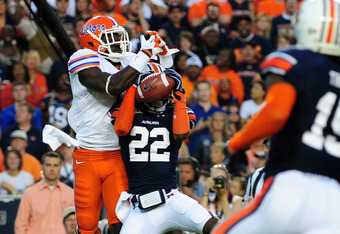 Scott Cunningham/Getty Images
Fine. Saban can use his methods and Gene Chizik can use his. Saban's is working for Alabama, no doubt, but give much credit to Chizik's defense these days as well. They are winning games.
Against the first three opponents of the 2011 season, Auburn's defense allowed 38 points, 34 points and 38 points. After simplifying things, Chizik's defense, in three of the last four games, has allowed only 33 points combined. Granted, the Tiger defense gave up 38 points against Arkansas, but their simple scheme seems to be working because they rebounded against Florida and allowed only two field goals for a total of six points.
In both losses this season, the Tigers gave up 38 points. Perhaps they would have lost the season opener after giving up 38 points to Utah State if not for a little leftover magic, which must have been hanging around the field from last year. In regards to Auburn's most recent wins, only 13 points were surrendered against South Carolina, and Florida could only muster six against the Tigers on Saturday.
Most likely, with the game having ended, much of the talk will continue to revolve around the two troubled offenses which used a total of five quarterbacks on Saturday night. In Auburn's case, it may be unclear as to who the starting quarterback will be from here forward.
Auburn began the game with starter, Barrett Trotter. Holding a one point lead at the half, Trotter was pulled after managing less than average statistics in the first two quarters. He was replaced by Clint Moseley, the former Mr. Football of Alabama.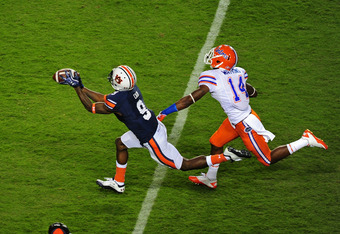 Scott Cunningham/Getty Images
Moseley did not disappoint those fans who had been clamoring for his entrance. Although he did not throw a touchdown pass, he did complete four of seven pass attempts for a total of 90 yards. More importantly, Moseley did not turn the ball over, and he led the team down field for two fourth quarter scoring drives. a touchdown and a field goal. Auburn quarterback Kiehl Frazier went back to a more limited role earning 41 yards on eight carries. Frazier threw one pass for no gain.
Florida freshman quarterback Jacoby Brissett started the game for the Gators, but was replaced by Jeff Driskel in the second half. Neither Gator quarterback shined. Florida could only muster 194 yards of total offense behind its freshman quarterbacks, with most of it coming through the air. The Gators were supposed to bring a quick and explosive running game to Auburn, but managed only 66 yards on the ground. Give most of the credit for this statistic to the improved Auburn defense.
Defense won the day, for the most part, but Auburn's special teams deserves a large piece of the pie as well. Auburn punter Steven Clark knocked satellites out of space several times with his booming kicks, thus causing the Florida return man to be distracted. Five times Clark's punts were muffled, and twice, they were recovered by Auburn. One of these recovered fumbles set up Auburn's first quarter touchdown, which clearly aided the Tigers in their quest for victory.
A victory was surely earned in the record books, but after its latest victory against Florida, Auburn will walk away with much more. You can't buy confidence in a store, nor can you buy experience. Auburn won in both of those categories Saturday evening, and only time will tell by how much. Many believed Auburn could not survive the October slug fest that loomed on the 2011 schedule. At worst, Auburn will finish 2-2 for October, which is much better than the three to four losses that everyone dumped on the Tigers before the games were played.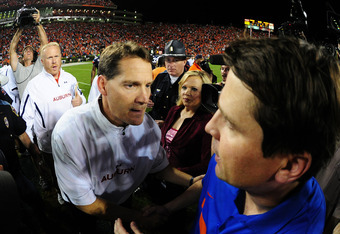 Scott Cunningham/Getty Images
Auburn may also win down the road in the recruiting wars, as close to 200 high school recruits were on hand to witness the Tiger victory against Florida at Jordan-Hare. One recruit in particular, Ricardo Louis, is a highly touted receiver from the state of Florida. Louis committed to Auburn back in May, but after a little taste of Auburn victory against the Gators, the 4-star recruit reaffirmed that commitment. Perhaps the victory will help sway the services of a few more from the Sunshine State for months and years to come.
With October mostly gone, the Tigers are left with four SEC opponents, two on the road and two at home. Most will expect the Tigers to win only one of those match ups, but then again, no one expected Auburn to win in October.
Auburn has won the field. As a result, the Tigers have also won the respect of those who gave them no chance before the season began. Can experience be won? What about confidence?
"Experience is the greatest teacher," a wise person once said. Couple experience with the confidence that comes from positive performance, and alas, the Auburn Tigers, at least for now, seem to be winning in more ways than one. It may be simple, but it's working.