Pittsburgh Steelers: Comparing Mike Tomlin and Bill Cowher's First 4 Seasons
October 17, 2011
Joe Robbins/Getty Images
Succeeding legendary head coaches in prestigious NFL cities might be a bit intimidating for most, but these latest Pittsburgh Steelers coaches thrived in this pressure-filled situation.
Current Steelers head coach Mike Tomlin knew the fastest way to get the Pittsburgh crowd on his side after replacing the legendary Bill Cowher in 2007 was by doing what Steelers fans always enjoy doing. Winning.
Four seasons later the 39-year-old has three division titles, two trips to the Super Bowl, and a Lombardi Trophy to show for his efforts.
The numbers are impressive on many levels, but they are also eerily similar to his predecessor.
When Cowher took over the reins in 1992 from fellow legend, Chuck Noll, the Steelers were going through a tough stretch in which the team had missed the playoffs six of the previous seven seasons. The former defensive coordinator for the Kansas City Chiefs immediately helped the Steelers turn around and go 11-5 in his first year at the helm.
Cowher then followed up his rookie year with three more playoff-worthy seasons, highlighted by a trip to the Super Bowl in 1995 against the Dallas Cowboys.
Although Cowher and his team failed to win the Super Bowl that year, his 43-21 regular-season record in his first four years set the stage for a new era in Steelers history in which he became arguably one of the greatest head coaches in the history of the NFL.
Tomlin walked into a much more promising situation with a team that was only one year removed from the Super Bowl and with a returning defensive coordinator in Dick LeBeau.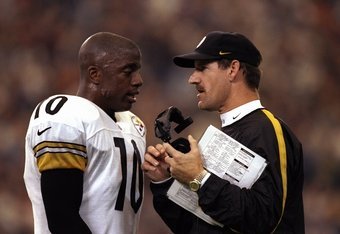 Andy Lyons/Getty Images
The Steelers defense and new-found passing offense, led by quarterback Ben Roethlisberger, helped Tomlin to a 10-6 rookie year followed by a 12-4 season in which the Steelers would go on to be crowned Super Bowl champions in Tampa.
Tomlin and his punishing defense would fail to make the postseason in his third year as head coach, but the team returned to the playoffs last year and made its way back into the Super Bowl before losing to the Green Bay Packers, 31-25.
The former Minnesota Vikings defensive coordinator also earned himself a 43-21 regular-season record, as Cowher did, in his first four years while doing Cowher one better by bringing home the hardware that comes with being the best.
While both Steelers front men were only in their 30s upon arrival in the Steel City, known for hard-nosed defenses and a bruising running game, both showed they were ready for the limelight that came with the job.
Now that Cowher has hung up his headset and stepped aside for Tomlin to prove his worth in the coming years, only time will tell how the two will fare on the list of greatest coaches in Steelers history.