Dan The Man: Remembering Daniel Clive Wheldon
October 20, 2011
I haven't written on Bleacher Report for a few months, but today I felt compelled to. I mostly stopped writing here because of their ridiculous writing style guidelines. I also write for Open Wheel America, so that takes most of my concentration when it comes to writing.
It has been frustrating to read all of the "articles" on Dan Wheldon, by writers that have no idea who he was. Even more, it seems people are only talking about what the sport needs to change, and who is to blame for the accident.
For once, can we please just reflect on the life of a tremendous individual that was lost?
No, this isn't the IRL, and no, it was not anyone's fault. The series of multiple events that combined to take Dan's life were a perfect storm. An inch here or an inch there, and he could have walked away with just a couple of scratches.
The cliché has been heard too often. While it is true that race car drivers know the risks before they get into the car, we are never fully prepared when they don't return.
Dan Wheldon got into his car for the final time on Sunday, all smiles of course. The accident shook everyone up as soon as it happened. We waited and prayed for good news on his condition, until we received the fateful words from Randy Bernard.
The press conference was eerily similar to that of Mike Helton, 10 years ago when he announced that Dale Earnhardt was gone. NASCAR fans all across the nation wept for days, and weeks at the news of his departure. The loss of Wheldon was no different.
It is truly amazing how one man can touch so many people on this planet. Dan was beloved by everyone he encountered. He could charm anyone with his quick wits and golden smile. Dan was a very happy man, and it always showed.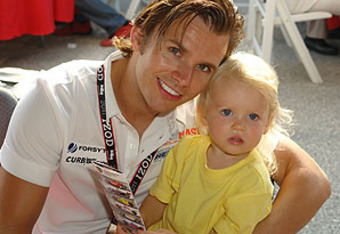 This wasn't just a loss for the IndyCar Series. Drivers from NASCAR and Formula 1 were also shaken by the news of Dan's passing. Soccer stars, musicians, actors, and other prevalent figures across the globe have expressed their sadness this week.
It is staggering to think how he and his family went from the highest of highs, to the lowest of lows in a mere five months.
Wheldon won his second Indianapolis 500 race this year, and was able to share this one with his family—his wife Susie, and sons Sebastian and Oliver. Dan won the greatest race in the world twice, and also finished in second twice, in addition to his series Championship in 2005.
Dan was one of the best drivers to ever race in the biggest race in the world. In nine starts in Indianapolis, he finished in the top four an impressive six times.
As amazing and talented as he was on the track, he was even better off of it. Dan and his wife had their second son, Oliver, earlier this year. He had time off this season and was able to spend every day with them. He was truly as happy as a man could be.
It is impossible to find someone that didn't like Dan. He was very well-spoken, and took time out of his day to visit with anyone and everyone that adored him. He would spend time at hospitals and other charity events that he wasn't even asked to go to. He loved being around kids, and he cherished every moment he had with his family.
There is a memorial website that the IZOD IndyCar Series and GoDaddy.com put together. The website salutes the person, the driver, and the friend that Dan was to all of us.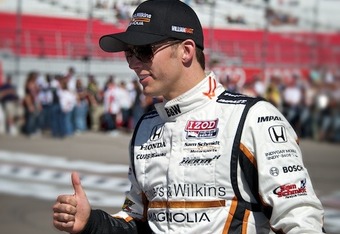 Fellow driver Graham Rahal has been putting together quite an impressive auction for the Wheldon family. He has been working around the clock, adding everything from authentic signed racing gear, to island vacations, to 2-seater rides around IMS. You can keep track of the hundreds of items that are going up for auction on his Facebook page.
Wheldon was ready to replace Danica Patrick in the No. 7 Go Daddy car for Andretti Autosport next season. He was going back to where he belonged, a full-time driver on a circuit that needed him as badly as he needed it.
On Sunday, you could hear millions of hearts breaking, all across the world.
Perhaps no driver had as much love, appreciation, and dedication to Indianapolis as Dan did. In 2010, Dan spoke with reporters at IMS, telling them "I'm not quitting this thing until I win it another time. If I have to race until I'm 86, I'm doing it. I love this race, man. I love it."
Dan of course won the 500 the following year, his second win here.
Wheldon will always have a special place here in Indianapolis, and with all of the fans. This place was his holy grail, and he loved coming back every May. This race was the single reason why he chose to stay in IndyCar, instead of going over to NASCAR and/or Formula 1.
Sunday was supposed to be a day of celebration; A day to celebrate a Champion of the series. In a way, it was. It wasn't Franchitti or Power on our minds, it was the 2005 Champion.
He is here, but he isn't here. He is gone, but he isn't gone.