Seattle Seahawks: Cleveland's Overrated Pass Defense Will Be Exposed
October 20, 2011
Matthew Stockman/Getty Images
Going into the regular season match up with the New Orleans Saints, I made a bold statement. Not only did I believe that the Saints' pass defense was overrated but that Matt Hasselbeck and the Seahawks would be more than a match for that unit. I also predicted the Seahawks would win a close one. I was wrong about the latter, even if we did end up winning the rematch in the playoffs. However, in both games a Hasselbeck that everyone said was over the hill came to play and looked like Drew Brees in the process. Hasselbeck is gone and currently playing like a top 10 QB in Tennessee, safe to say I made the right choice.
This season I am presented with a similar game, albeit a less interesting and prestigious one. The Seahawks will be in Cleveland to play a team that has been, arguably, more lethargic since being reinstated and resurrected after Baltimore took the old franchise than they ever have been prior. The Zombie Browns are showing signs of life but with Colt McCoy's inability to heave a ball 20 yards down the field and Madden 12 cover boy Peyton Hillis falling apart on his reanimated corpse like walk through this season, things aren't looking too bright for the 2-3 Browns. Despite all of the drawbacks, Vegas odds makers still say that Cleveland is a field goal favorite over the Hawks.. not exactly a vote of confidence for them but isn't that just a little insulting?
26 < 18
29 > 30
23 < 4*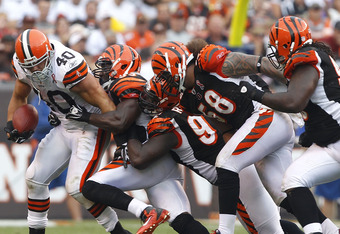 Matt Sullivan/Getty Images
7 > 27
These are each team's respective rankings in passing yards, rushing yards, passing yards allowed, and rushing yards allowed, Seattle on the left and the Browns on the right. There is a reason I put a big shiny asterisk by the Brown's 4th ranked pass defense–I don't buy it in the least. Last season when I was talking about the Saints, at least you could argue that New Orleans forced teams to challenge them in the passing game just to keep up, the Browns don't even have that defense.
To date, the Browns have yet to score over 20 points in a game outside of Indy and are typically playing from behind, opposing teams have shifted gear to their rushing game by the third quarter if the game wasn't already in the bag by halftime. To add injury to insult, the Browns really haven't faced a great pass-first team to this point. They've either played run first teams that are decent when passing or all-around horrible teams. Their only two victories have come in games against Miami and Indianapolis by 11 points combined, not exactly playoff quality competition. The other teams the Browns have played?
A Cincinnati team in week one which was starting Bruce Gradkowski (one in which Andy Dalton in his first season action saw significant snaps). The Browns lost by 10.
Ezra Shaw/Getty Images
A game against Tennessee where Colt McCoy threw it a whopping 61 times (40 completions) for 350 yards. Matt Hasselbeck only completed 50% of his passes (10-20) but those completions went for three touchdowns as Cleveland's sorry run defense saw to it that the Titans ran both around and through them. Lost by 18.
Colt was at it again, "hucking" the ball 45 times for 215 yards in last week's game with the Raiders. Jason Campbell was six of nine prior to his injury and Kyle Boller stepped in and preformed just fine as the Raiders cruised to the tune of 150 yards on the ground in a touchdown victory over Cleveland.
To put it nicely, when you're a team that faces a lineup of Kerry Collins, Bruce Gradkowski and Andy Dalton in his first regular season action, Chad Henne, and a two-headed Jason Campbell/Kyle Boller monster through your first five games, you better have a damn high ranking.
The Browns numbers are highly inflated in both the passing offense and passing defense statistics. If your QB is going to throw it 50 times a game in a hugely unbalanced game plan you better have a single digit ranking which the Browns don't. The Browns' opponents and how this defense has preformed don't do anything to suggest that this team will sustain such a high ranking, Joe Haden or not.
Charlie Whitehurst and Tavaris Jackson aren't world beaters by any means but in the last two games under their command this up-tempo Seahawk offense crossed 30 points against the Giants and was one field goal away from putting up 31 on the Falcons, two defenses that are far better than much of what the Browns have dealt with even with their own problems. As bad as the Seahawks have been running the ball on the season, they at least found good rhythm against the Giants and got their per attempt average up over 4 yards, higher than the Browns who have been even worse running that the Hawks have, surprisingly. That won't change as a battle tested seventh ranked Seattle run defense that held Frank Gore, Rashard Mendenhall, Ahmad Bradshaw, and Michael Turner to respectable performances will look to take advantage of McCoy's noodle arm to stack the box often against the stagnant Browns.
Rich Schultz/Getty Images
The Hawks will average over 4 yards a carry and could very well cross the 100 yard plateau again against an awful run defense, and our secondary will have some fun playing around the line of scrimmage, playing more freely with Colt unable to take advantage of a game against a now low ranked pass defense. There is a reason the Browns have yet to score 20 outside of Indianapolis despite throwing it so many times.
This time, picking Seattle to win isn't so against the grain.
Seattle 23
Cleveland 13