Fantasy Football Week 7: 4 Players to Sell High Right Now
October 21, 2011
Tasos Katopodis/Getty Images
As the NFL season approaches the halfway point, this is the perfect opportunity for fantasy owners to get the most buck out of the players whose bang might wane as the year goes on.
If you were a bettor in Las Vegas, would you plunk down a couple hundred bucks on Jay Cutler surviving the entire season unscathed? How about on Willis McGahee finishing with 1,300 rushing yards? Or Pierre Garcon becoming the next Marvin Harrison when Peyton Manning is not even the one throwing him the football? 
I hate to sound like the FOX Business Network, but fantasy football is all about buying low and selling high. And right now, when the bye weeks are decimating fantasy lineups and people are begging to fill gaps on their teams, is the time to sell high on guys you know are not going to keep producing this well all season long.  
Here are four players you would be better off trading now while their values are at their highest points:
Jay Cutler, Chicago Bears
Chicago offensive coordinator/mad scientist Mike Martz promised that Cutler would be protected against the Minnesota Vikings this past Sunday night, and Martz delivered.
Cutler was only sacked once as the offensive line played its best game of the season (not saying much), and 28 rushes between Matt Forte and Marion Barber slowed the Vikes' pass rush. Cutler went on to throw for 267 yards and two touchdowns, which made his fantasy owners happier than Jim Harbaugh at a handshaking contest.    
But do you honestly think Chicago's porous line is going to keep blocking like "The Hogs" from the Washington Redskins' glory teams? Do you really think Roy Williams will continue to be healthy and productive as the one lone tall receiver Cutler can count on over the middle? And do you think Martz's run-as-often-as-you-pass playcalling will last more than another week or two?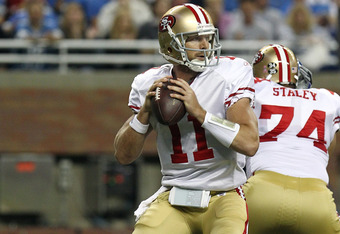 Dave Reginek/Getty Images
As good as Cutler and his Bears looked against Minnesota, you never know when the tide will swing the other way and Cutler will be sacked 18 times because Martz calls 50 consecutive pass plays while one of the leakiest lines in the league breaks down. 
I would try and trade Cutler now while he is still upright and breathing. He has arguably the worst supporting cast of any quarterback in the NFL. His below-average receivers and line will do him in more than they will help him out in the long run, and you could probably get something decent for him at the moment.
Alex Smith, San Francisco 49ers
Smith has played better than he ever has in his pro career under the aforementioned Harbaugh, yet he still has fantasy numbers that are underwhelming unless you are in one of the few leagues in the world that uses touchdown-to-interception ratio or quarterback rating in some capacity. 
Smith ranks 25th in passing yards and his eight touchdown tosses ties him for 12th overall, so he is far, far away from the league's elite. The scary thing is that this is the best fantasy owners can probably hope for from Smith. He is a limited game manager in a run-first offensive scheme. There are not many 300-yard or three-TD games in his future. 
But there is probably someone in your league who just lost Jason Campbell, Donovan McNabb, Rex Grossman or Sam Bradford or is in need of a QB due to the byes. This is the desperate owner you should target and offer up Smith for a quality RB or WR.
Point out Smith is the starting signal-caller on a 5-1 team. Detail how Smith is only bound to get better when Braylon Edwards returns and Michael Crabtree finally plays up to his potential. Then snicker yourself to sleep when you deal Smith away for someone who can be a vital cog on your fantasy team, knowing in the back of your mind that the worst of Smith is yet to come.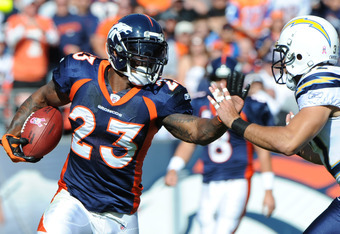 Bart Young/Getty Images
Willis McGahee, Denver Broncos
The Tim Tebow Era is about to start in earnest in Denver, so why have a past-his-prime tailback behind Tebow when you are trying to rebuild?
I know Denver's offense will likely be more conservative the next couple games while Tebow is quarterbacking and now that top receiver Brandon Lloyd has been traded. And I understand that Willis McGahee has been running well lately, almost like the McGahee of yesteryear. He has rushed for over 100 yards in three of Denver's last four games. 
But Knowshon Moreno, who shoots himself in the foot more often than Ted Nugent shoots deer, will probably end up as the starting tailback eventually, regardless of how many times he fumbles or pulls his hamstrings.
Denver not only needs to know if Tebow is its franchise quarterback, it needs to know if Moreno is its franchise running back. The Broncos are 1-4, and if you look at their schedule it is hard to see them any better than 3-8 or 4-7 by the time they have played 11 games. There is no reason to keep Moreno shackled much longer unless he re-injures himself for the umpteenth time.
McGahee is averaging 4.5 yards per carry. The only other time he has done that during his eight-year career was as a part-time player with Baltimore in 2009. And he has not rushed for more than 700 yards since 2007, yet he is on pace for 1,230 this year.  
McGahee will not keep this up, which is why he should be dealt now before Moreno starts slicing back into his playing time. There will always be a buyer if you are selling a running back, even one playing beyond expectations, so put McGahee on the market if you are deep at the position and prepare to field some solid offers.        
Pierre Garcon, Indianapolis Colts
Do you believe Curtis Painter and Garcon will make Colts fans and fantasy owners forget about Peyton Manning and Reggie Wayne being Indy's top QB-WR tandem? Neither do I. 
I do not know why Painter has such an aerial kinship with Garcon. You would think that if the inconsistent, drop-happy Garcon could not succeed on a regular basis with sure first-ballot Hall of Famer Manning that he would not suddenly play like an All-Pro with the unheralded, hard-to-pick-out-of-a-lineup Painter.
But Garcon racked up 271 receiving yards and four touchdowns over a two-week span where Painter and he were on the same wavelength Matt Stone and Trey Parker get on when they create episodes of "South Park."
Garcon has definitely been buoyed by Painter bumping Kerry Collins out from behind center. Painter seems to target Garcon more often than veteran superstars Wayne and Dallas Clark, and Painter has proven he can get the ball deep to Garcon for big plays, something Collins failed miserably at. 
I do not foresee Garcon piling up 1,300-to-1,400 yards by season's end. And I do not believe Painter will be the quarterback the whole season, either. If you trade Garcon now, though, maybe you can package him and get a 1,300-yard player in return. You never know.