Saturday Night HBO Nonito Donaire vs. Omar Narvaez Preview
October 22, 2011
Ethan Miller/Getty Images
This Saturday night, Nonito "The Filipino Flash" Donaire (26-1, 18 KOs) will be defending his WBC/WBO World Bantamweight 118-lb titles against current WBO junior bantamweight 115-lb champion from Argentina, Omar "El Huracan" Narvaez (35-0-2, 19 KOs). This will be taking place in New York City at Madison Square Garden's WaMu Theatre and on HBO's Boxing After Dark (starting at 10:30 p.m. ET).
Donaire, who is at his prime at 28, is on a nine-year-and-25-bout winning streak and is making his first fighting appearance in New York.
Narvaez, who is a 36-year-old veteran, is making his U.S. and HBO debut. His 37-fight career has taken place in Argentina with a few fights in Europe. He is undefeated with two draws; his last draw was against Andrea Sarritzu in 2003.
Donaire, who was born in the Philippines and grew up in San Leandro, California, has a solid, strong, formidable boxing team in promoter Bob Arum of Top Rank, trainer Robert Garcia and manager Cameron Dunkin. His team is looking to take him and his extradionary boxing skills to the next level. This is a major pay-per-view attraction.
In Donaire's last fight in February of this year, he knocked out Fernando Montial in the second round. In his previous fights, he had knockout wins over Vladimir Sydorenko in 2010 and Vic Darchinyan in 2007.
Narvaez was a former Olympian for the Argentine team in 1996 and 2000, had amateur wins over Dominican Joan Guzman in 1996 and Canadian Steve Molitor in 1999 and lost to Ukrainian Vladimir Sydorenko in 2000, whom Donaire KO'd in 2010 as a pro.
In his last three fights this year, Narvaez has defended his WBO junior bantamweight 115-lb title in Argentina defeating—by unanimous decision—Victor Zaleta, Cesar Seda and William Urina this past June.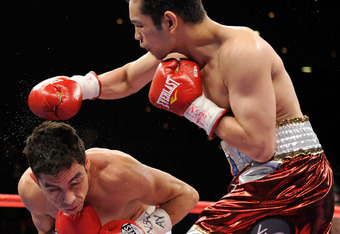 Ethan Miller/Getty Images
Standing at 5'3" Narvaez has a reputation of taking his fights the distance and pulling out with the victory, saying he is "prepared and ready." He will be moving up in weight from 115 lbs to 118 lbs.
Donaire, at 5'7", has an advantage in this fight and has said this will be his last fight at 118 lbs. He is looking to move up to super bantamweight at 122 lbs.
As reported this week on www.fightnews.com, Donaire and trainer Robert Garcia have stated that they've trained hard and prepared well, that they don't take "any opponent lightly." Donaire plans on being "faster, stronger, and smarter" against Narvaez, and plans on knocking out Narvaez "in the first opportunity he has," states Garcia.
A sold-out audience of 4,500 at the MSG WaMu Theatre is expected tomorrow night along with a big HBO home audience viewing this exciting matchup between Donaire and Narvaez. Don't miss it.