Michigan State Football: A Red Storm Rising
October 21, 2011
Joe Robbins/Getty Images
Picking up where I left off previously, there is no connection to the Tom Clancy novel of the same name (as the title). I mean, would I really link a Jack Ryan Clancy book to a non-Jack Ryan Clancy book? Come on now.
With that out of the way, I had stated that the Spartans would be hunting for "red" victories in October, and they would be hard to come by. I had chalked up three "red" losses and one easy "blue" victory. I was half right, and I couldn't be more jubilant about the news. The real question remains.
Could I possibly be wrong again (and again)?
No. 4 Wisconsin and No. 13 Nebraska wait in the wings. What have we learned thus far? We certainly learned Ohio State is worse than expected. We learned Denard Robinson is more one-dimensional than imagined (ok, I think we ALL knew that). Our defensive line is a force to be reckoned with, cultivating 16 sacks in the last two games—against extremely mobile quarterbacks.
The biggest, most imperative thing I've taken away from the last two games is that this team can win without playing its best football. This is a very important notion. The wins against Michigan and Ohio State were not pretty, but they happened in circumstances that in the past, present or future could easily have turned into "L's." Besides the defensive line, which has been OUSTANDING, every other facet of Spartans football has a great deal to improve upon.
One has to believe the stars will align for one of those complete football games in the near future. Even bad seasons tend to have a game when correlation equals causation and everyone comes together for the greater good. I believe these last two wins have been anything but this, and have proved that the coaching staff and players have found ways to eke by when things aren't perfect. All good teams do it.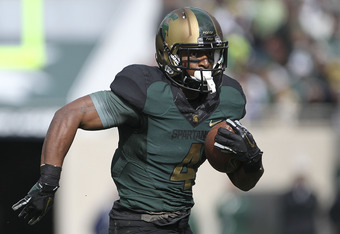 Leon Halip/Getty Images
Last year, that complete game for this team was against the very opponent the Spartans face this week…Wisconsin.
Before talking about Wisconsin, I'd like to take a moment and revel in the Michigan victory. I think Eli Wallach (Tuco) said it best in The Good, the Bad, and the Ugly, "I like big fat men like you. When they fall they make more noise. And sometimes they don't get up."
Three years in a row, Michigan has paraded into the MSU game with their noses high, with inflated records (undefeated), inflated rankings and inflated egos, only to be deflated by a superior football team. It's as consistent as Christmas. Mark it on the calendar.
The biggest victory for Michigan State is in the long term. Brady Hoke and the Michigan Wolverines have been very successful in creating a fabricated image that things will be different in Ann Arbor. They've been using the "change" moniker that was the keystone of Bill Clinton's campaign for president many moons ago. The fans themselves want to totally dismiss the Rich Rod era as if it didn't happen, which is understandable.
The Spartans' victory this weekend not only creates "reasonable doubt" in these fabricated fallacies, but keeps Dantonio's hand on the wheel. Michigan State may never win the recruiting battle—which makes it so exciting to be the underdog—but to steal a few top dogs every now and again will always give Spartan Nation a reason to hope. The rest is taken care of by a superior coaching staff, superior execution and a superior program.
Make no mistake about it, a victory for the Wolverines would have been HUGE. It would have reversed the progress in one fell swoop and put the momentum in Michigan's hands. They would have been able to use that in creating one big recruiting and program-building monster. These games mean so much for momentum.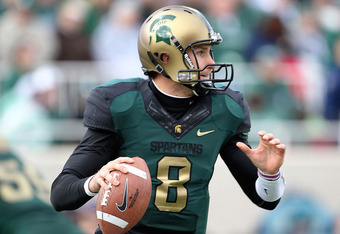 Leon Halip/Getty Images
The fact that the Paul Bunyan Trophy remains in East Lansing for another year is a blessing that needs no disguise.
It was like holding "left protect" against a loner hand in Euchre. We knew we had the stopper…but you just never know until the card hits the table and you take the four points off the board, curtailing it to one point. Either way, the Hoke transition has been worth a point on the scoreboard. No denying that. It just could have been four. This weekend, I'll call the "Spartan Stopper."
It'll be curious to see how all that emotion and self-aggrandizing glory transitions into another big-time football game against Wisconsin. Gameday will be on hand. It's a night game at Spartan Stadium. The Spartans are heavy underdogs (running at about 10 points right now) against a "scary good" Wisconsin team.  
Why is Wisconsin scary good?
Brett Bielema has built quite a steady program at Wisconsin. The trajectory has been a reasonable cheese plateau until this season. Typically, you can count on Wisconsin to be a fundamental team with a great offensive line, a multiple-headed running attack and a quarterback that won't turn the ball over, managing a steady, possession-oriented offense.
This will be complimented by a steadfast defense that isn't going to give you the opportunity to score big, bending but not breaking; your team will wear down and submit to the forces of classic smash-mouth football.
If you were playing that last paragraph in Highlights Magazine could one find the difference between the two pictures this year?
Quarterback Russell Wilson. What this senior transfer from N.C. State gives Wisconsin is something they typically don't have at the position: a playmaker.
Not only is he a proficient pocket passer, but he has similar athletic ability to many of the running quarterbacks the Spartans have already played. Only, he will beat you time and time again with accuracy, completing almost three quarters of his passes this season. Essentially, he can pass with the accuracy of Cousins (perhaps a little better), but also beat you on the ground if you give him a lane.
He reminds me a lot of Donovan McNabb after he matured in the NFL. He's that smart. He's that dangerous.
Wilson has spent his entire life being a Badgers fan. He came to Wisconsin for one reason…to win. Giving Wisconsin this last piece to their already dynamic puzzle has launched them into the upper echelon of college football. This is a title-contending team. Make no mistake about it, the Spartans could play the best game of their season but lose by 20 points.  
I really don't think MSU can count on having the same success on either the offensive or defensive line. Obviously, the Spartans' defensive lineman are going to make an impact, but it isn't likely, with a better offensive line and two-running back sets, that they will dictate the entire game like they have against Michigan and Ohio State. I would be elatedly baffled if that happened.
The other tough part about this game is that these teams are so remarkably similar. It's hard to give Michigan State the advantage at any position, even running back. There's really no way to strategize and use an aspect to your advantage. It's like fighting a mirror, only the mirror enhances your features, making you cower a bit in its glory.
Michigan State won't cower tomorrow. They will, however, have to match the intensity and emotion they showed in this game last year, and even take it to another level. They'll have to play at least five times better, crisper, cleaner than any game they've played this season. The defensive line needs to get in the head of Russell Wilson like it did with Braxton Miller and Denard Robinson.
One of the great (legit) clichés in sports is "that's why they play the games." Sometimes clichés exist for a reason, and when they kick the ball off, anything can happen. I don't think a victory here is likely, but we've already exceeded my expectations for the month.
The best things in life happen when you're not looking for them.