Brigham Young University Football 2011: Are the Courgars Still Relevant?
October 21, 2011
Erich Schlegel/Getty Images
I have to preface this article by saying that I do live in Utah County but I graduated from the University of Utah. That being said, let's take an honest look at BYU's schedule.
I also must say I am not from Utah. Which means the hard-core red-blue rivalry that exists here is not really my thing. I watched the Cougars take on Ole-Miss and cheered as they won. I thought to myself, "Nice, they beat an SEC school right out of the gate." It was a hard fought game that looked a bit like a toe-to-toe SEC slug-fest. Two great teams standing face to face and just battling it out.
Then the Cougars went to the Big 12 conference and lost a close one to Texas. I thought then and there that they are going to beat the Utes. Utah struggled against Montana State and lost a sloppy game to USC.
That is not what happened. The men in blue faced what I, a Utah Alumni, will admit is an offensively weak Pac-12 team. It looked to be doomsday for us. Who could have predicted the 54-10 blowout? Not me. The Utes were not that good—the BYU team was that bad.
So far the schedule looks good. Every conference on it is very respectable. The games seemed to be methodical and well thought out.
Then BYU managed to squeak out a 24-17 win against Conference USA opponent UCF, in what could only realistically be called a "ho-hum" game. It was frankly a bit anti-climatic.
Then they had wins against Utah State and San Jose State. The Utah State game was a familiar scene but when I watched them dismantle San Jose State I thought, "Wow, they look great!" But wait, those teams are in the WAC.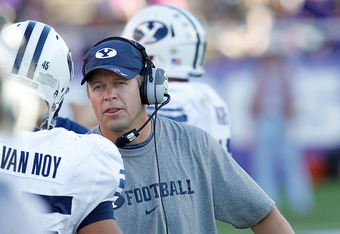 Tom Pennington/Getty Images
No offense to the WAC, but the Cougars were playing higher calibre teams in the Mountain West. Then in my research I discovered that they had a ridiculously high five WAC opponents. Five. In some conferences, like the Big East, that is almost a conference schedule.
So I looked at their schedule.
WAC
Utah State
San Jose State
Idaho
Hawaii
New Mexico State
Pac-12
Oregon State
Utah
Mountain West
TCU
Big 12
Texas
SEC
Ole Miss
Conference USA
UCF
Big Sky
Idaho State
You might be thinking, "Wait...who is the Big Sky Conference?" Well the Big Sky is to the WAC what the WAC is to Mountain West and what the Mountain West is to the Pac-12. In other words, several degrees of separation here. One-star recruit land, essentially. Most of you reading this could play a sport in the Big Sky. I played rugby for a school that is going to the Big Sky (Southern Utah University), so I really do know what I am saying here.
BYU has a staggeringly easy schedule. They would get a better game from some Texas high school football teams...Literally.
Is this the "new direction" of the Cougars? Even though I am a University of Utah alumni and I want to beat them in sports, I want an even opponent. I am also concerned that recruits will start thinking, "So who do we play again?"
It's good news for the Utes though, who will respond to that question with a solid schedule. USC, Arizona State, Cal, UCLA, Oregon, Stanford, Colorado...Looks like pretty easy sledding for the Utah recruiting process when talking to in-state talent.
So I am saying this as a friend, believe it or not. Hey BYU, get a schedule. This current format will really hurt you in the long run.