Is Russell Wilson This Year's Cam Newton?
October 21, 2011
John Gress/Getty Images
Redshirt senior quarterback Russell Wilson has led the Wisconsin Badgers to a 6-0 start, and he's made it look easy. Wisconsin's smallest margin of victory so far is 31 points. That came when they dominated new Big Ten members Nebraska 48-17.  
Outside of that Nebraska game, Wisconsin's schedule has been pretty easy—UNLV, Oregon State, Northern Illinois, South Dakota and Indiana. The Badgers clearly haven't challenged themselves out of conference, but Wilson has put up some pretty startling numbers. 
He's completed 74 percent of his passes and thrown 14 touchdowns with just one interception. Not to mention, he's averaged eight yards per rush and has two rushing TDs.
By now, most people know Wilson's story. He spent three seasons at North Carolina State before being drafted by the Colorado Rockies. He spent this past summer playing with the Rockies' Class A affiliate before enrolling at the University of Wisconsin.
When you think of past Wisconsin teams, you usually think of guys like Ron Dayne and other physical running backs. Barry Alvarez implemented a run-first, pass-second offense, and that has mostly remained with Bret Bielema in charge.  
Wilson seems to have single-handedly changed that philosophy. He's a dynamic athlete with a strong throwing arm, and he can make plays with his legs  He transferred to a new school for one final NCAA season, after a pretty interesting history. Sound like someone else?
Reminds me a lot of Cam Newton.
I understand that they come from completely different backgrounds. Newton got in trouble at Florida, spent a year dominating in JuCo and joined Auburn amidst a massive controversy. Wilson has never been in trouble, played minor league baseball, and seems to be a model citizen.
The similarities become evident when you watch them on the field. They're both big, physical guys with great leadership skills. Newton changed the attitude of that team, and Wilson seems to have done the same. The effect quarterbacks have on their teams usually goes beyond their performance on the field. They have to be good leaders, and Newton and Wilson clearly have those intangibles.
Newton led his Tigers to an undefeated season and a dramatic win in last year's National Championship Game. Can Wilson do the same? 
I think the Badgers have a legitimate shot at being in that position. Currently, they are ranked sixth in the BCS standings behind LSU, Alabama, Oklahoma, Oklahoma State and Boise State. I think all those teams have a good shot at losing at least one game the rest of the way.
LSU and 'Bama play each other in a couple weeks, so one of them has to lose. And because the SEC is so deep and talented, there's a real possibility of Auburn winning the Iron Bowl or knocking off LSU. Also, don't forget about the SEC title game.
Oklahoma and OK State play each other as well, so one of those teams will have at lease one loss. The Sooners also have to play Texas A&M and go to No. 11 Kansas State. The Cowboys also have to play K-State. Can you say upset alert?  
Just by looking at the remaining schedules, I'd say that the top four teams all have a legitimate shot at losing a game. Stanford might be in the mix, but I don't know how seriously you can take them. Wisconsin has a test this weekend against Michigan State, and Illinois and Penn State surely won't roll over for them.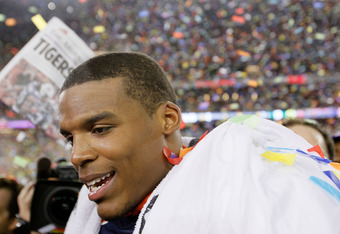 Kevin C. Cox/Getty Images
There's no guarantee that the Badgers will win out, but I think they have a better chance than the top four teams in the current BCS rankings. Wilson has ignited this team in the early going, and I don't see why he won't continue doing that.
So does that mean a Wisconsin-Boise State national title game is brewing? I don't know about you, but that would have me interested.  
If Wilson keeps producing at his current pace, he very well could win the Heisman Trophy, becoming the second consecutive "one-year wonder" to take home the award.  
On January 9, we might see Russell Wilson cradling the crystal ball with confetti in the air—just like Cam Newton did a year earlier.